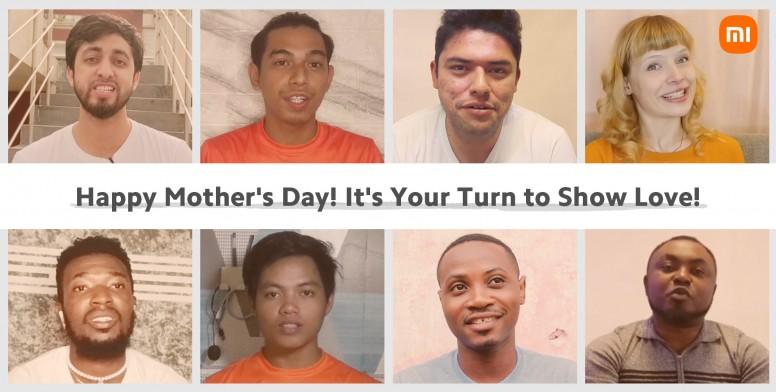 Announced on May. 13
Thank you all for the votes! Now we have top 3 winners! Congrats for #70, #90 and #114 You are the final winners for the Mother's Day Contest. Pls send us your address, email address, phone number and postal code within one week. Failed to do so, you will not be able to claim the prize.


Thanks again for all your support. Mi and You, Better Together.


Hey Xiaomi Fans,

Thanks for your efforts in this contest. The videos we have gathered are all interesting, meaningful and of good quality. But due to the time limit, only several main sharing is given a detailed introduction and the rest is presented in the form of pictures.

Thanks to the wisdom of all protagonists, the Mother's Day Video is now ready for release! Let's look forward to it.

Regardless of mothers' appearance and personality, they could do everything for their children. So don't hesitate to show gratitude and love to mom, by a smile, a hug, a message, etc., both on the coming Mother's Day and everyday thereafter.

"I love you and wish you the best Mother's Day!"
"Thank you for every hug, word of encouragement, and acts of love you've given me."
"Thank you for always inspiring me to live, love and laugh. Enjoy today, you deserve it!"
"You are the most loving, dedicated, and patient lady and the best role model I could have ever asked for."
…


Prize
We will randomly select 3 effective replies from Mi Fans. The selected fans will receive a Mi band 6.

mothersday.zip (189 Bytes, Downloads: 89) password:md2022
Methodology: We'll draw 3 lucky fans to win our gifts! The winners will be announced on Mar.13 and we will announce results in this thread.
All the Mi fans who have submitted wishes and photos will have the chance to win the lucky draw award. Three Mi Fans will be selected from the lucky draw. He or she will be selected from 2%,5%, 10%, 14%, 20%, 25%,30%, 35%, 44%, 50%, 58%, 67%,70%, 78%, 80%, 86%, 90% and 98% of the total number of effective replies which are encrypted in the file below. The password of the file will be given on Mar.13. If the corresponding replier does not match the requiement, we will move to the next effective Mi Fan. Every Mi Fan can only win the prize once.
Definition of effective replies: replies within validity. Deleted replies will not be counted in final judgement.
Submission Deadline: May 12(24:00 GMT+8), 2022
Announcement Time: May 13, 2022
Say love to your mom!



Rate