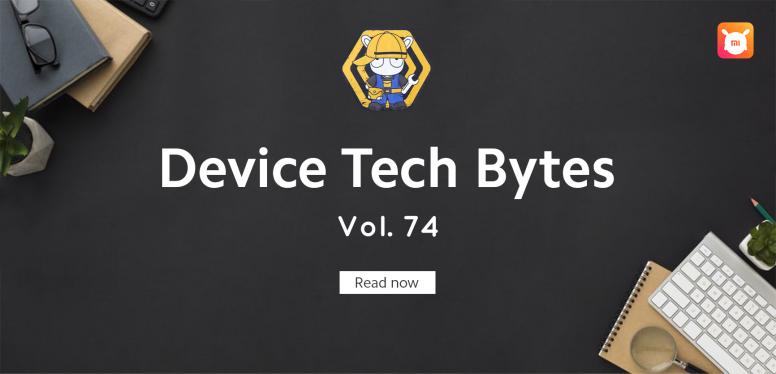 Hello
Mi
Fans!
Welcome to Device Tech Bytes Vol. 74! In the previous Device Tech Bytes we have seen about
Why are SoCs not made Bigger?
by cherri. This week we came with a very unique topic
What Is Bitrate & Why Is It Important?
Where you will learn about What bitrate means depends on the context in which it is used, but it is very important to know what it is, and what benefits it can bring to you.
What Is Bitrate?
Bitrate is a term used to describe the amount of data transferred over a given amount of time. Depending on the context, standard bitrate rates include kbit / s and Mbps, respectively meaning kilometers per second and megabytes per second. Regardless of the units used, the maximum number is usually correct, indicating high speed or high quality.
However, it is also important to note that low numbers may place a small strain on your hardware, which may be especially important for devices such as smartphones and netbooks.
Internet
When it comes to internet speed, high bitrate is always popular - it does not put your hardware under any additional pressure, and it just sends you the content you want instantly. With high bitrate, you can do more with your internet connection - stream high-definition movies, play slow-paced online games, and download large files in a few seconds.
You can find out what bitrates you are getting by visiting a website like speedtest.net and checking out their reviews. Numbers are good to compare, but often there is no number to look for (other than the number advertised by your ISP). Some parts of the world and Google Fiber users can get speeds of up to 1 Gbps (1000 Mbps), while ordinary US broadband users are lucky enough to get only 10 Mbps.
There has been a lot of discussion in online communities like Reddit about the high internet prices in the US considering how low the speed is, and programs like Google Fiber are starting to make a difference.
Audio & Video
When it comes to audio and video, bitrates get a different meaning. In this context, bitrate refers to the amount of data stored per second of play media. For example, a 320 kbps MP3 audio file is higher than the same file at only 128 kbps, as long as both files are created from the same source. You will need to remember that you cannot make an audio file better by copying it to an audio file with high bitrate, as the source was bad at first. So, high bitrate is a common rule, but not a 100% reality.
The same applies to videos - a higher bitrate will be higher if you compare the same video with the same resolution. The bitrates should be expected to increase whenever the adjustment increases, as additional data is processed. Therefore, high quality bitrate of audio and video may not only provide excellent quality, but may also place significant strain on your hardware which may cause stutter.
Also note that different file formats use different compression algorithms, which may result in lower quality bitrates. The type of processing, however, tends to rise to these algorithms.
Hard Drives & SSDs
Lastly, it is also important to know the bitrate of your hard drive or SSD. The bitrate in this context determines the reading and writing speed of the device, which greatly affects the download and save times of large files, programs, or games. Traditional hard drives usually have almost the same speed of reading and writing, so the difference comes from their RPM: 5,400, 7,200, or 10,000. However, SSDs do not rely on RPM speeds for faster literacy speeds - their flash-based storage uses chips to control read and write data.
It is important to know your bitrate for both reading and writing - mid-range SSDs typically have 500 Mbps read speeds and 200 Mbps write speeds, while high-end SSDs with speeds of up to 500 Mbps both. Even if you have a good CPU, high frequency RAM, and a fast graphics card, the overall performance of your system can still be affected by the speed of your hard drive.
Conclusion
I hope you will have a better understanding of what bitrate means and how it affects almost everything you do on your computer or mobile device. Although it is a bad idea for most people, it is good to be able to compare bitrates to get a concrete comparison. You can even combine the above concepts to better understand how data streaming works - if the video bitrate is more than what your internet connection might be, be prepared to see more data storage on sites like YouTube.
Are bitrates important to you?
Let us know in the comments!