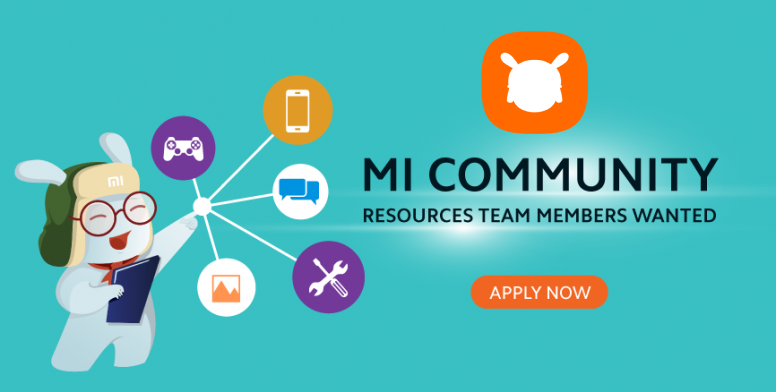 The Global Mi Community is growing rapidly and We have more and more new members joining us daily, so we need more talent to help and share high-quality resources. Mi Resources Team aims to provide new, popular and high-quality resources to Mi Fans around the world. Anyone interested in sharing App, Wallpaper can join us! We're a dynamic and warm family with Mi Fans from all over the world. Here you can make friends with Mi fans who are enthusiastic about sharing the hottest resources, who work together to build something wonderful. There is never a dull moment here since we're filled with talented people who are friendly and fun to work with. If you're looking for such an energetic and interesting group, don't hesitate to join us!


Reply in the comment box below with your posted Resources Threads links!



All irrelevant replies and reply without a thread link will be deleted on sight. Please refrain from comment such as "Good info, Nice, Welcome, Thank You" or just "I want to join" but without any resource thread link.



Requirements/Responsibility:
Reasonable English level.
Willing to follow Community and Resources Section Rules and Guidelines.
Have enough time and commitment to be online at least 2-3 hours every day.
Need to post minimum 2 threads per month to pass the assessment.
A passoniate team players having good knowledge of MIUI and Resources related Stuff.
Good at communication and cooperation.
Prefarably own a PC/laptop as posting from mobile might pose an issue

Rights:
Read permission: 90.
Larger attachment size.
More chances to get your posts promoted.
Special Community rewards and medals.
Gift packs to outstanding members after every 6 months.

Note:- Members who have posted threads in Resources Section will have higher chance of getting selected. You can still post Resources related thread in Resources Section within the recruitment time.

Please make sure you've read carefully about the above rights and responsibilities before you apply!

Mi Porting/Beta(China/Global)/App Review/ Device/ News/ Designer/ Photography Team Members, you have to leave your current team if you want to join Resources Team, so please think twice before you apply.


The recruitment time for Mi Resources Team is as follow:

Reply to this thread before 20th November 2021 before Midnight (Beijing Time).


Selection Announcement:Selected applicants will directly be contacted by PM.

Looking forward for more great talents to join us!!

Rate