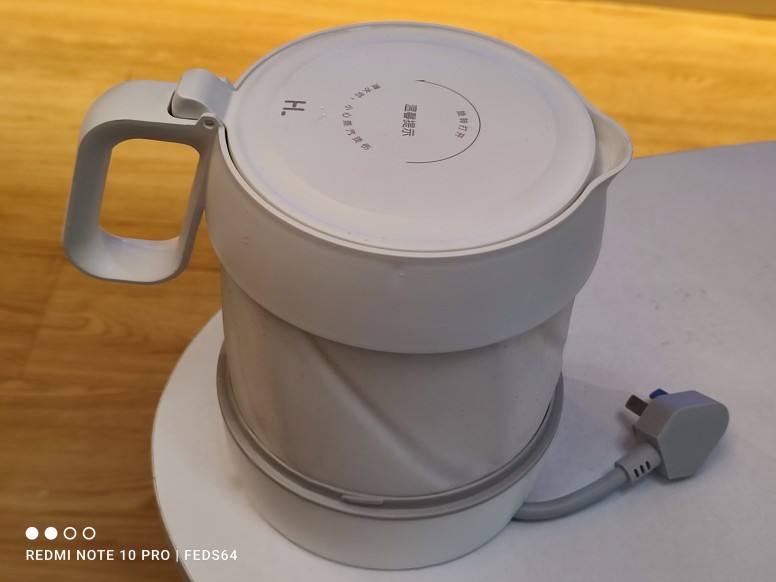 Wassup Mi fans? Hope to find all of you in high spirit and enthusiasm as ever. It's nice to be back unboxing and reviewing after a long break to enjoy a care-free life, so what're the good tidings I brought you all today? This time around I wanna share and elevate your mobility experience to the next level with Mi HL Foldable 1L 600W Electric Kettle.
Small and lightweight kettle for those who have babies to make their milk and those who love hot drinks while traveling. If you are health conscious about the hotel kettle, then this is a suitable, space-saving, and quickly foldable kettle.
Power: 600W

Weight: 700 grams

Dimensions: 190x137x163mm; 160x137x80mm (folded)

Volume: 1 liter

Type of heating element: Closed Coil

Thermoregulator: Yes

Cord compartment: Yes

Multi-Voltage: 220V/110V ~ 50Hz

Materials: Silicone, 304 Stainless Steel 304, ABS plastic

Cable: 1 meter



The body and interior parts are made of eco-friendly and safe food-grade silicone.
Mi HL Foldable 1L 600W Electric Kettle features an Anti-Dry Protection to safeguard in case of insufficient water. The temperature control sensor turns off the possibility of heating the kettle and in the absence of water it will not turn on. When the temperature on the heating plate reaches the boiling water standard, the temperature control will be disconnected. When there is no water in the kettle, the dry temperature control on the heating plate will be disconnected to protect the battery. When the water temperature is lower than the temperature control, the temperature control will automatically turn on the power to reach the water boiling temperature.
Power Cord Base Storage for folding the kettle's extra length of the power cord can easily be organized and saving space.
The bottom plate heating plate is made of 304 stainless steel, which is very safe, not easy to rust, anti-fouling, and easy to clean. The wide diameter of the kettle is convenient for use, allowing you to easily fill water and for cleaning.
I went on to test and cook the Heng Hua Lor Mee originated from Putian, Fujian Province in China. Don't be fooled by its simplicity, this Heng Hua Lor Mee recipe is so flavourful with infused umami flavors from the clams and the dried shrimp. This dish is truly the embodiment of simplicity and deliciousness. This is for one serving, very easy, and takes 15 mins for the whole procedure.
Preferably, use chopsticks to stir while using the kettle to cook and avoid sharp utensils.
And for slicing and chopping, use the Xiaomi OOU Kitchen Set, which includes a chopper, kitchen knife, and multi-purpose chopping board with sanitary in mind, which I will review in the near future.
1 tbsp Cooking Oil

25g Pork Belly sliced into strips

1 Shallot, sliced

1 Dried Scallop, rehydrated

3g Dried Shrimps, rehydrated

1 Dried Mushroom, rehydrated and sliced

25g Chinese Cabbage cut into small pieces

500ml of Water

5 pieces Clams

2 pieces Prawns

1 packet Chicken Flavor Maggi Noodle

1 tbsp Hua Diao Yellow Wine

1/4 tsp Sesame Oil

Salt and White Pepper to taste

25g Cai Xin veggie, chopped

1 teaspoon diluted Cornstarch



Add 400ml of water to the kettle to boil, add 1 tbsp cooking oil, and let the water boil, then add pork belly, dried scallops, dried shrimps, and dried mushrooms. Simmer the ingredients until fragrant.

Add in Maggi noodles, clams, prawns, and mix well

Add the remaining 100ml of water

Add in Maggi chicken stock, cover, and let it simmer for 3 minutes.

Add in Chinese Cabbage and stir.

Add in Hua Diao wine, sesame oil, salt, and pepper to taste. Cover and let it simmer for a minute. Add in Cai Xin, shallots, and mix well then let it cook for a minute to desired soup consistency.

Tadaaaa, the Heng Hua Lor Noodle is ready to be served.



A quick reference video to expand and fold to save space.
Actually, I am very amazing, despite the silicone material that everything went smoothly, which initially I was doubtful about my endeavor of cooking the noodle. Normally when we go camping it is quite normal we go hungry in the middle of the night and want to have a hot coffee or hot chocolate and a yummy instant noodle to gratify ourselves. Conclusively, I give it a thumbs up and an essential item for traveling. And lastly, boiling 1 litre of water takes barely 3 minutes on my count, but if you cook instant noodles it would take about 5 minutes. Lastly, but not least, give a shot at the Heng Hua Lor Mee, it's definitely Oishi or scrumptious.