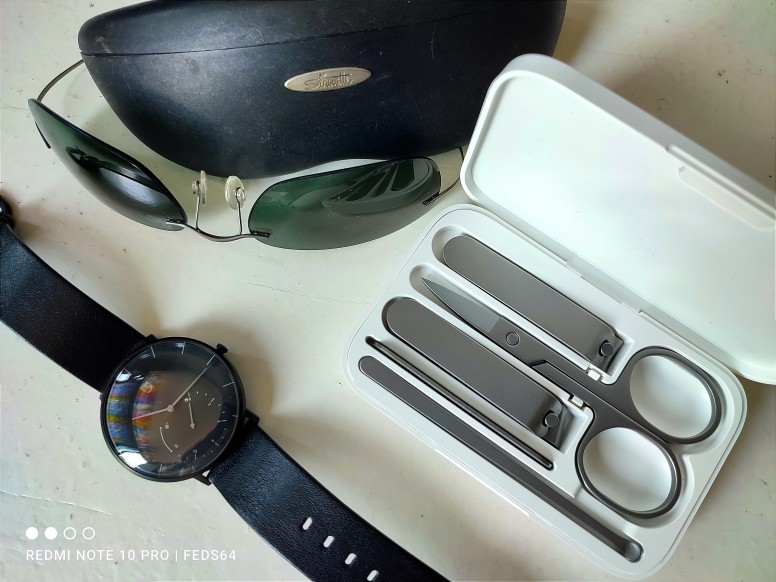 Wassup Mi fans? Hope to find all of you in high spirit and enthusiasm as ever. It's nice to be back unboxing and reviewing after a long break to enjoy a care-free life, so what're the good tidings I brought you all today? This time around I wanna share and elevate your Cosmetology pleasure experience to the next level with Xiaomi Mijia Nail Clippers Set.
Regular manicures and pedicures ensure the removal of dead skin cells, which is an essential part of encouraging new skin cell growth. New skin cells are key for nails that are strong and healthy.
● Material: ABS, 420 stainless steel, 430 stainless steel
● It beveled nail clipper size 60.9 × 11 × 11.8mm
● Flat nail clipper size 58.4 × 11 × 11.8mm
● Beauty scissors size 91.9 × 46.5 × 3.4mm
● Nail file size of 59.1 × 11,6 × 1.2mm
● Earpick size 89,7 × 5 × 2.9mm
● High-quality stainless steel, magnetic storage, simple five-piece, carry portable
Made of high-quality 420/430 stainless steel which has high hardness, wear resistance, rust resistance, magnetic adsorption, and a complete set of concise five-pieces.
84 complex procedures, delicate touch, forging and forming, several grinding and polishing processes, the surface is smooth and not easy to rust. The surface treatment of emery sand makes the frosted texture delicate and hard to leave fingerprints.
Small and simple storage box, travel with you, White ABS material, small size, can hold small bags and pants pockets. It can be easily carried on business and travel, and it is clean and hygienic.
Durable flat nail clippers, neat manicure, slightly curved cutting edge, one cut to shape. 0.02mm misaligned cutting edge is sharp and durable, cutting 2000 times of copper sheet without curling or chipping, which is 4 times the industry standard.
Sharp and oblique nail clippers, detailed and deep which the oblique blade design can penetrate deeply into the nail edges, gaps and other difficult-to-reach areas. The finely polished blade is smooth and sharp, and the burrs, dead skin, and keratin are meticulously trimmed.
Secondary cutting edge beauty scissors can neatly trim, after the cutting edge is opened twice, the trimming is crisp and neat without pulling. Shape eyebrows and cut dead skin to meet various shave needs.
Ear picks with rounded edges for gentle cleaning and the curved design of the ear pick can clean the ear canal more accurately and thoroughly. The edge is finely polished into a safer rounded corner, which is comfortable and clean, and it is not easy to accidentally damage the inner wall of the ear canal.
Fine-grained files, round and sharpened, the single-piece independent nail file is convenient for fine grinding, and the surface of the dot-matrix file is fine and uniform. The grinding feel is easy and smooth and does not easily damage the nails.
Innovative magnetic absorption storage method, combined with a bayonet storage slot, so that each accessory can be safely stored, won't fall off easily. The appearance is one piece and extremely simple, easy to access.
With the pandemic situation and social distancing procedures, Xiaomi Mijia Nail Clippers Set helps me with the regular manicures and pedicures to ensure the removal of dead skin cells, which is an essential part of encouraging new skin cell growth. As we know, new skin cells are key for nails that are strong and healthy. The set is very handy to bring anywhere and there whenever we need it. Definitely very useful and serve me well.