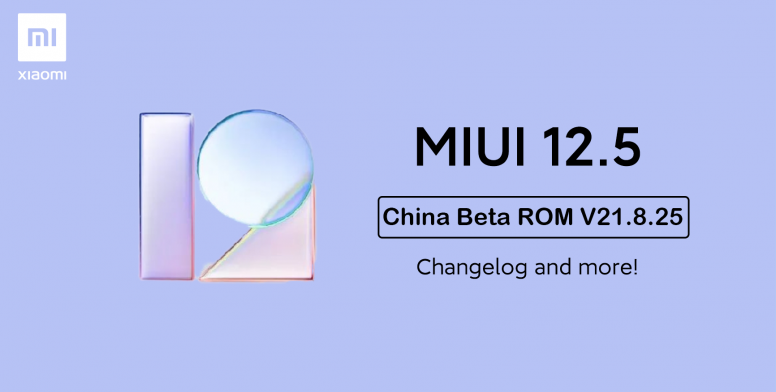 Hello Mi Fans,
I hope you all are fine. We have started to post the changelog of MIUI China Beta ROM so as to keep you updated about MIUI. Not only this, but we will also try to bring lots of stuff about MIUI so stay tuned to the Global Mi community. Here comes today's changelog! Let's get started.

MIUI 12.5 China Beta ROM 21.8.25 Full Changelog:
1.As MIX FOLD improves MIUI system application adaptability, it is compatible with more tripartite applications and enhances the user experience. It is expected that the distribution will be suspended from August 16 to September 06, 2021.

1.Fix the problem of the game toolbox in dark mode, the switch is not obvious at the time of high energy.
2.Fix the problem that the entrance status of the Dolby Atmos function is not synchronized with the status bar entrance in the video toolbox.
3.Fix the problem that the occasional screen display and the lock screen display overlap.


Status bar, notification bar

1.Fix the problem that the notification button occasionally displays abnormally in dark mode
2.Fix the problem that the notification size occasionally displays abnormally
3.Fix the problem of missing rounded corners of floating notifications
4.Fix the problem of occasional background abnormality when receiving a floating notification under the tripartite theme
5.Fix the issue that the lock screen notification occasionally jitters when the bright screen is lifted
Supported Model: Xiaomi 10

1.Fix the issue that the screen will flicker when the lock screen occasionally turns off
Supported model: Xiaomi 10

1.Added hires quality sound source and special area, no extra charge, enjoy the natural sound quality
2.Optimize the display effect of my page and increase the number of displays
3.Optimize the acquisition and invocation of personal privacy and permissions

1.Optimized playback experience, faster-starting speed, better playback function

1.Added voice recording and query of menstrual dates through Xiao Ai students, and during menstruation, Xiao Ai will pay attention to your health and actively provide you with dietary advice, behavior advice, etc.

1.Optimize the projection experience

About Mi Community


Mi Community is our official community forum, the ultimate playground for our Mi Fans to hang out together. It's where all your questions or doubts about our Xiaomi products will get answered and where you can get the latest news and happenings about Xiaomi. More importantly, it is the perfect place to interact with other hardcore Mi Fans like you!





Get Mi Community On Google Playstore




Always Believe That Something Wonderful Is About To Happen