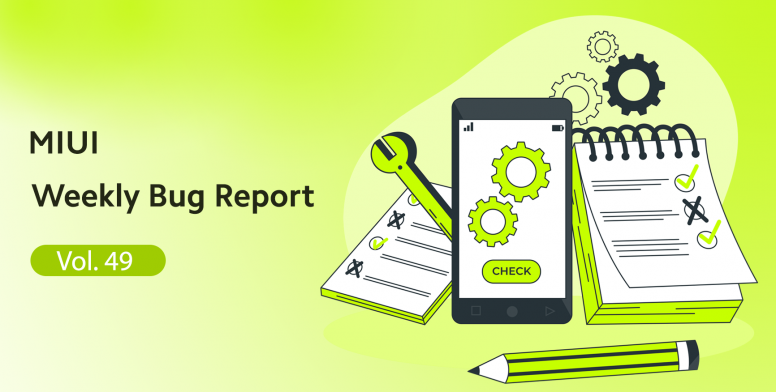 Hello Mi Fans,
As MIUI keeps on evolving and grows, some issues may come and interfere with the smoothness and functionality of the phone in Daily use. That's why Mi Testers and Mi Fans are hard-working in finding and reporting those issues, so the developers will provide fixes ASAP. In this new series of threads, we plan to share with all of you Mi fans, the most common issues found in the ROM. So, let's get started with the list.

Weekly Report:

Issue: Prompt" Storage is not enough " When taking a screen shot.

Affected Device: Redmi Note 9 Pro Max
Affected Version: V12.0.1.0 RJXINXM
Status: In order to solve the problem that the dual-open application cannot save the file, we are currently communicating with Google. It is expected that Google will update the MediaProvider in August, and we can fix it later.
This problem is related to the working mode, and users have been advised not to enable the working mode‌‌.


Issue: After update mobile networks only work in data roaming.

Affected Device: Redmi Note 9, Redmi 9
Affected Version: V12.0.1.0 RJCEUXM, V12.0.1.0 RJOEUXM.
Root Cause: The roaming status is not handled correctly, and the roaming switch status is still checked when the data is activated. The data activation fails
Status: Team in front have verified the decimal version, and the result is Pass‌‌.


Issue: Mobile data not working

Affected Device: Redmi Note 10S
Affected Version: V12.5.8.0 RKLEUXM
Status: French Oragne users cannot access the Internet, the reason is that the IPV6 change is not integrated, and the decimal package has been sent to the front for verification.


Issue: Touchscreen not working well

Affected Device: Mi 11 Lite
Affected Version: V12.0.8.0.RKQMIXM, V12.0.11.0.RKQMIXM, V12.5.3.0.RKQMIXM.
Status: Pressure testing has been arranged, and more problem scenarios are being obtained in the front‌‌.


Issue: Can't connect to Wi-Fi

Affected Device: Redmi Note 9
Affected Version: V12.0.1.0 RJOEUXM
Status: A repair of the MTK platform was not brought, mainly affecting the users of Deutsche Electric 26201 and 26202, concentrated in Germany and Greece. At present, users have verified the decimal version, and the result is Pass.



So That's all for this week.

In case if you are facing any other issue, You can provide feedback using "Feedback App" or You can also post a thread in MIUI ROM SF




Always Believe That Something Wonderful Is About To Happen