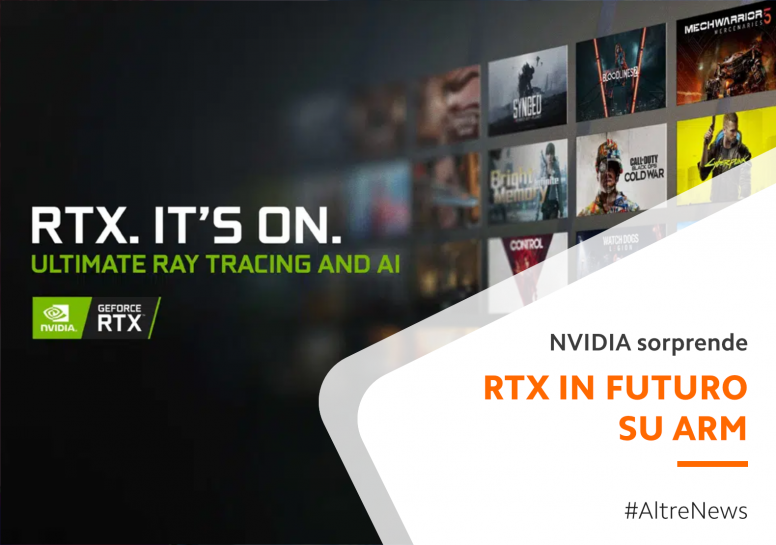 Mi Fans!
La
Game Developers Conference 2021
ha ufficialmente preso il via e NVIDIA si sta mettendo in mostra con un'elevatissimo numero di annunci piuttosto interessanti. La società di Jen-Hsun-Huang ha appena confermato che le sue popolari tecnologie
RTX
stanno per arrivare sull piattaforme
ARM
. NVIDIA ha anche rivelato al pubblico delle nuove demo tecniche per dimostrare come sia possibile l'accoppiamento delle sue tecnologie GeForce RTX con un processore
MediaTek Kompanio 1200
basato su architettura ARM. Molto interessante anche il fatto che questa è a tutti gli effetti la
prima collaborazione
tra NVIDIA e Mediatek da quando l'azienda di Santa Clara ha acquisito le tecnologie ARM.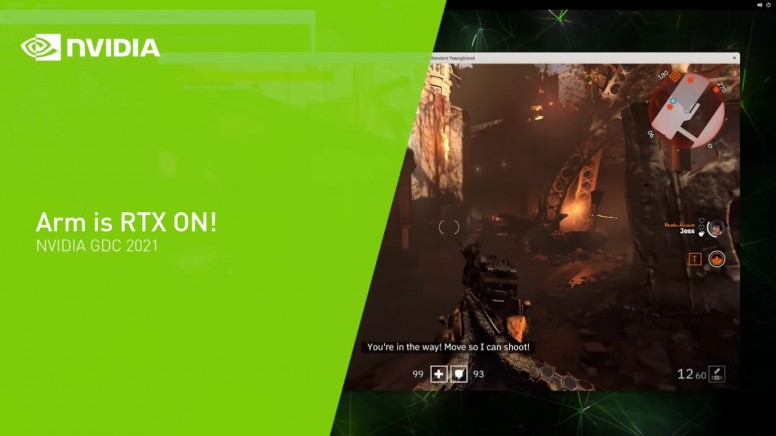 Come dicevo poc'anzi, sono state presentate delle demo tecniche per dimostrare come RTX e ARM non si escludano a vicenda, anzi, possano perfino andare a braccetto! Le due demo presentate erano basate su due titoli molto popolari:
Wolfenstein: Youngblood
e
The Bistro
proveniente dall'ORCA (Open Research Content Archive) di NVIDIA stessa, entrambi in esecuzione in
tempo reale
su un processore
MediaTek Kompanio 1200
in accoppiata ad una
GeForce RTX 3060
.
La demo di Wolfenstein: Youngblood si avvale di riflessi in
ray-tracing
, il tutto accelerato dal
NVIDIA DLSS
, che utilizza algoritmi di deep-learning accelerati dalle GPU per poter aumentare il frame rate in-game. Allo stesso modo, NVIDIA ha presentato la demo di The Bistro che ritrae una dettagliatissima scena urbana ambientata in Francia, anch'essa in glorioso ray-tracing con
RTX Direct Illumination
(RTXDI) e
NVIDIA Optix AI-Acceleration Denoiser
(NRD) abilitati. NVIDIA è riuscita a portare la sua tecnologia RTX su ARM eseguendo porting di diversi SDK tra cui:
Deep Learning Super Sampling (DLSS), che utilizza l'intelligenza artificiale per aumentare il frame rate e generare immagini nitide per i giochi.
RTX Direct Illumination (RTXDI), che permette agli sviluppatori di aggiungere illuminazione dinamica ai loro ambienti di gioco.
NVIDIA Optix AI-Acceleration Denoiser (NRD), che utilizza l'intelligenza artificiale per renderizzare più rapidamente le immagini ad alta fedeltà.
RTX Memory Utility (RTXMU), che ottimizza il modo in cui le applicazioni utilizzano la memoria grafica.
RTX Global Illumination (RTXGI), che aiuta a ricreare il modo in cui la luce rimbalza tra gli ambienti del mondo reale.

RTX è la tecnologia più rivoluzionaria per il gioco su PC degli ultimi due decenni. MediaTek e NVIDIA stanno gettando le basi per una nuova categoria di PC ad alte prestazioni basati su Arm
Ha dichiarato PC Tseng, direttore generale dell'unità di business multimediale intelligente di MediaTek. Volete dare un'occhiata più da vicino alle demo? Allora dovreste cliccare sul video qui sotto!
Bene ragazzi, direi che per questa sera è davvero tutto. RTX su ARM è un progetto ambizioso e su cui NVIDIA sta lavorando e sta facendo enormi progressi...cosa vedremo la prossima volta? Una GeoForce mobile GPU? La fantasia vola un pò troppo alto...ma nulla è davvero impossibile! Grazie a tutti per la lettura, un abbraccio. Se volete potete mettere like, lasciare un commento o seguirmi su Instagram tramite scanner del QR-CODE qui in basso!