Cześć Mili!

Niedawno informowaliśmy o tym, że część Smartfonów od Xiaomi zostało objętych ofertą specjalną. Dziś nowe modele wjeżdżają z czasowo obniżonymi cenami, tworząc bardzo ciekawą ofertę, nawet dla tych bardziej wymagających.

Kolejny raz do oferty trafiły gwiazdy zespołu Xiaomi - głównie seria Redmi oraz Redmi Note.

Zacznę może od modelu Redmi Note 10, który w obu konfiguracjach kupimy teraz o stówkę taniej. Redmi Note 10 64GB za 799 zł oraz 128GB za 899 zł. Poprzednia generacja serii Redmi Note 9 została natomiast objęta jeszcze większą obniżką. Redmi Note 9 - bo o nim mowa - w wersji 64GB kosztuje teraz 749 zł, podczas gdy jego cena regularna to 899 zł. To 150 zł w kieszeni. Podobnie ma się sytuacji w przypadku konfiguracji 128GB - w ofercie do 1 lipca kupicie ją za 849 zł, zamiast 999 zł.

Warto zwrócić jeszcze uwagę na Redmi Note 9 w wersji Pro - tutaj, w niższej konfiguracji 64GB, cena została podcięta o 300 zł i czasowo dostępny jest za 999 zł. Jego większy pamięciowo odpowiednik został obniżony do 1299 zł.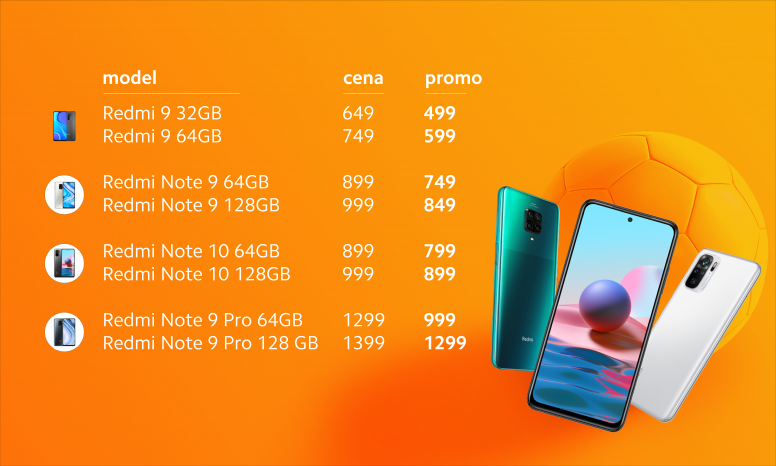 Oferta obowiązuje do 1 lipca lub do wyczerpania zapasów. Telefony w ofercie promocyjnej znajdziecie na oficjalnych sklepach Xiaomi: www.mi-store.pl, www.mi-home.pl, www.mimarkt.pl. Oferta oraz dostępność produktów może się różnić.

Prawilnie przypominam również, że trwają ostatnie dni oferty na Mi TV z Serii P1, o czym możecie przeczytać więcej w tym wątku.

Dla każdego coś dobrego. Z pewnością można coś wybrać. ;)

Miłego dnia!