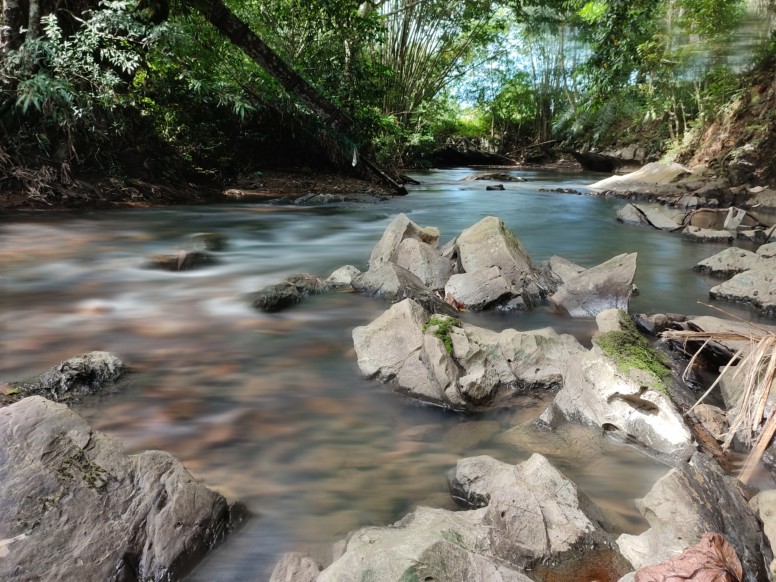 Teng Bukap is a village located along the Penrissen Highlands. The journey took us past the prominent rugged beauty of the highlands.
Leaving the city landscape for the rugged adventure.
We are surrounded by the mountain range as we journey to our destination.
Mount Penrissen divides the Indonesia-Malaysia border.
Our ride was the H2 Hummer, very good road holding and all the horsepower we needed to scale the map with the 6.0-litre Vortec V8.
We reached the Teng Bukap junction, used to be a popular trading post, decades ago and just a few turns away to Gua Baju.
Arrived at the parking area for Gua Baju (Shirt Cave). The trail starts down the stream.
The journey to the opening of the cave is a short one with the existence of large stones on the shallow river bed but the wonderful sight of limestone and rock formations as well as sundry evergreens on either side of the river banks makes it all worthwhile.
The clear water of the fast-flowing river and its tributaries indicative of an area abounds in rainfalls.
The plank walk starts here up to the other entrance of the cave.
There's a small trail that leads to a few spots on the cliff face where you can enjoy a very exhilarating jump into the fresh cold water.
The main pool was crystalline green with a gorgeous rock face towering it. The cave entrance is challenging as you need to dive in with your apparatus.
Settling down at the island for some beer and bites. Enjoying the afternoon chatting and appreciating the surroundings.
Took a few serious shots with Fujifilm X-Pro2. Very handy SLR.
Taking a closer look at the mushroom and creepers on the moist tree stump.
Very cute pineapple for cooking.
Bbq-ed a whole chicken for a quick bite.
On our way back to the city.
It's really refreshing to drive with the lovely scenery.
It's back to the city after an exhilarating day. Till next time for more adventures.