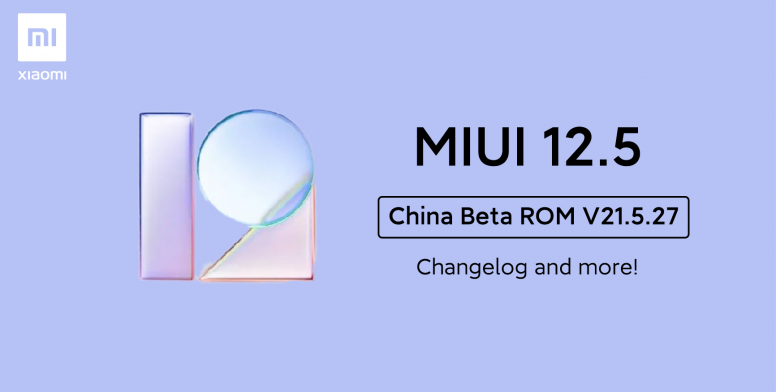 Hello Mi Fans,
I hope you all are fine. We have started to post the changelog of MIUI China Beta ROM so as to keep you updated about MIUI. Not only this, but we will also try to bring lots of stuff about MIUI so stay tuned to the Global Mi community. Here comes today's changelog! Let's get started.

Note:

MIUI China Beta ROM V21.5.26, V21.5.27 has been released for some devices.
MIUI China Beta Update for Mi 9, Redmi K20 Pro, Mi 10 are expected to be released before 24:00(GMT +8:00) by today.


MIUI 12.5 China Beta ROM 21.5.26, 21.5.27 Full Changelog:1. Fixed the download progress bar notifications, abnormal flashing issue.
2. Fixed the issue that the virus scan animation isn't centered(some devices).
3. Fixed the issue of the flashing screen when copying the verification code.
4. Fixed the issue that the WLAN connection pop-up window cannot be called up.
5. Fixed the issue of black screen background when WIFI input password.
6. Fixed the issue that the screen goes black for a short time while unlocking, and enters the desktop[Devices: Redmi K30 Pro, Mi 10, Mi 10 Ultra].

1. Fixed the abnormal exit of the hearing aid page[Device: Redmi K20].

1. Optimized the performance and memory usage.
2. Fixed the issue that the online song cannot be played when the network is disconnected after downloading.
3. Fixed the issue that the wire-controlled headset/earphone fails to control.
4. Fixed the issue of abnormal prompts caused by playback failure under weak network conditions.
5. Fixed the issue some playlists failed to play.

1. Fixed some known issues and improved the overall stability of the app.


Intelligent Assistant(-1 screen):

1. Fixed several known issues.

About Mi Community


Mi Community is our official community forum, the ultimate playground for our Mi Fans to hang out together. It's where all your questions or doubts about our Xiaomi products will get answered and where you can get the latest news and happenings about Xiaomi. More importantly, it is the perfect place to interact with other hardcore Mi Fans like you!





Get Mi Community On Google Playstore




Always Believe That Something Wonderful Is About To Happen