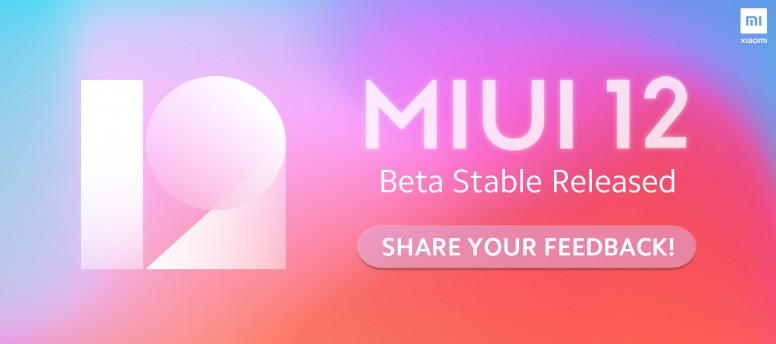 Dear Mi MIX 3 5G users,
Great news!!
A new update is here! The all new MIUI 12 Global EEA Beta Stable v12.0.5.0.PEMEUXM based on Android 9 (Pie) for Mi MIX 3 5G (andromeda) EU variant is being rolled out to limited users. If you haven't received the update yet, kindly wait for its public release. As always, this is similar to Global Beta Stable, which is released first to limited users for feedback and will be followed by the Global Stable release for the general public. The update will be through OTA only. For those who have received it, kindly share your feedback about the new update here. Use the Telegram groups for bug discussions and feedback.


⚠️NOTE :


Sharing the ROM links in the forum is considered as leak and any user doing so may get banned for violation without notice.
This update is currently rolling out to random limited users only. Do NOT post threads or spam the comment section of this thread for not receiving the update. Any such thread / comment will be deleted without prior notice. Read the FAQ section below for more information.
Beta Stable update can be suspended due to bugs so ignore the update if you want a Stable release. Wait for its public release, which would be followed in a few days.




Frequently Asked Questions


Q : When will Global Stable be released to public?
A : If everything goes normal with the update, it will be released for public within a few days. Do NOT ask for ETA.

Q : Others have received the update, but not me. Why?
A : As said above, this is rolled out to limited users only. The update maybe pushed later to normal users in batches. Kindly be patient.

Q : I got the update earlier, but now updater is not showing any update, what to do?
A : When you will get the update you need to download/install it, if you skip it then you will get it after its public release. Kindly be patient.

Q : What about Global variant?
A : Global and EEA variants run on different update cycles, so MIUI 12 for the Global variant will be released later.

Q : My update says "Global EEA Stable" instead of "Global EEA Beta Stable". Why?
A : Both are the same. Beta Stable only denotes the partial rollout of the update. Do not confuse it with the Global Beta a.k.a 'Weekly' which was discontinued in July 2019. This is the Stable version of the Global EEA ROM, but rolled out partially for user feedback.

Q : What about Android 10?
A : It was informed earlier that Mi MIX 3 5G will get MIUI 12 based on Android 9 Pie only. There is no information regarding a major Android upgrade for this yet.

Q : Is this region specific?
A : No. It is rolled out to random users using EEA ROM (PEMEUXM) at the moment. It will be rolled out to everyone soon.

Q : How is this different from Stable release?
A : Nothing much. This is just a pre-rollout of the Stable release. This is given to limited users for getting feedback. If everything goes well, it should be available to general public soon.

Q : Should I unlock my bootloader for taking this update?
A : No. Just update normally like any other update. Make sure your device is charged above 80% before taking the update.

Q : Can someone send me the link?
A : NO. Sharing of Beta Stable ROM links is against forum rules. Do NOT ask for links. Any user posting links will be deleted without any notice and can be banned without warning.

Q : Can someone share the changelog?
A : No. Beta Stable updates can be suspended due to bugs. The changelogs may vary when the Stable version is released to the public and so the changelog will be provided in the ROM thread posted after the public release.

Q : Will a ROM thread be posted?
A : Yes. Once the Global EEA Stable is released to the public, a ROM thread with download links and necessary guides will be posted by the Moderator.

Note : No more threads asking for updates will be entertained and will be deleted at once. Read the FAQs and wait patiently for the update. Those who have received the update, kindly refrain from posting update screenshots as comments and/or threads. Such threads / comments will be considered as spam and will be deleted without prior notice.



If you face any issues with the new update, feel free to report them through here or through the Feedback app.

Your feedback is very much appreciated !!








Best regards,

happybuddhist

Mi MIX 3 Moderator