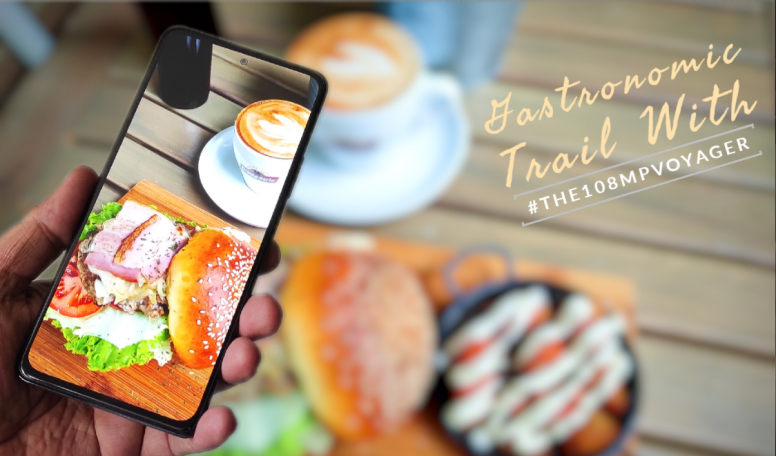 Hi Mi Fans,
Wassup everyone? Hope to find everyone energetic and healthy. I had an amazing time dining and photo shoot over the weekend with Redmi Note 10 Pro. To know more about the camera performance, check out,
A Glance Of #The108MPVoyager Redmi Note 10 Pro Camera Features
. As a foodie, this time is mostly about food photography. Food porn is a glamorous visual presentation of food, cooking or eating over pictorial and visual media. Let's get the show started!
Hamburguesa De Cerdo Iberico Con Patatas Bravas is served.
Tada, the epic meal for lunch...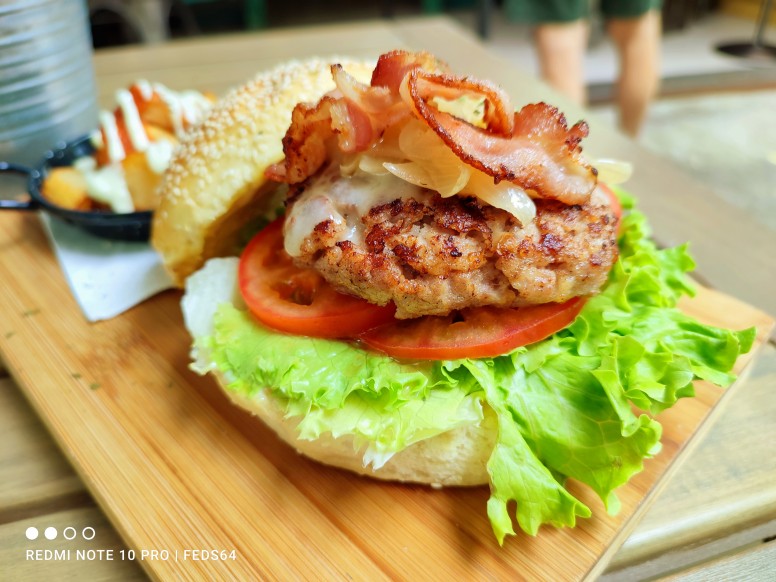 Coming from Spain, Iberico pork is a type of black pig and yields darker meat than the more common breeds, air-flown from Spain. Yield a deeper more pronounced flavor that elevates pork dishes to new dimensions. The marbling of fat running through the muscles makes this pork uniquely succulent, flavorsome and tender, hence giving the nutty and buttery characteristics of Iberico pork combined with natural spices all come together in this juicy burger to your delight.
Having coffee after a meal can instantly energize you after a meal, or else you feel sleepy. Dromedario is premium coffee from Northern Spain. Simply fantastic.
The coffee art was cute.
Arriba, Arriba! Andale, Andale! that's heaven! Another La Espanol Latte is here, which differs from other lattes as it is made with a combination of espresso with scalded milk.
I always have a double shot of coffee, so don't mind me. C'est la vie.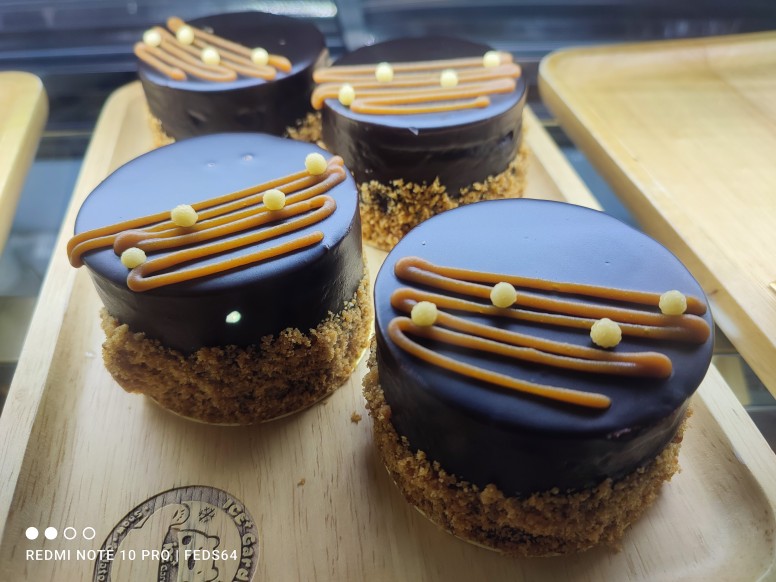 As our appetite fades after we eat too much of the same type of food. A dessert course tricks our brain into wanting more and stimulates a feeling of pleasure.
I scream, you scream, we all scream for ice cream! Everyone loves ice cream…
I have a fetish for snow ice, which is traditional shaved ice made by grinding ice flavored with syrup, condensed milk, and fruit flavors. This is super yummy, as the menu reads, Sea Salt Peanut snow ice flavor.
If one bowl isn't enough go for another…
Here you get a whole Thai mango chopped in cubes with mango syrup over the snow ice and waffle…
What's this out of the blues? That's Dan dan noodles, a Sichuan dish, the ingredients, small smattering of minced pork, suimiyacai or minced preserved mustard stems with a sauce of chili oil, soy sauce, black vinegar, and an alternative of water spinach.
To tone down you got to try Hakka Yong Tau Foo Soup. It's a popular Chinese dish either soupy or with sauce. Yong Tau Foo simply means stuffed bean with a variety of fish balls, crab sticks, bitter gourds, cuttlefish, lettuce, ladies' fingers, as well as chilis.
Seafood Hong Kong-style Seafood Chow Mein.
Another Hong Kong style, crispy noodle with tomato gravy. Next, we go for something special… Laksa!
The famous celebrity chef Anthony Bourdain named Sarawak laksa as 'Breakfast of the Gods'. The Sarawak laksa broth is made with sambal belacan chilli, coconut milk, sour tamarind, garlic, galangal, and lemongrass. Served with rice vermicelli noodles and topped with sliced egg, omelette, chicken strips, peeled boiled prawns, and chopped coriander leaves. For special you can opt for fish maw, lobster, clam or scallop. I had the Fish Maw for premium value.
This video clip shows how the Kway Chap is prepared.
The making of Kolo Mein, very delicious and ideal for breakfast.
Next, we have this Nuro Mein, it's a Beef noodle soup made of stewed or red braised beef, beef broth, beef tendon and ligaments, vegetables, and Chinese noodles. Very enticing...
Curry Beehoon, interesting right, having chicken with Rice vermicelli. It's a perfect combo.
Nasi Lemak the local favorite for breakfast...
Next, the Bak Kut Teh that is Pork Ribs Tea which is a Chinese herbal soup with Dong Gui known for its warming properties. Hence, it's perfect for a rainy day.
With Redmi Note 10 Pro's Super Macro features, I can zoom into my food. I love eating cloves of garlic, it's just sensational…
Need an energy booster, feeling the blood gushing in your system…
Ginseng has been shown to help fight fatigue and promote energy, cooked with Jujube, Goji Berries, Huai Shan (dried Chinese yam), Astragalus, Dried Longan, and chunks of Chicken slow-cooked to preserve the nutrient value.
Let me share one of my favorite foods, Ngoh Hiang, Bak Kien in Indonesia, or Hoi Jo in Thailand. Ngoh Hiang is made with ground meat seasoned with five-spice powder, sometimes shrimp/fish paste is added, shredded Jicama, shredded Carrots, or other veggies, Salted Egg Yolks and then wrapped in Dried Bean Curd sheets into a sausage-like shape and then steamed and deep-fried.
To be more modest, a very yummy Fried Chicken Rice.
And Steamed or Boasted Chicken Rice...
There is more to eat, what say, we go Middle-Eastern…!
Arabian kabsa with lamb shank…
Naan and lamb kebab right from the flat skewer.
Chicken Curry and Chicken Kebab...
Kashmiri Pulao, basically Basmati Rice sauteed in butter laced with spices, cooked in Saffron flavored water mixed with dried fruit and onion. Anyway, I love Saffron which is gold in price and gives a distinct flavor and aroma but not too much cos it bitter.
With Redmi Note 10 Pro's Super Macro, I can zoom into the Kashmiri Rice to appreciate it. It's amazing...
Southern Indian Roti served with two different gravy of spices…
To sum up, the long data-consuming article, we cut short with Western, let's get the Rib-eye… of course, my favorite is Waygu or Kobe as it listens to karaoke and drinks wine or sake…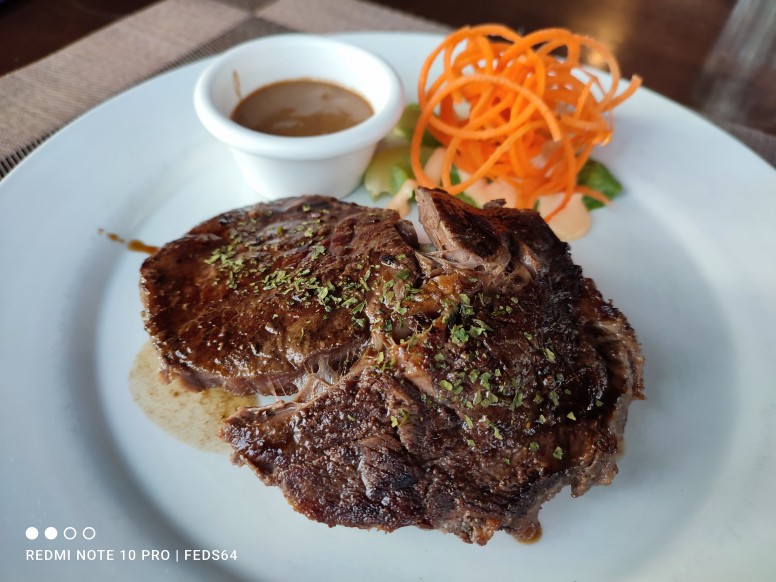 The strain is different, that's why they costly, I chose Rib-eye which is richly marbled than other cuts.
The Grilled Salmon was scrumptious...
That sum-up my Gastronomic Trail with #The108MPVoyager Redmi Note 10 Pro article, until the next scrumptious trip…
Trending threads:
Gastronomic Trail With #The108MPVoyager - Redmi Note 10 Pro
Rate