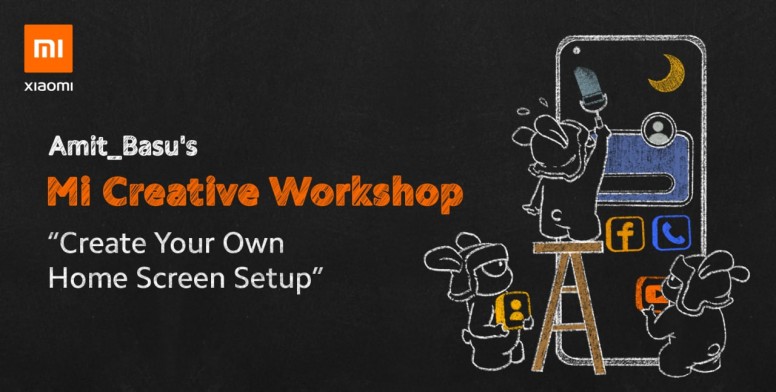 Hello Mi Fans!
Welcome to my Mi Creative Workshop. I am Amit, a mechanical engineer by profession and a true Mi fan by heart. Designing and playing with the setups of my Mi phone's home screen is my hobby.
In my Mi Creative Workshop, I am going to teach you how to craft your own customized home screen set up for your Mi Phone. You can easily amplify your phone's typical home screen layout and make it refreshing and eye candy!
Interesting, right? Now let's learn a few simple and basic steps that will help you customize your home screen to suit your usage habits and preferences.
My workshop is divided into two parts -
1) At first we will learn how to make simple wallpapers for your Mi Phone in Photoshop
2) And at the second step, we will learn how to use KWGT widgets to make your home screen unique with endless possibilities.
In the first step, how do we make simple wallpapers?

It's easy. I have used photoshop here to design my wallpapers. The good thing about it is, from basic to advanced you can design anything with it. All you need is some thoughts about how you want your wallpaper to look like and some basic skills. You can make a simple yet super cool wallpaper in just 5 mins!
Step By Step Instructions:
Open Photoshop on your PC

Create a new document of your phone's wallpaper size. I have made it 1080*2400

Fill it with any color you want from the Paint Bucket tool.

Now go to Shapes. Pick custom shapes. And use any shape you want. There are a lot of shapes available.

Change the color of the shape to match your wallpaper color.

Go to Edit - Free Transform and adjust the size and position of your shape.

The wallpaper is ready!



To make the whole lesson much easier for you to understand, I have made a video. Here you will find 3 wallpaper illustrations and step by step guide to create them. Even if you are absolutely new to the designing world, illustration 1 will be very easy for you to execute. All you need is a bit of thought and time.
Check out the tutorial video
Now the second part, for this you need to have a clear vision of how you want your home screen set up to be. Will it be minimalist? Do you want to show your love for nature on your home screen? Or will be it very colorful and vibrant? Once you have decided the look, follow these steps-
Step by step instructions for Widgets placement:
First, decide which launcher you want to use. I use Nova Launcher with no dock set up. You can use any launcher you want from the play store or the default launcher of your Mi phone as well. That's completely your choice.

Go to the Google play store.

Download KWGT App (if you don't have it already)

Explore the widgets listed in KWGT

If you search the word KWGT in the Play Store search bar, there you will see a lot of widget apps both free and premium.

Download anyone you like and apply widgets according to your choice.



Check out the video to have a clear idea
I am sure most of you are familiar with the application of widgets on the home screen. So even if you don't want to use KWGT. You can use any custom widget of your choice. If you have any doubt or questions about how to use Photoshop or how to create wallpapers feel free to ask me in the comment section below. I'll answer all your questions as soon as possible.
Here are a few of my setups. For some of the setups, I have designed the wallpaper. And for some, I have used different wallpaper apps. I have mentioned all the details there.
NOW IS YOUR TURN!
Create your own Home screen setups for your Mi phones from what you have learned from the video and remember to add your personal touch to them!
How to participate?
Follow my instructions and make your own Creative Home Screen Set-Up

You can design your own wallpaper or download the wallpapers I have provided in the zip below or from any wallpaper app

Apply any custom widget to make your set up pop up

Leave a comment with the screenshot of your home screen set up in this post, mentioning the wallpaper and widget name you have used in your setup.

I am going to give you advice on how to improve them so you can modify them if you want and repost the modified version.

I'm going to select the best works and make a new thread to announce the winners.



You can download wallpaper from here



Submission Deadline: 5th April 2021 Beijing standard time, GMT + 8:00




Rewards:




First Prize: Xiaomi AIoT Router AX3600

Second Prize: Xiaomi True Wireless Bluetooth

Third Prize: Xiaomi TV Box 4 4K HDR





To know more about Mi Creative Workshop, click the subscribe button down below to follow the column.




Mi Creative Workshop is a space where everyone can come and teach us something new, to use our Xiaomi phone in a more creative way.





Rate