Hi Mi Fans,

The Redmi Note Series has long been a pioneer of bringing great technologies to the mid-range segment.

With Redmi Note 7, we introduced one of the first flagship-level 48MP smartphone cameras. With Redmi Note 8 Pro, we pioneered the first 64MP smartphone camera. In 2021, to continue the legacy with Redmi Note 10 Pro, We bring you 108 mega pixels! One of the world's highest resolution image sensors for smartphones, now available in the mid-range.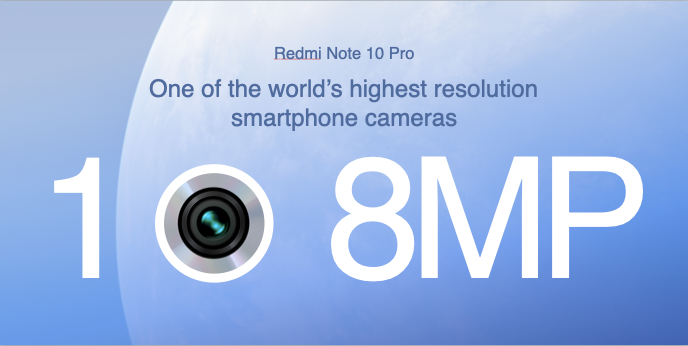 Using hardware re-mosaic and 9-in-1 pixel binning technologies, Redmi Note 10 Pro can capture more light for improved clarity, even in low light. And it features almost 100% faster capture speeds!

Redmi Note 10 Pro, isn't just a single 108MP main camera. With the 5MP telemacro lens, 118º ultra-wide angle, and depth sensor, Redmi Note 10 Pro is a one-stop shop for stunning photos of all kinds, from very very close in to the super broad.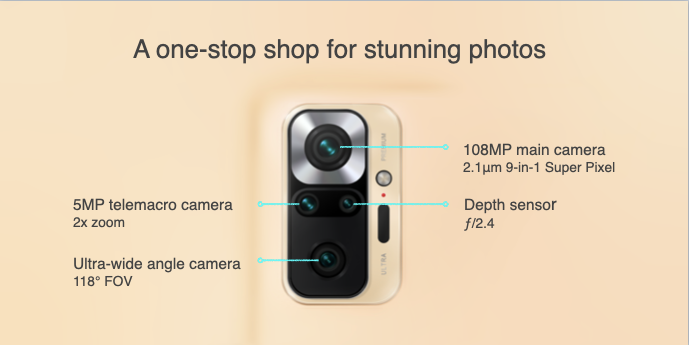 That's Redmi Note 10 Pro's boundary challenging camera - A flagship-level 108MP main camera, 2x telemacro for getting up close and personal, and an all new night mode 2.0. Create incredible content with long exposure modes, photo clones, video clones, and pro-time lapses!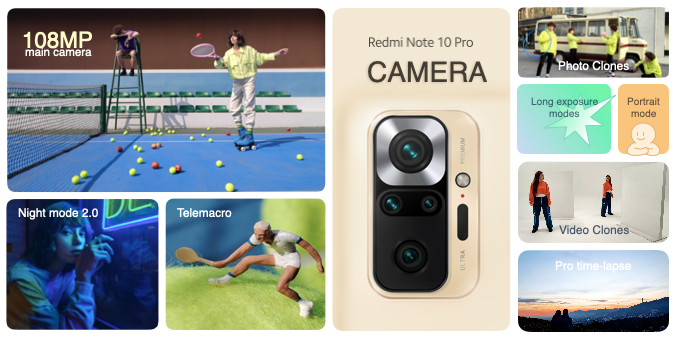 Redmi Note 10 Pro comes with AMOLED giving bright colors, deep blacks, and incredible contrast! We gave Redmi Note 10 Pro a 120Hz refresh rate as well! Performance tested by SGS, Redmi Note 10 Pro's 120Hz, AMOLED display is all you need to challenge your boundaries.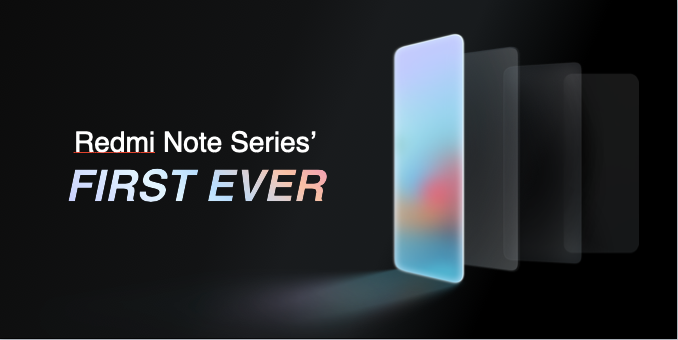 Redmi Note 10 Pro also features Redmi Note's fastest touch sampling rate - 240 Hz. This will allow you to gain the upper hand in gaming, and provide a smoother, more natural experience in your daily use.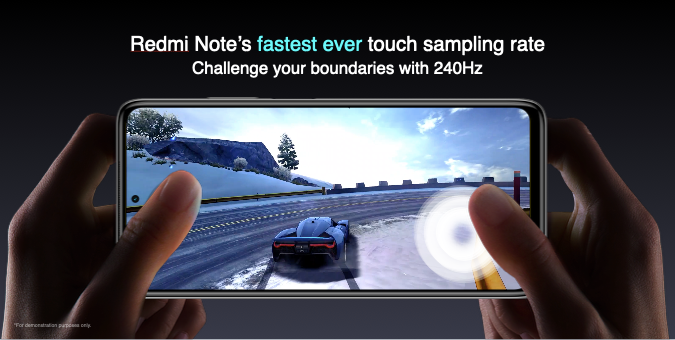 Redmi Note 10 Pro is certified for low blue light and was awarded the Eye care display certification by the world renowned certification company, SGS. Another cool comfort feature is Reading mode 3.0. It also uses a 360º light sensor setup to track the lighting in your surroundings and automatically adjust your display brightness to match.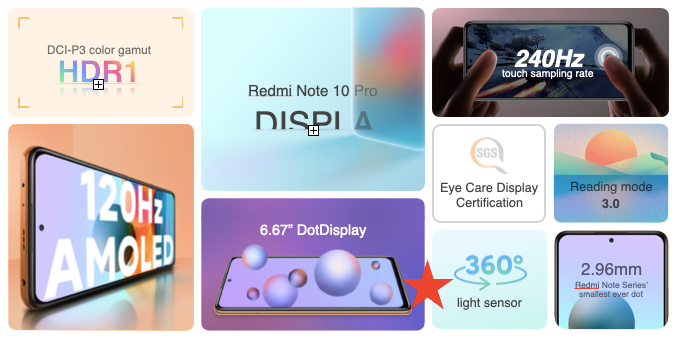 That's the flagship look and feel of the Redmi Note 10 Pro. Feast your eyes on the dazzling Infinity-rainbow highlight and the antiglare finish on the 3D curved glass back. Featuring the same premium look and feel of flagships, Redmi Note 10 Pro is 8 percent thinner and lighter than the previous generation.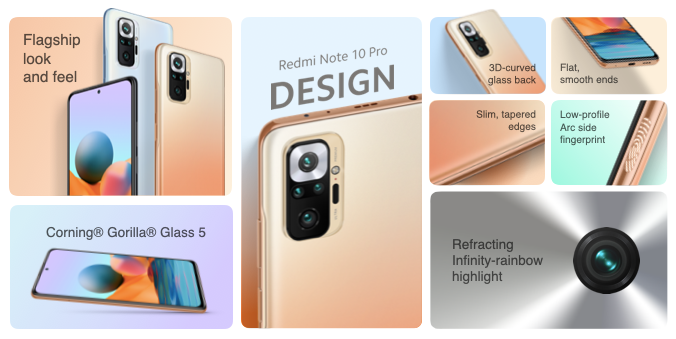 Redmi Note 10 Pro uses the powerful Qualcomm Snapdragon 732G. An efficient 8nm process for boundary challenging power efficiency. A snappy and power efficient octa-core processor that provides fast and smooth for everything you do on your phone.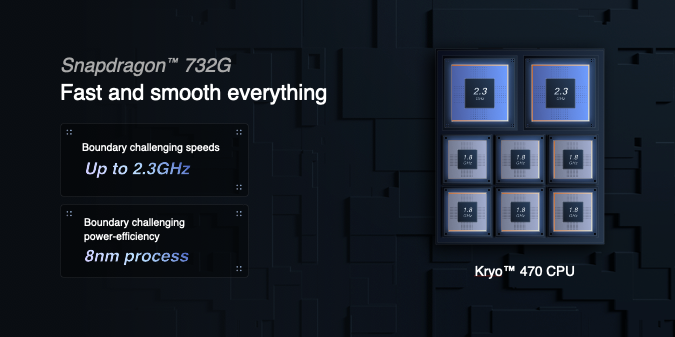 Redmi Note 10 Pro comes with UFS 2.2 WriteBooster. It's 100% faster than the UFS 2.1 found on many competitor devices.
What's more? Redmi Note 10 Pro is powered by Redmi Note series' leading battery, 5020mAh! When that time runs out, charge back in with 33W fast charging.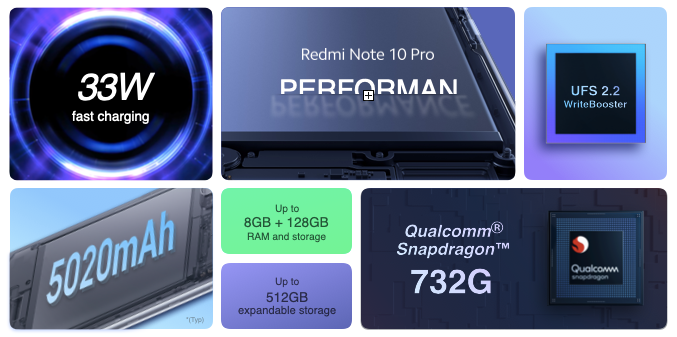 Right out of the box, Redmi Note 10 Pro comes with MIUI 12 running on Android 11, a step up from some competitor devices.

Once again, Redmi Note 10 Pro clearly challenges the boundaries of what to expect from a mid-range phone. Dual speakers, headphone jack, great haptics, Android 11 out of box, NFC, and more!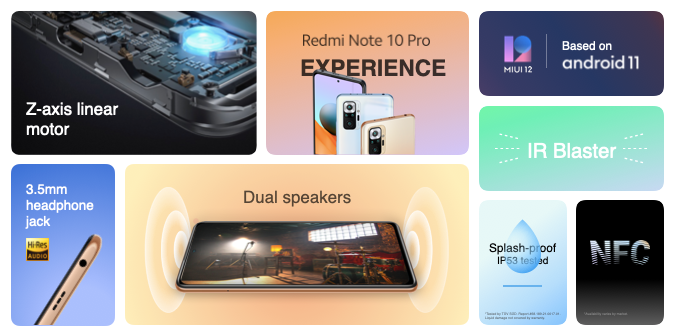 Summing up, you'll get a stunning 108MP quad camera setup to capture every moment along the way, from up close to ultra-wide to those massive, detailed 108MP shots. You'll also get super smooth 120Hz, super rich AMOLED and super fast touch sampling.

Along your way, everyone will know what you're about when they see the bold, premium design that declares - Redmi Note 10 Pro. This person knows what's up. Round out the experience with the snappy Snapdragon 732G, Dual speakers, great haptics, 33W fast charging, and a massive battery.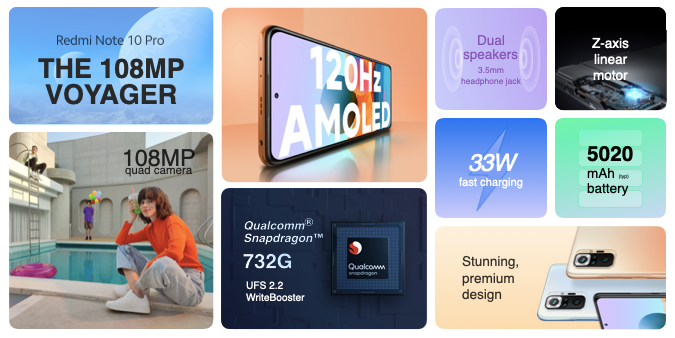 This is our 108MP Voyager. Next is the Redmi Note 10 and Redmi Note 10S! The AMOLED Explorer and the 64MP adventurer! Redmi Note 10 and Redmi Note 10S share all the same essentials.

Inspired by Redmi Note 10 Pro and the long lineage of incredible Redmi Note devices that have come before them, Redmi Note 10 and Redmi Note 10S both feature beautiful, premium design, versatile and empowering cameras, exciting and immersive experience, and incredible, vibrant displays.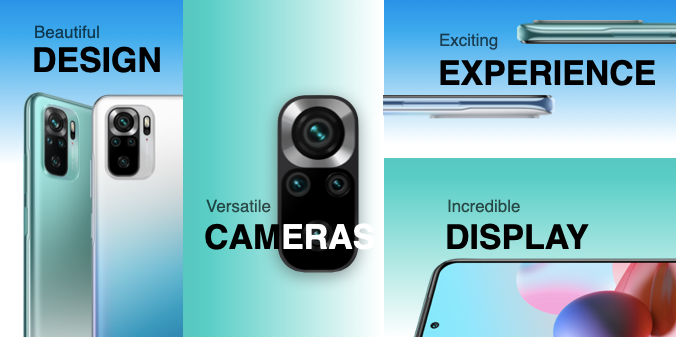 A bold, stylish camera module centers the design, drawing and catching the eye.
Slim, tapered edges, flat ends, and the 3D-curved back provide a feast for the eyes and a comfort in your hand.

Finally, the new Arc side fingerprint sensor provides fast, convenient, and secure unlocking, without messing up the profile of your beautiful device.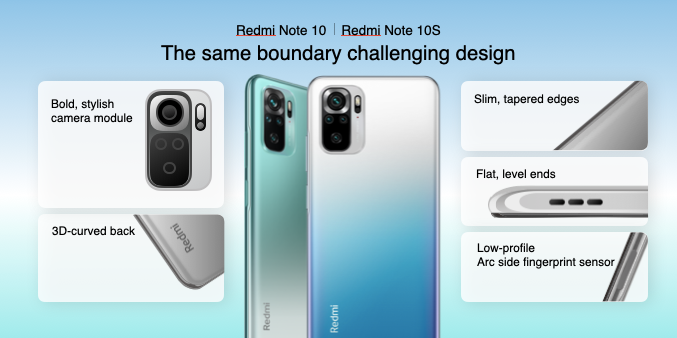 Aside from the main camera which I'll talk about in just a minute, Redmi Note 10 and Redmi Note 10S share the same boundary challenging quad camera setup. 118 degree ultra-wide angle lets you capture it all, while the depth sensor, macro camera, and selfie camera let you shoot the shots you want, all with just a tap.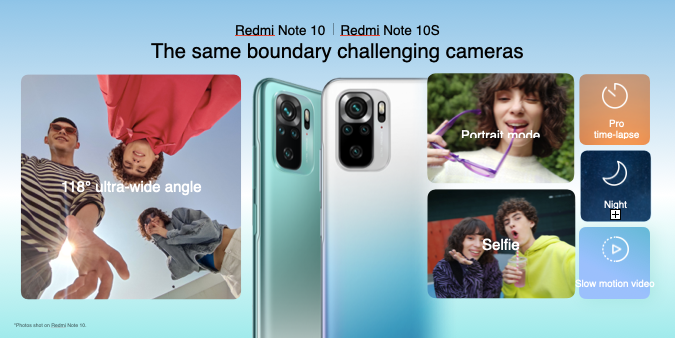 Once again, Redmi Note 10 and Redmi Note 10S inherited many of the impressive, segment-dominating specs of Redmi Note 10 Pro. We've upgraded fast charging to a whopping 33W, of course with 33W fast charger in box, Improved haptics with a z-axis motor for more realistic vibrations.

Upgraded to a 360 degree light sensor setup for more accurate brightness. Added a second speaker to give you stereo sound without giving up the headphone jack. And included large RAM and ROM with up to 512GB of expandable storage. All of this is powered by a massive 5000mAh battery.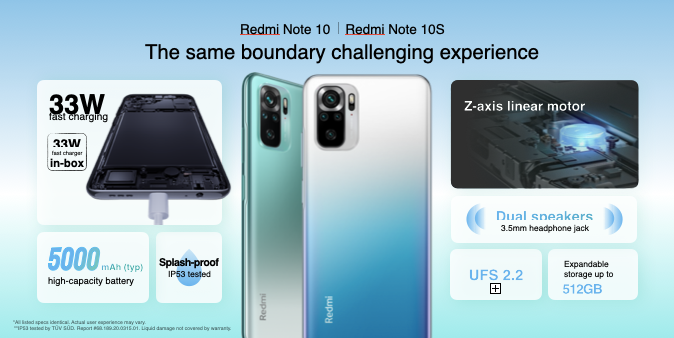 Redmi Note 10 and Redmi Note 10S will both feature a rich, vibrant 6.43" AMOLED display.


Redmi Note 10 and Redmi Note 10S are different in three ways.They have different main cameras, different processors, and different colors.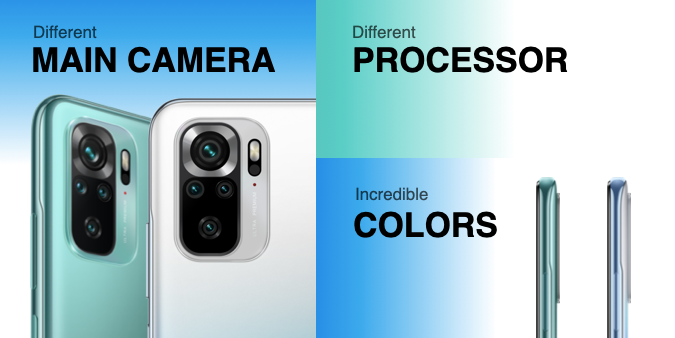 Next, Let's start with Redmi Note 10, the AMOLED explorer. Redmi Note 10 features an awesome, all-purpose 48MP main camera. Redmi Note 10 features a quick, snappy everyday processor that will easily power through all your daily uses, the all-new Snapdragon 678.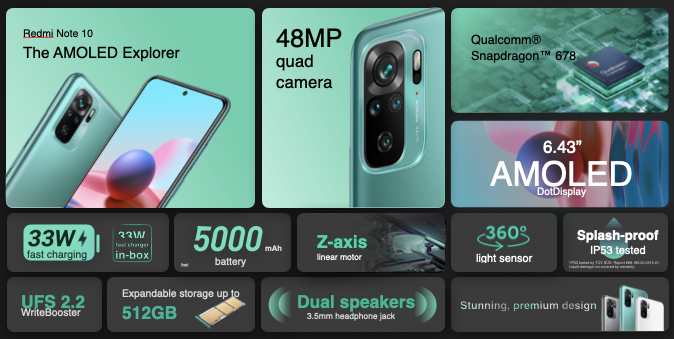 Now, let's talk about the Redmi Note 10S. On the processor front, Redmi Note 10S is an upgrade as well. Featuring the powerful MediaTek Helio G95, Redmi Note 10S challenges with faster gaming, improved performance and GPU, clocking speeds of up to 900MHz!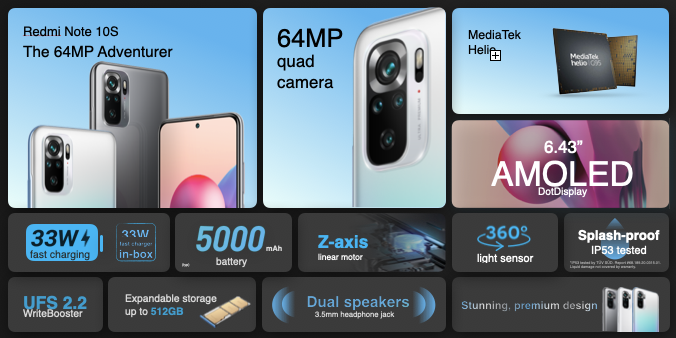 The Redmi Note 10 Series wouldn't truly be boundary challenging without challenging the boundaries of connectivity. Redmi Note 10 5G is a performance driven phone designed to challenge speed barriers. Redmi Note 10 5G, is 5G capable. Not only that, but with Dual 5G SIM support, you can double your 5G experience.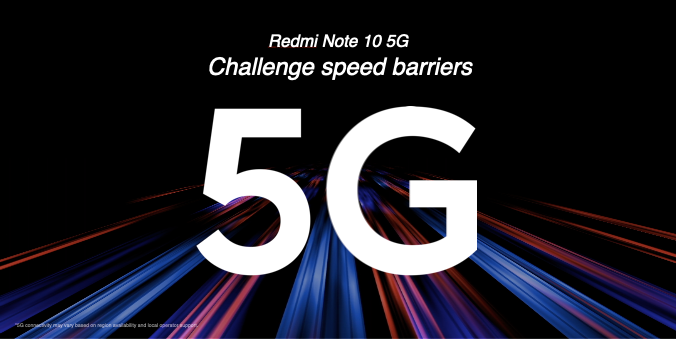 Not only does Redmi Note 10 5G have an immersive FHD+ display, but that display also sports an incredibly smooth 90Hz AdaptiveSync display. With super smooth 90Hz refresh rate optimized by our advanced AdaptiveSync technology. As well as Reading mode 3.0 and a 360º light sensor setup to match your display brightness to the surrounding lighting.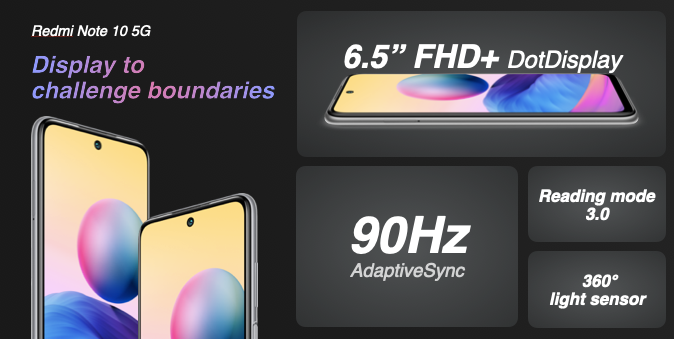 Redmi Note 10 5G features a truly powerful performance with a flagship-level 7nm process and support for 5G and 5G Dual SIM. On display, Redmi Note 10 5G challenges with 6.5" of Full HD+ resolution with 90Hz refresh rate and adaptive sync. Round it out with UFS 2.2, the massive 5000mAh, more than 2-day battery, and a 48MP triple camera.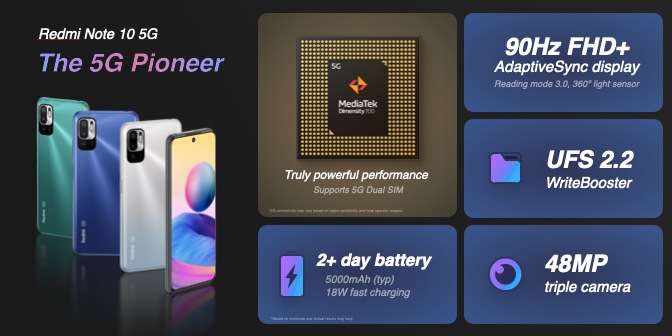 This launch was for mi and you, let's sing together, grow together, and make 2021 a truly incredible year of boundary challenging. Thanks for watching and we'll see you next time!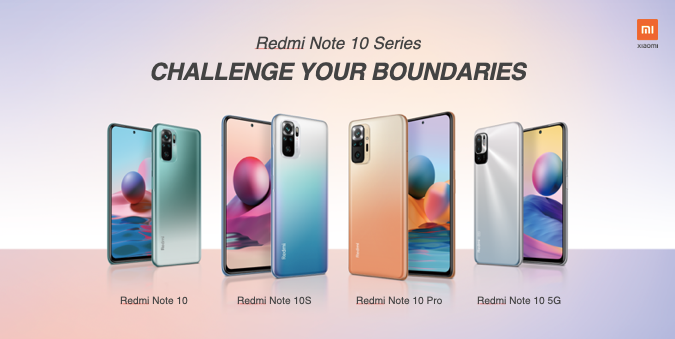 What's your favorite feature of the Redmi Note 10 Series?
Comments to show your love for Redmi Note 10 Series!
Rate