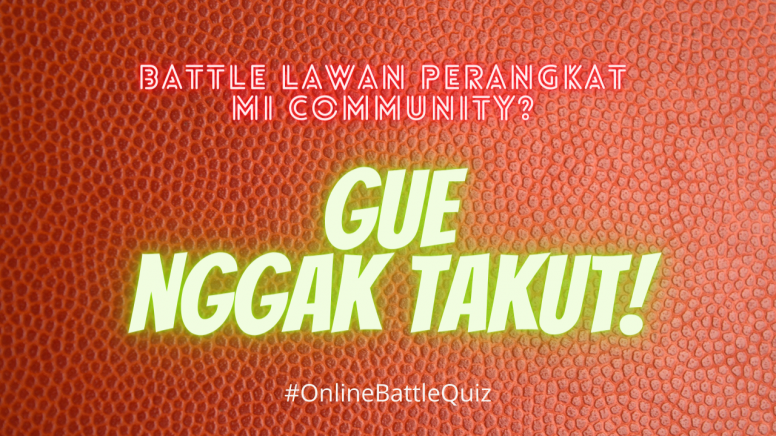 Assalamualaikum Wr. Wb.
Apa kabar sobat Mi Fans semuanya? Semoga semuanya dalam keadaan sehat walafiat ya. Ketemu lagi dengan saya, Ali Yusdi, setelah sekian purnama menghilang dari peredaran hehehe. Ya sebenarnya nggak hilang juga, cuma lagi buntu, bingung mau nulis thread apa. Pada dasarnya masih setia, setiap hari buka Mi Community walau sekedar check in, baca-baca thread ringan dan kadang komentar, jawab pertanyaan hehehe.
So, karena kemarin ada thread dari Mi Community yang isinya nantangin Mi Fans buat battle melawan perangkat Mi Community Indonesia, jiwa petarung saya meledak-ledak. Ibarat kata, si mimin membangunkan singa yang sedang tidur, halah, hahaha. Yaudah mau nggak mau, siap nggak siap, saya harus menyalurkan adrenalin yang sudah terlanjur membara ini. Apapun nanti tantangannya, yang penting maju dulu, urusan terpilih, menang atau kalah belakangan.
Dan by the way, ini adalah thread pertama di tahun 2021, tentu saja banyak yang belum tahu siapa saya. Biar banyak yang sayang sama saya, karena katanya tak kenal maka tak sayang, let me introduce myself. Nama saya Ali Yusdi, panggil aja Ali, Yusdi, Mas Al juga boleh biar kayak tokoh sinetron yang fenomenal itu hahaha. Saya asli Yogyakarta tepatnya Bantul walau golongan darah saya bukan AB :p. Hobi masih sama, mobil fotografi dan olahraga lari. Tapi saya bukan atlet ya, lari tujuannya buat ngecilin perut walau ternyata banyak yang komen "kamu rutin lari tapi kok perutmu makin gede", duh.
Oke, kembali ke topik utama, karena salah satu syarat untuk menjadi peserta #OnlineBattleQuiz ini adalah bikin thread yang isinya mempromosikan diri, sedangkan saya ini orangnya sangat down to earth alias tidak sombong saya jadi bingung mau mulai darimana hahaha. Pada intinya saya orangnya suka akan tantangan dan hal-hal yang baru. Saya sendiri sudah menjadi Mi Fans sejak tahun 2014, kalau sobat Mi Fans check profil saya, akan terlihat bahwa saya terdaftar di Mi Community Indonesia sejak tanggal 7 Januari 2017, umur akun saya lebih tua dari akun Mi Community Indonesia hahaha. Ya kalau ditanya tentang Xiaomi insyaAllah bisa menjawab sih saya. Pengalaman selama berkecimpung di Mi Community sejujurnya belum begitu banyak sih, karena saya baru bener-bener aktif dikomunitas itu tahun lalu, sejak corona menyerang Indonesia. Saya pernah menjadi Mi Explorers Geng Jawara, yang you know lah tantangannya lumayan bikin garuk-garuk kepala kalau dijalanin. Menjadi pemenang kontes yang diadakan di forum Mi Community maupun Instagram juga sudah pernah. Hey i'm worthy right? Let me in!
Please tolong jangan diskip, demikian sedikit cv dari saya untuk pengajuan diri menjadi peserta #OnlineBattleQuiz dan semoga saya terpilih menjadi peserta. Dan hey kalian semua yang baca thread ini, ayok ikutan, jangan sia-siakan kesempatan besar ini. Kalau kalian setuju saya terpilih menjadi peserta untuk battle melawan perangkat Mi Community Indonesia, kalian bisa like maupun ninggalin komentar dibawah ya. Terimakasih dan sekian dari saya.
Wassalamualaikum Wr. Wb.
Rate