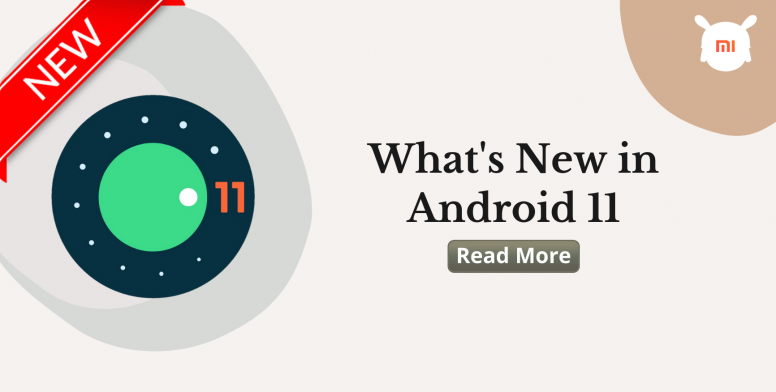 Dear User
Hope you are fine. Android 11 has been out, here's the changelog for Android 11. Let's see what's new in Android 11.


Better access to simultaneous camera streams for apps: API refinements in Android 11 let developers query which camera combinations can be simultaneously streamed, and use more and different combinations.
Conversations get a bubble shortcut icon: Whether you have them enabled or disabled, if the app supports bubbles for a conversation, you can turn them on with a single tap and open the bubble mode.
"All files" access permission for scoped storage won't be supported until 2021: As part of the scoped storage changes in Android 11, developers won't have access to the planned all files permission until 2021. If it is required, developers are told to stick to targeting earlier API levels for now.
Disable auto-reconnect for specific Wi-Fi networks: Android 11 lets you disable a new "Auto-connect" setting on a per-network basis.
Built-in screen recorder now records audio: Android 11's screen recorder, it can now also capture audio.
New screenshot markup interface: Google has adjusted the native screenshot editor in Android 11 to add a delete option, as well as a handful of other graphical tweaks.
New captive portal API for public Wi-Fi: Though it might take a while for access points to be tweaked to support it, Android 11 makes way for a better, more standardized way of logging into public Wi-Fi connections.
New and redesigned emoji: Android 11 delivers 117 new emoji and redesigns several older ones — though we find the changes less "Google-y." (Bring back the blobs, you cowards.)
Improved password autofill: Thanks to some behind-the-scenes tweaks in Android 11 to the autofill process, passwords and other sensitive autofill data can appear in keyboard suggestion strips rather than in a drop-down menu, and Gboard takes advantage of it.
Camera nerfing: Android 11 adjusts a handful of camera "intents" actions to only work with the pre-installed system camera in the name of privacy and to prevent concerns regarding surreptitious gathering of location data. Third-party camera apps will still work, but they won't be selectable as actions for certain workflows inside other apps.
Sideloading app restart tweak: When you grant permission to an app in Android 11 as a source to sideload from, Android will now restart the app in the background rather than taking you back immediately to where you were, though the sideloading process itself won't work any differently. This is a result of filesystem and storage changes with Scoped Storage in R that require the app restart to take advantage of the change in permissions granted.
Google Assistant volume: Android 11 supports separate Google Assistant volume.
Remove permissions: "Remove permissions if app isn't used" is the new name for the auto-revoke permissions setting in the final release.
Notification History: Google's working on a new way to view past notifications as part of the overall notification revamp in Android 11.
Android Auto 5GHz Wi-Fi: Every Android 11 phone that supports 5GHz Wi-Fi should work with Android Auto's wireless mode.

Is it helpful for you?
Special thanks to admin - mnnahid Bhai for guidance, assistance, and most of all - always support us to be the best of ourselves.
Special thanks to our sMod rayhanh Bhai for help create this post.
Also thanks to All s/Mod for the continuous support!
✪ About Mi Community Bangladesh:
The country's largest tech Community Mi Community Bangladesh is the hanging out place for all the Bangladeshi Mi Fans. Here we share the latest news and happenings about Xiaomi in Bangladesh. All official product launch announcements, sales updates, event registrations, and other news and conversations related to t Xiaomi Bangladesh are also published on this platform. More importantly, this is where we can interact with like-minded Mi Fans like you!
Download The Mi Community App