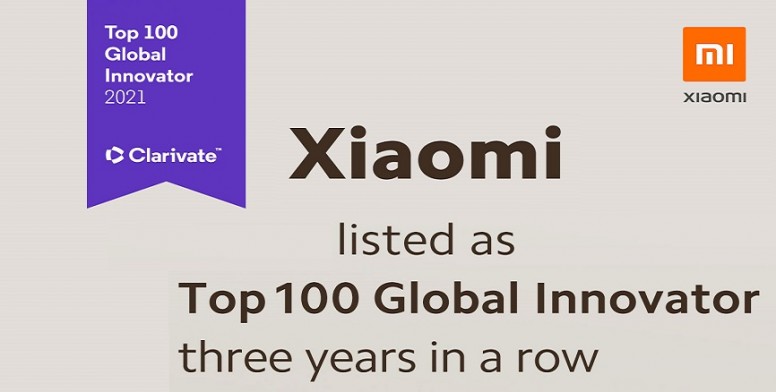 Hello Mi Fans,
Great news! On Feb 23, 2021, Clarivate Analytics launched the list of Top 100 Global Innovators ­- and ­we are thrilled to announce that Xiaomi has been named on the list for the third time. Four Chinese companies were selected as this year's global top 100 innovators, namely: Huawei, Tencent, Xiaomi, Telecommunications Science, and Technology Research Institute (now part of China Information and Communication Technology Group Co., Ltd.).
The Top 100 Global Innovators report was released by Clarivate™, a global leader in providing trusted information and insights to accelerate the pace of innovation. This year marks the 10th year of the report, which has become a leading indicator in global R&D innovation. The Clarivate Top 100 Global Innovators 2021 come from three continents and 14 countries/regions.
Xiaomi relies on the rapid commercialization of innovations through its "Hardware + new retail + internet" model that it has followed since the day it was founded. Our revenue surpassed 100 billion RMB in just 7 years since the company was established, setting a historical record in global business history. In 2019, Xiaomi's revenue exceeded 200 billion RMB, with its products entering more than 90 countries and regions around the world.
Xiaomi's innovation capacity and forward-looking strategic nimbleness have been consistently recognized. Xiaomi ranked at No. 24 among the 50 most innovative companies of 2020 in the world by Boston Consulting Group (BCG). Xiaomi also ranked 422nd on the Fortune Global 500 list for 2020, a decade after its iteration. That marked the second consecutive year for Xiaomi to stay on the list. It was the youngest company on the list for 2019, ranked No. 468.
It is through persistence in innovation and continuous exploration that Xiaomi has made these achievements within the past ten years.
In the next ten years, Xiaomi will uphold the spirit of innovation and use more breakthrough technologies to allow more people to enjoy the beauty brought by technology.
Thank you to all of our Mi Fans and partners for your continued support!
#InnovationForEveryone