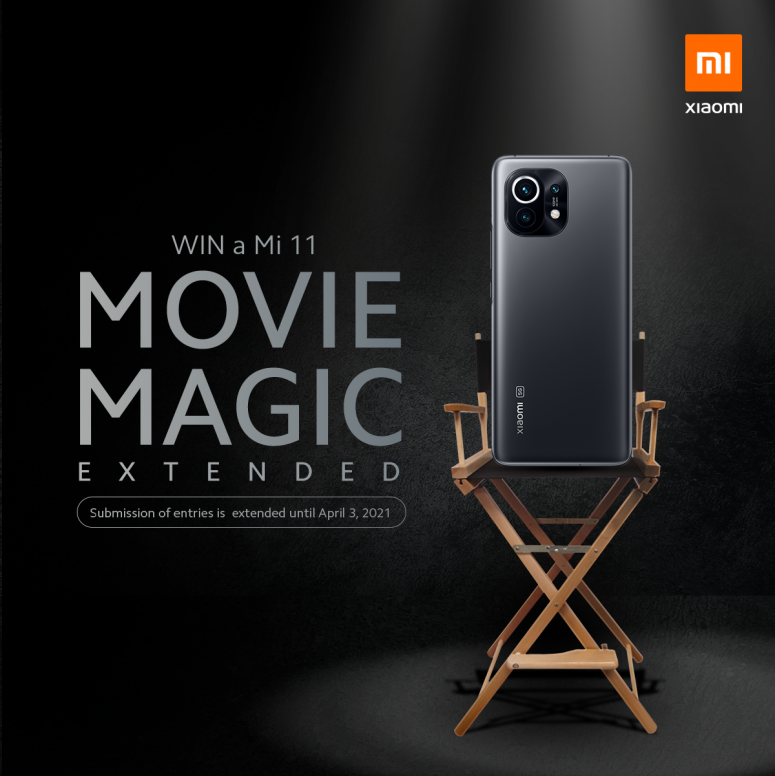 The #MovieMagic is set, the spotlight is on, and it's time for you to shine!
Capture your best shots for a chance to be one of the 2 winners of Mi 11!
1. Produce a 1-2 minute cinematic video and post it publicly on your own Facebook account. Concept can be anything under the sun. Be creative!
Note: No usage of old videos or outputs that has been used in other contests. Content must be fresh.
All materials used, including the music in your video, should fall under Fair Use and Other Exceptions to Copyright. Otherwise there's a chance that Facebook will take the post down. For more info on Fair Use, click here:
Facebook help center
.

2. Can be shot using a DSLR Camera or any smartphone device capable of producing 1080p quality.

3. Tag us @XiaomiPhilippines in your post with the hashtags #MovieMagic #Mi11isHere

4. One of the 2 winners of the new Mi 11 will be chosen by Xiaomi Philippines using the criteria for judging.
The other winner, The People's Choice, will win by having the most Heart react.
6. Make sure to use the
Mi 11 Spotlight On photo
as your
Facebook cover photo
to qualify for the contest. Click here to download:
http://bit.ly/Mi11CoverPhoto

CRITERIA FOR JUDGING
50%
Cinematic execution
30%
Creativity
- Concept
- Story
- Transitions
20%
Compliance with the Overall Mechanics







TERMS AND CONDITIONS:


1. Contestants must be between 13 and 65 years of age, currently living in the Philippines.

2. Links to entries posted using dummy Facebook accounts will not be considered as valid.

3. Once the valid ‌entries‌ are ‌compiled, one winner will be chosen manually by Xiaomi Philippines while the other winner, The People's Choice, will win by having the most Heart react.

4. Qualified entries with timestamps between February 20, 2021 11AM PST and April 3, 2021 11:59PM PST are the only entries that will be considered and compiled.

5. The winners will be announced by mid-April. The winners are then advised to send us a private message on our Facebook page to confirm your identity and claim your prizes.

6. The winners only have fourteen (14) days to contact us through our Facebook page to claim their prizes. Failure to do so will reserve us the right to choose another winner as replacement.

7. By entering the promo, the participants agree to participate in such promotional activity and material as Xiaomi deems necessary, within reason.

8. Prizes are not transferable to another person.

9. No part of a prize is exchangeable for cash or any other prize.

10. Customs or taxes related to receiving the prize will be taken care of by the winners, if there are any.

11. If, in any case, the advertised prizes are not available, we reserve the right to offer an alternative prize of equal or greater value.

12. Xiaomi has up to 90 days to deliver the prize to the winners, upon confirmation of address and details of the winner.

13. Xiaomi reserves the right to amend these rules at any time. If rules are indeed amended, we are obligated to notify everyone of the new rules via our Facebook page together with a valid explanation as to why changes were needed.

14. While the contest is run on Facebook, it is in no way sponsored, endorsed, or administered by, or associated with Facebook. By participating you hereby release and hold harmless Facebook from any and all liability associated with this promotion.