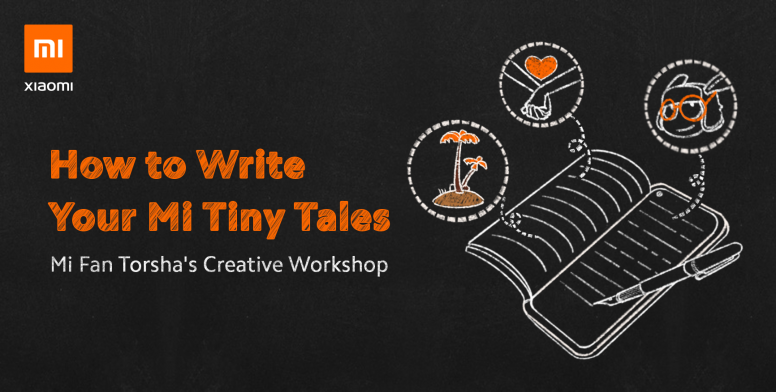 Hello Mi Fans,

Welcome to my Mi Creative Workshop. I am sure most of you know me here – I am Torsha, a Mi fan, an ardent Mi lover, a super moderator – that's the order in which I define myself in the Mi world!

I believe creativity comes in the form of original thought, divergent thinking, inspiration, and imagination. And with all these together we build one of the most in-demand creative skills – Creative Writing! You got it right. Today's workshop is all about Creative Writing.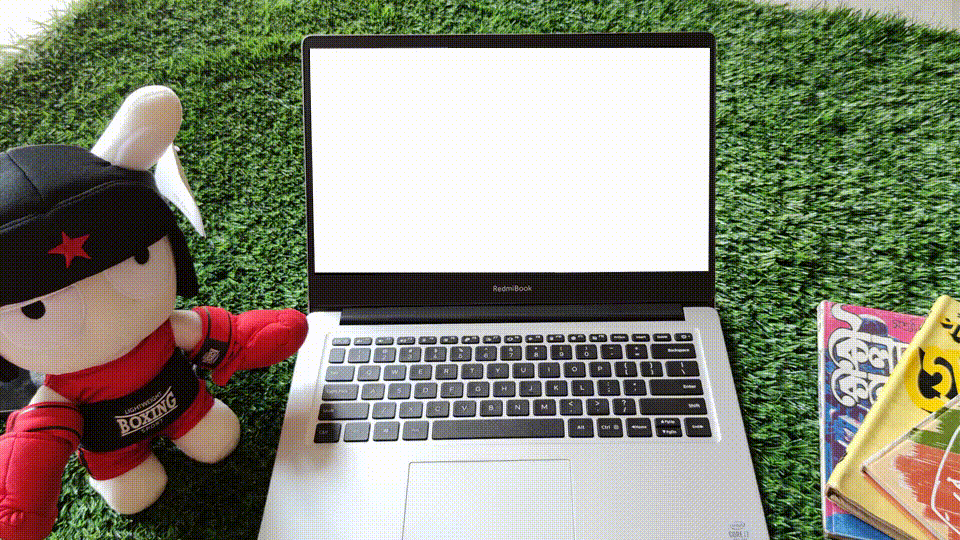 All that you need for Creative writing is imagination and creative thinking! Whether you are a scribbler, a would-be journalist, marketing & sales personality, or just a secret diarist, if you can write in a compelling, creative way, it will help you a great deal!

In today's workshop, we will be focusing on one form of creative writing - short stories! I will try to focus on the important aspects of short story writing that would be useful for you to enhance your writing skill!



Let's Begin!


****Remember, crafting an original write up always takes time, practice, and persistence.

Parts/ Elements of a Short Story:

Before we go into the step-by-step process of structuring creative writing pieces, it is important to understand the 7 key elements of any short story. These are -


Plot - The main sequence of events that make up the story
Characters- Characters create your story
Settings- Time, place, and environment where the characters operate
Inciting incident- The catalyst. The plot-twist.
Point of view- From whose eyes the story is being told.
Style- Vocabulary, use of imagery, tone,
Theme- Central message


Here is a simple illustration to make you familiar with the elements in details -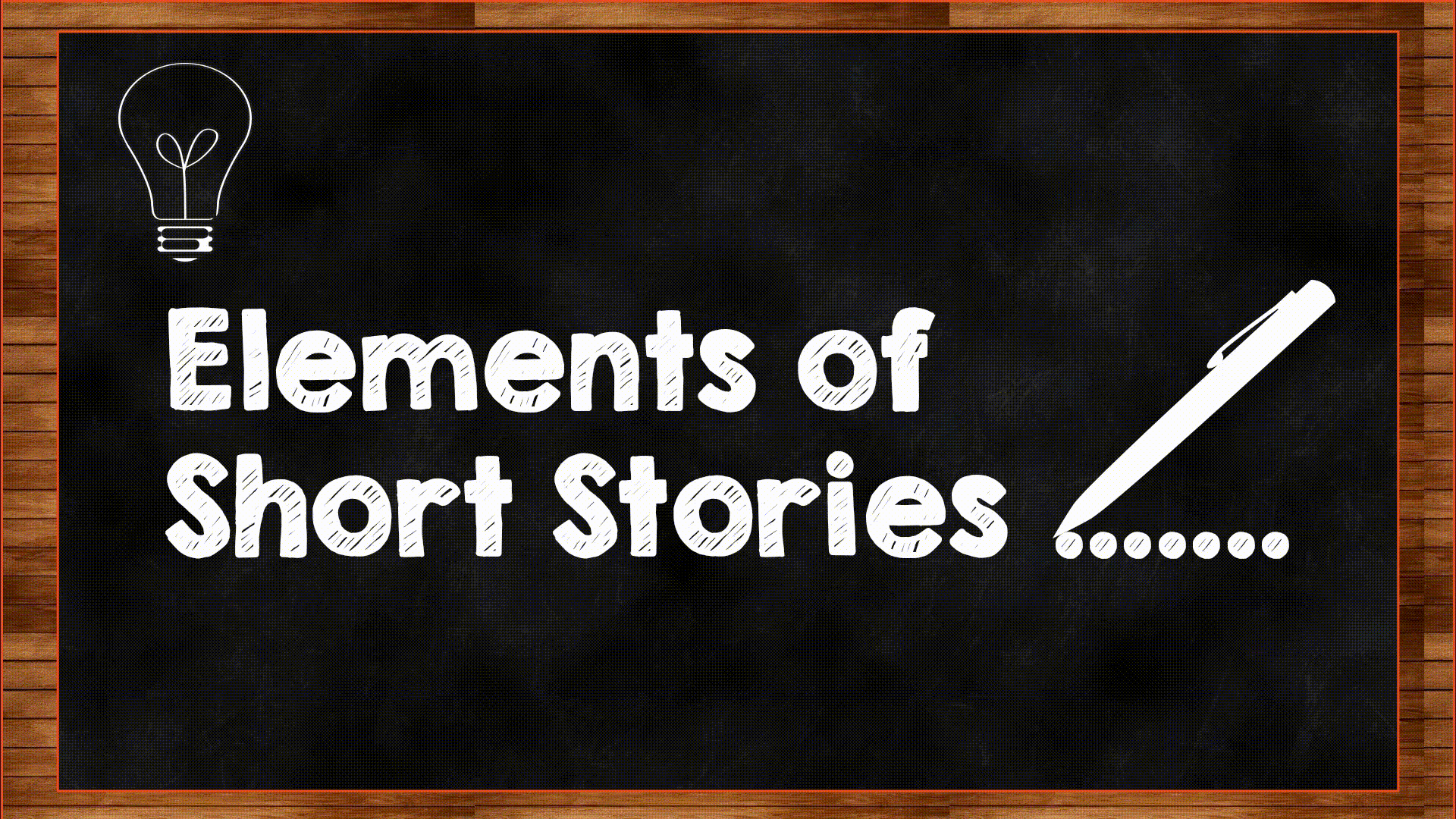 Now how do we structure our creative writing pieces?
Here goes the process of going from an idea to the complete story into a series of small, specific steps. It involves 5 steps together -
Idea Generation
Noting down key points
Formulating dialogues
Start writing
Final touch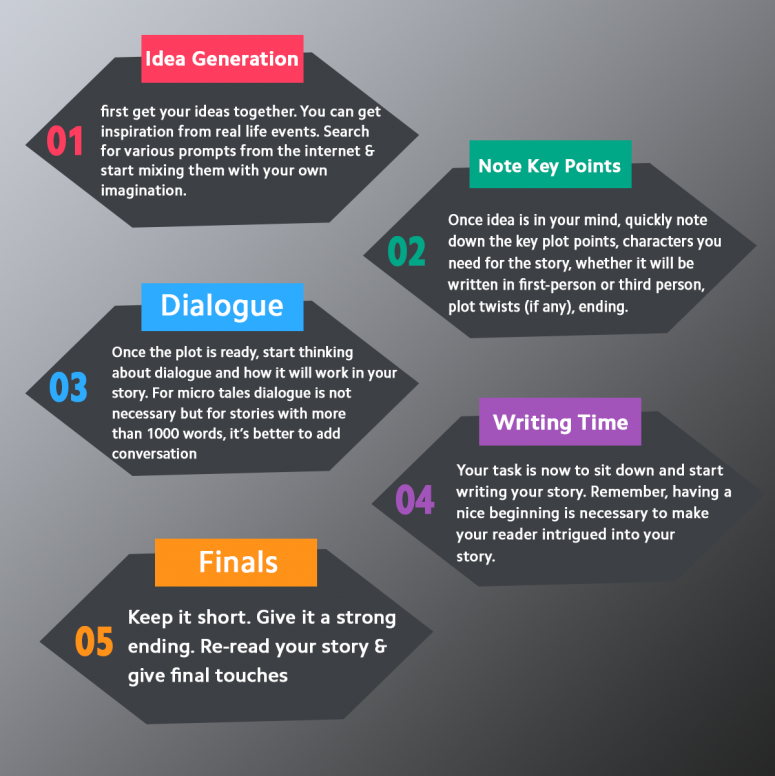 That's all! By keeping these things in mind and with a little bit of patience, practice, the habit of reading and observing the surroundings around us, it becomes easier to express our voice through words and turn our imaginings into a well-crafted unique short story.
Now we come to the most interesting part of our workshop! We have prepared a simple task to jump-start your creativity and brainstorm into something fun to write. Follow my instructions to make your masterpiece of a short tale and show your writing skill to the world and the best ones will be rewarded with Mi products!
Step by step instructions for your Mi Tiny Tales -
Start with your general story concept - the prompt. That is the root of your story. Here we have made 4 sets of prompts which have 3 elements on each. Pick any of these 1 set ( THREE ELEMENTS) to tell us a story



Then break it down into more details — acts, and story arcs. For example, here I have picked the first set - (1 Mi Product, Deserted Island, Summer). You can pick anyone.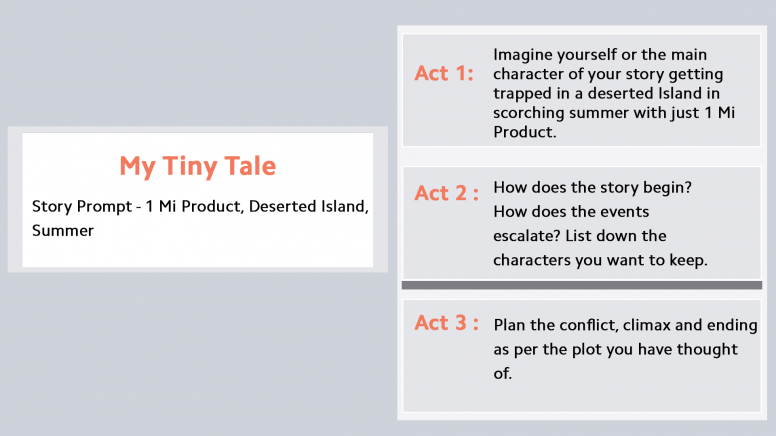 Which you then break down even further — into scenes.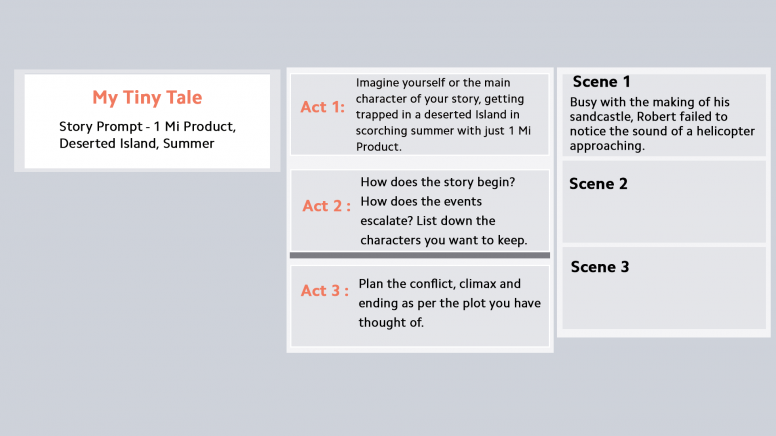 Simple and Interesting, right? I have made my story template inspired by Nulis as I find it extremely useful. You can have your format which seems to be suitable for you. You can find my story in the first comment to this thread.
Now Your Turn!
How to participate?
Pick any of the THREE ELEMENTS (given below) and tell us a story: For example, if you have picked set no. 3. Write a story that will include the words Postcards, Mi 10T Pro, and A Wish.
Follow my instructions to create your short tale.
Your story should not exceed the word limit of 300
Leave a comment with your story in this post; I am going to give you advice on how to improve it.
I am going to select the best works and make a new thread to announce the winners.


Pick Your Prompt and start writing your short story in the comments: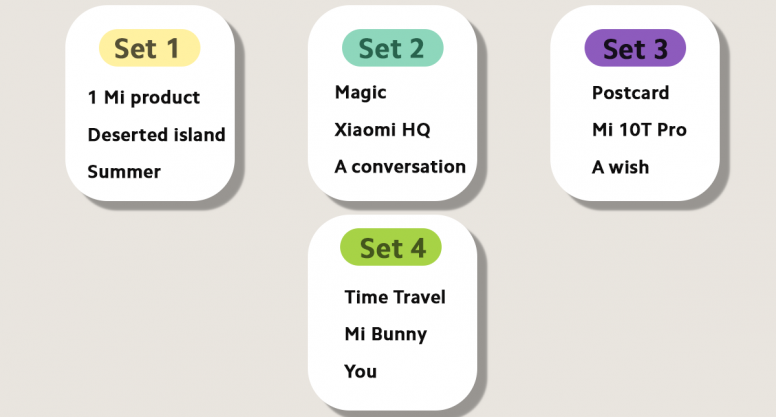 Submission Deadline:
February 26th
Beijing standard time, GMT + 8:00
Rewards:
First Prize
:
Mi Watch Color
Second Prize
:
Mi Noise Cancelling Collar Bluetooth Headset
Third Prize
:
Mi Bluetooth Collar Earphone
If you have any doubt or question about how to write the short tale, feel free to ask me in the comment section below. I'll answer all your questions as soon as possible. To know more about Mi Creative Workshop, click the subscribe button down below to follow the column.
Mi Creative Workshop is a space where everyone can come and teach us something new, to use our Xiaomi phone in a more creative way. If you have any special talent or skill that you would like to share with us, join this project by filling this form (
https://forms.gle/mcTovtYAaGJERiGX8
) and sending a short description of yourself to
mi-workshop@xiaomi.com
.
Create stories that are quick to read
But Hard to Forget! :)
Rate