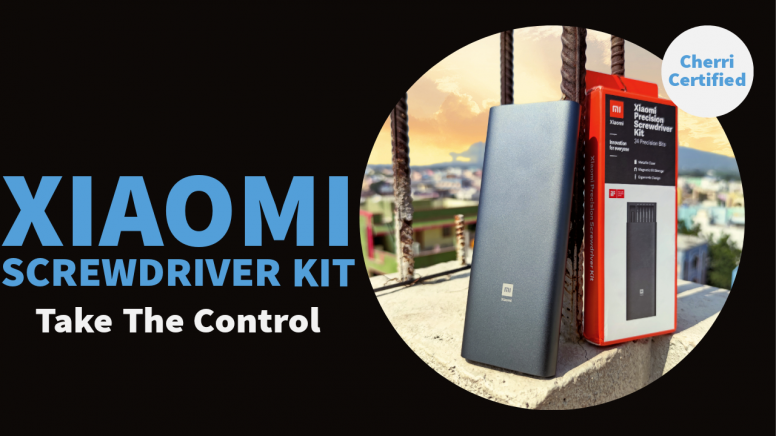 Greetings Everyone
How are you all? I hope everyone is fine and safe, I hope we have a lot of screwdriver kits out there in the market but Xiaomi Precision Screwdriver Kit is a set containing a screwdriver with 24 bits and Xiaomi claims it is the all-in-one solution for the daily DIY repair tasks at home. The design, materials, and much more to take control of this screwdriver kit in my #CrerriCertified review treatment.
Where It Started
Xiaomi Inc
is a manufacturer based in Beijing. Since they started with the M1 smartphone in 2011, they are getting bigger every year and gaining more and more market share with their home electronic devices. They currently sell products varying from smartphones and televisions to drones and smart health watches.
Wiha
is a German manufacturer of hand tools that origins in
1939
. The products they produce range from professional grade tools (which are widely used in the industry) to consumer-grade tools with a focus on high quality. In the last decade, they further expanded their markets from Europe to Asia. Maybe that's how Xiaomi and Wiha met. Let's hope this collaboration results in a good balance of Xiaomi's design-focused but cost-friendly products and the high-quality Wiha is known for.
Unboxing
The outer box of the Xiaomi screwdriver kit is a regular orange box (17.9 x 8.00 x 2.99) with a product picture on it. On the package, it was proudly labeled with "Red Dot Award 2017 winner".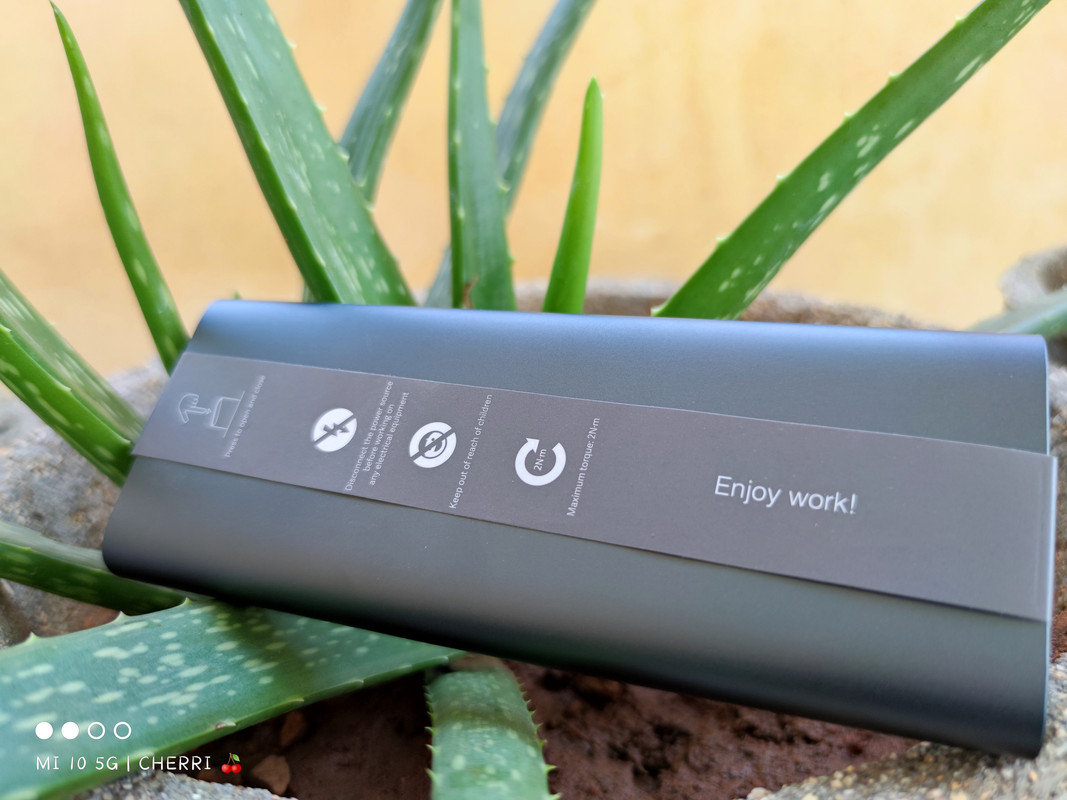 The only thing inside the box is an aluminum storage case of a rounded shape. The paper lint crossing warns the user that the screwdriver is not to be used for live circuits or be given to children and that the maximal torque of 2 N·m must not be exceeded. It also encourages the user to "enjoy work."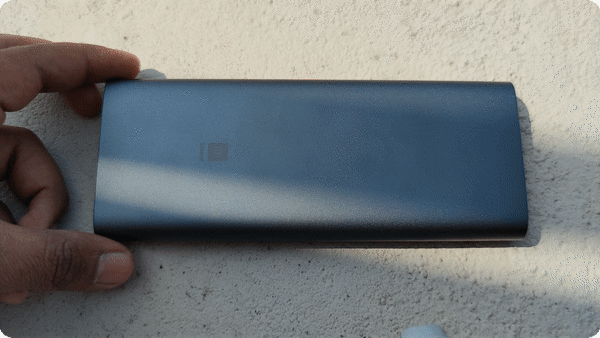 In order to open the case you need to press on its top side, and the plastic bit holder will pop out.
The package of the Xiaomi screwdriver kit contains the following. A Screwdriver Handle, made of aluminum alloy with a rotating top. 24 x Bit ( PH000 / PH00 / PH0 / PH1 / PH2 ), Hex ( H1.5 / H2.0 ), Torx ( T2 / T3 / T4 / TR5 / TR6 / TR8 / TR10 / TR15 ), Slotted ( 1.5 / 2.0 / 3.0 / 4.0 ), Spanner U2.6, Tri-wing 3, Pozi ( P2 / P5 ), Triangle 2.3),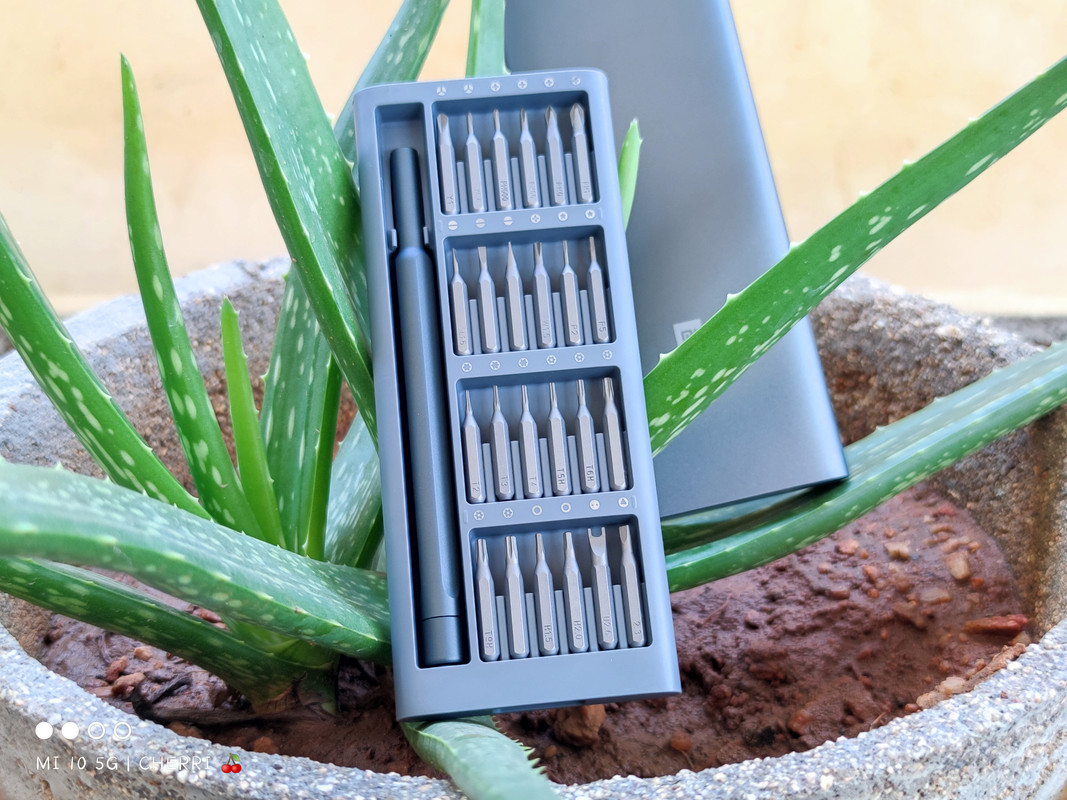 The bits and handle are stored in the Aluminum Alloy Storage Box. The outside of this box is made of aluminum alloy, the inside is made of plastic with magnetic holders for the bits.
Build Quality & Design
The build quality is good. The bits are made of hardened SII steel and the screwdriver handle feels pretty solid. The case is made of aluminum alloy and really is anti-sweat and anti-corrosion. Clicking the screwdriver bits into the handle initially feels a bit fragile, but that really is not the case.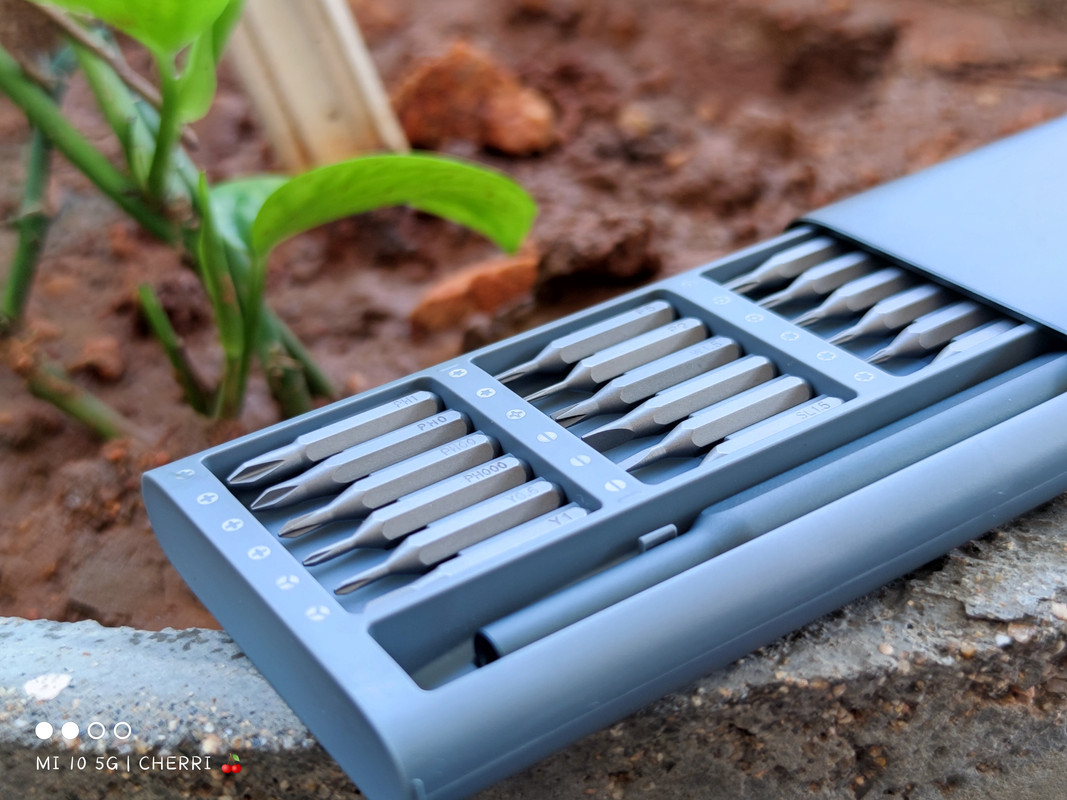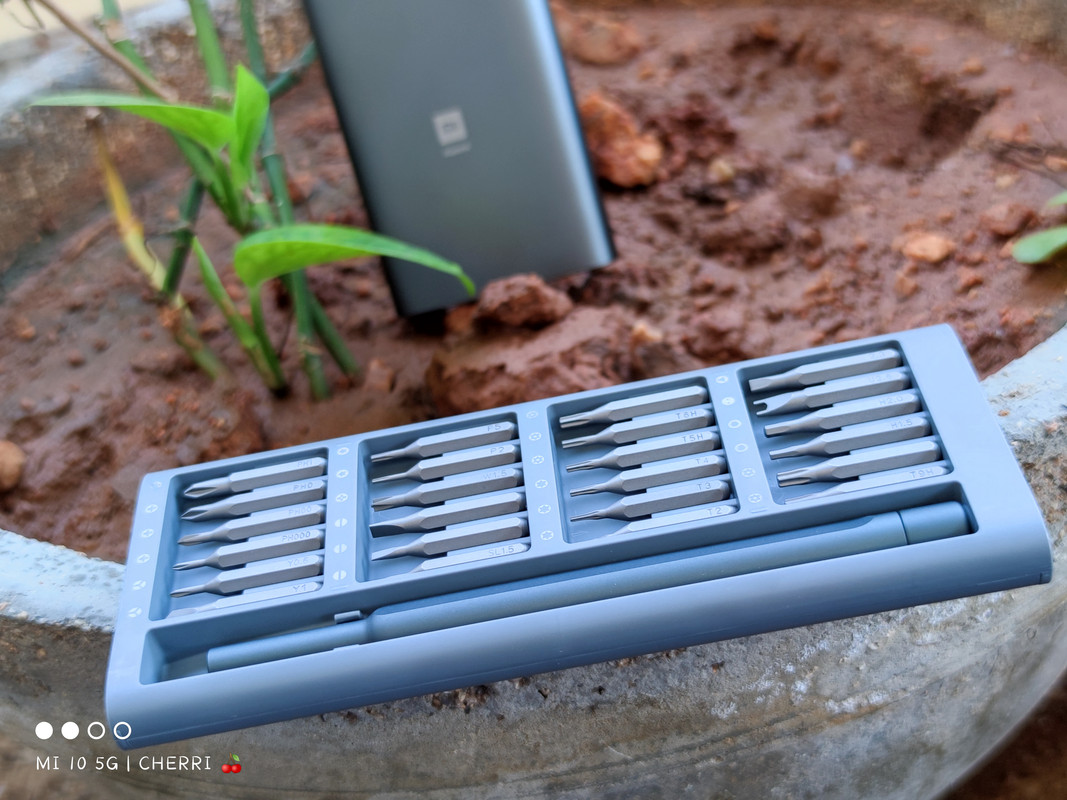 The magnet in the handle's head keeps the bits well in place. The space between the bit and the head only distorts a tiny amount when putting the screwdriver to use. The weakest part of the set is the plastic holder of the bits and screwdriver head: this starts to show some scratches after a while.
Xiaomi screwdriver in action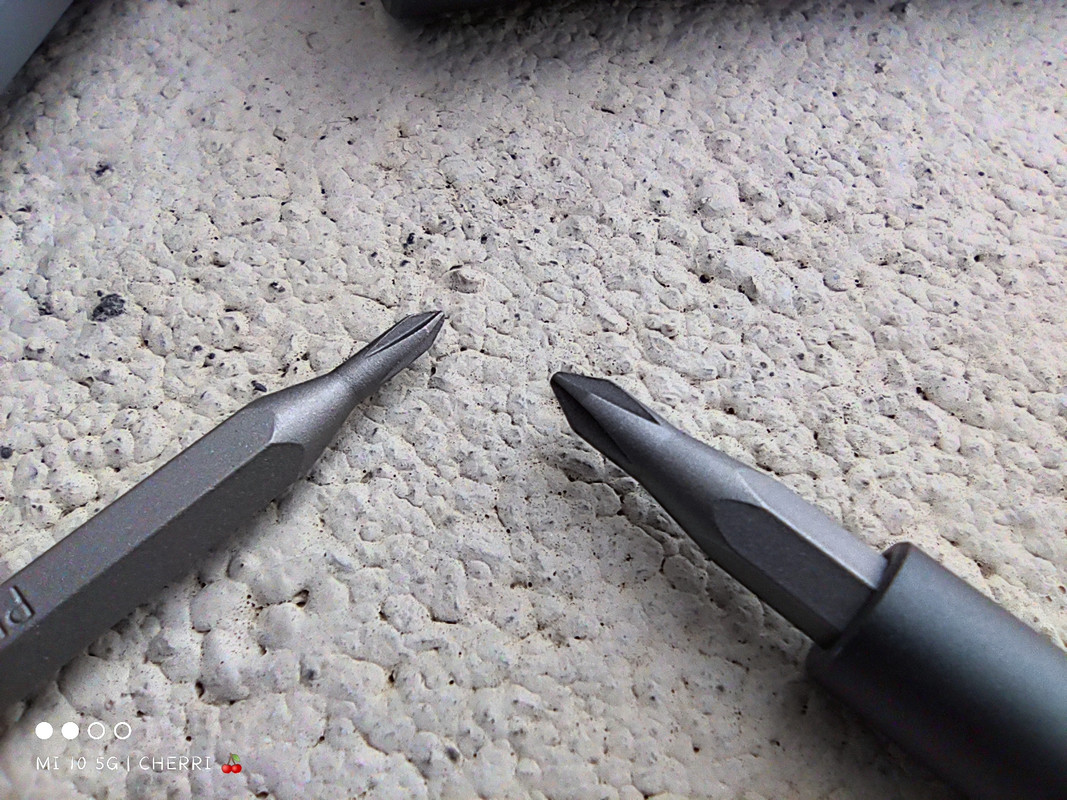 I used the screwdriver kit for a couple of weeks for my daily DIY repairs. It was stored in the computer drawer and I grabbed it when needed. Did some chores with it varying from replacing the tail light of my car, screwing some screws into wood, and removing some of the components from my computer for cleaning. Because further nothing in my house broke down I started to test it on working items.
I'd have to say it was a pleasure to use – the smooth metal barrel actually feels good in the hand especially as it's weighty and gives a premium feel. There are no burrs, unlike some cheaper sets which can dig into your skin. Despite being smooth, it isn't a big problem to maintain a grip on it either, with the spinning end cap being smooth through the range of rotation. The finish is delicate, but the body of the driver is a one-piece design (excluding the end cap), making it sturdy compared to multi-part sets.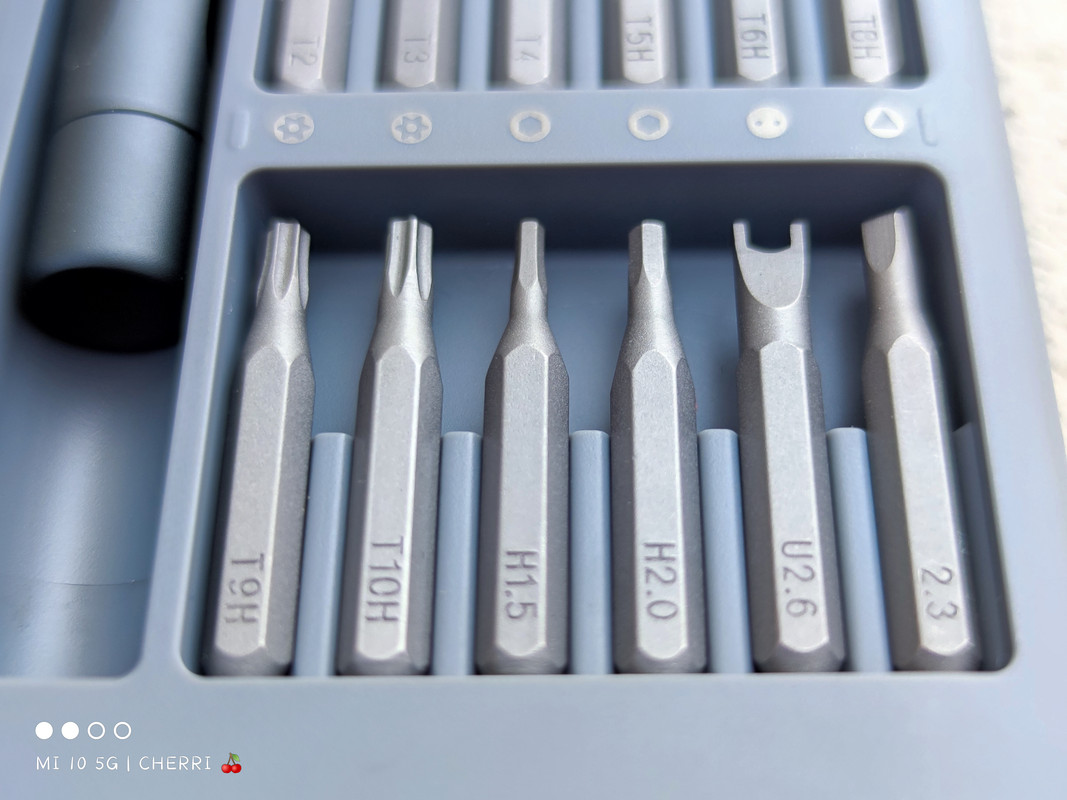 The magnetic bit storage is also very well designed, keeping the bits in their place during transportation and marked clearly as to the type for easy identification. This is unlike some other sets which use "loose" bit trays which can get lost and don't inspire you to return the bits to their place after use. Each bit is marked with its designation and Wiha brand, so you don't get them mixed up.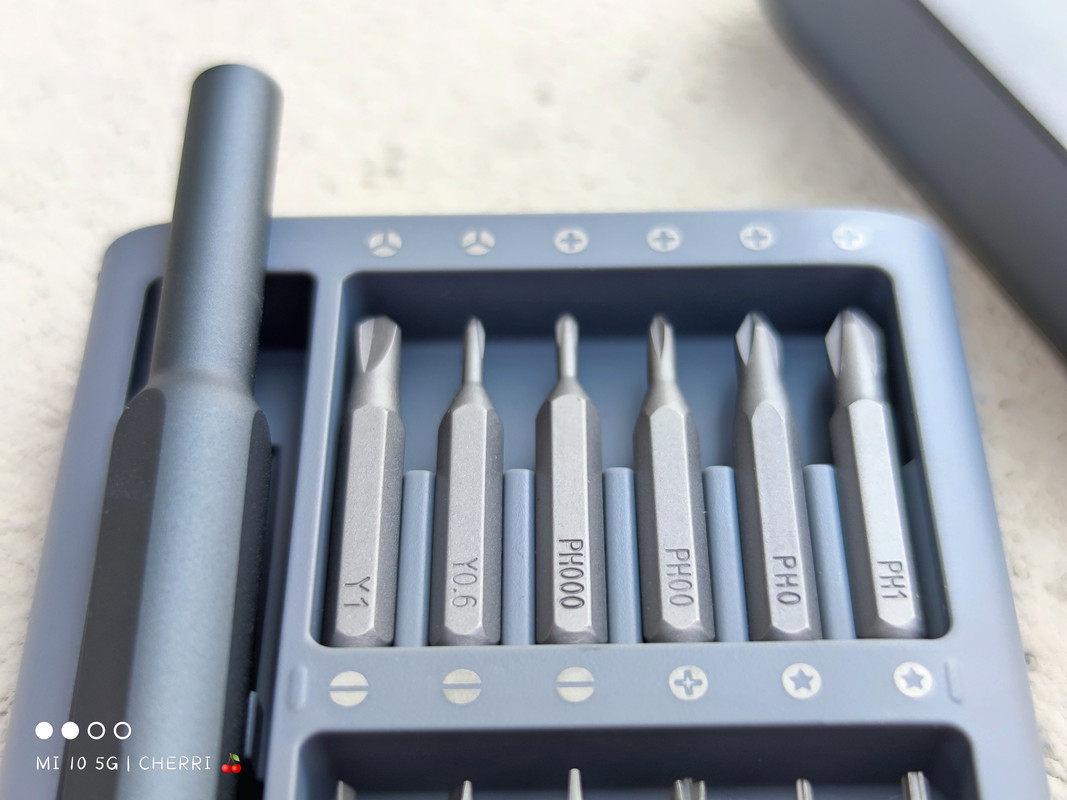 The one difference seems to be in the driver storage compartment, which uses clips to hold the driver. This can get a little tricky to remove but was probably necessary as the driver seems to be made of aluminum which is non-magnetic.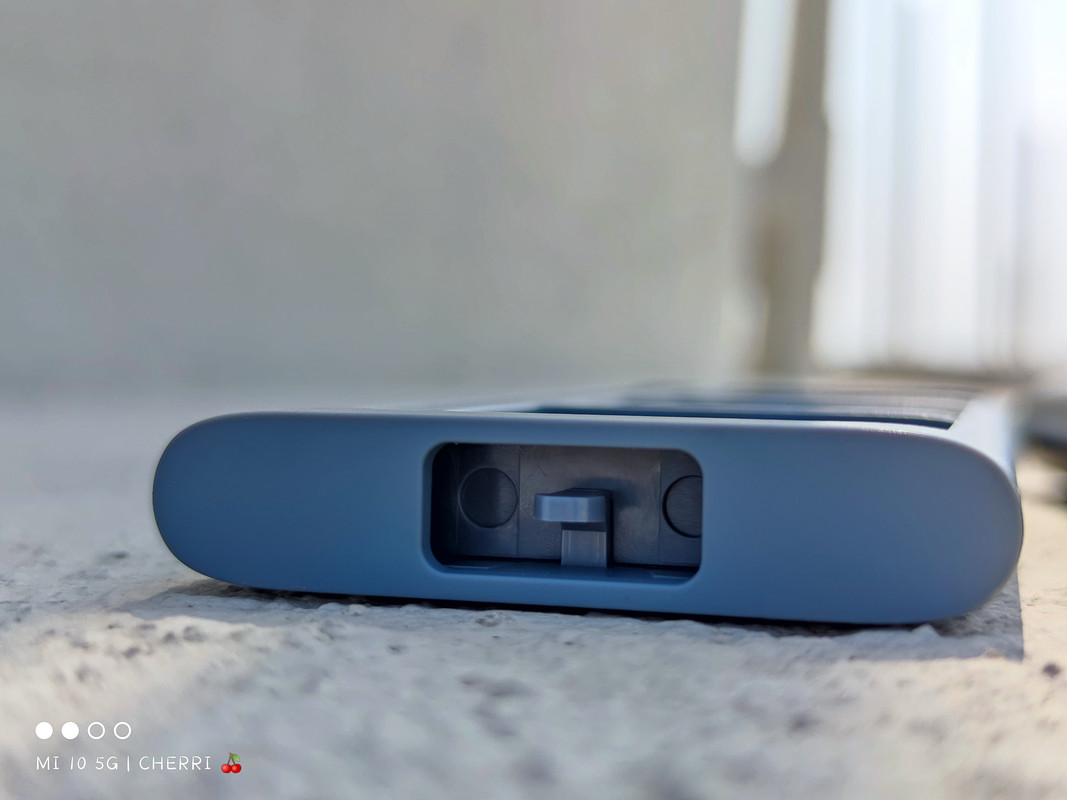 The tray is retained inside the casing with an internal plastic latch, similar to that you would find on older entertainment cabinets to hold the doors shut. This provides enough force to retain the tray in transit, ensuring your kit doesn't spill out in your bag.
Pros
Good variety of bits for smaller DIY repairs.
Build quality is very good.
Magnetic holders keep the bits properly in place.

Cons
Getting the bits back at the right place can be a puzzle.
Lacks the additional typical mobile phone or pc repair tools.
It does not fit in your (normally sized) pocket.

Conclusion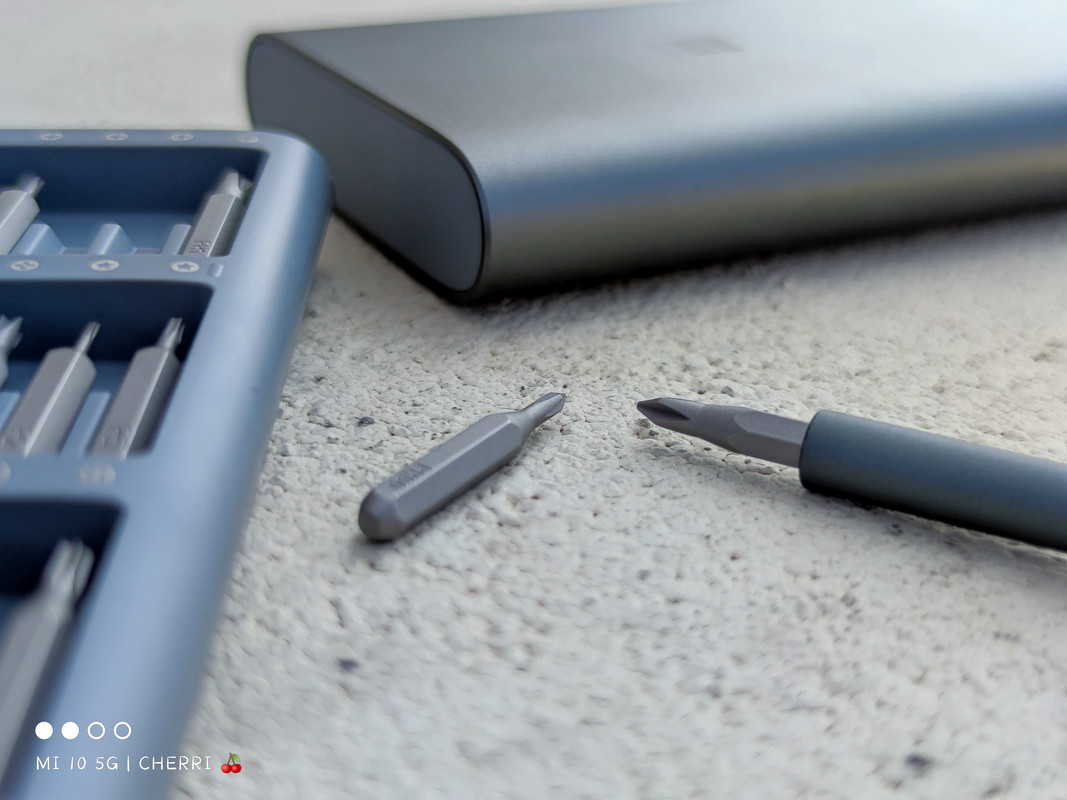 When the price is considered, Xiaomi has provided a premium quality tool for an affordable price. Being a
"collaboration"
with Wiha, an esteemed German tool manufacturer, is in itself impressive and the quality of the set lives up to the expectation. The slogan of "enjoy work" may sound funny, but the experience of using this set is indeed more pleasurable and once you experience it, you may find it somewhat fitting especially if you're used to losing, weak bits that strip heads, miss-out delicate smaller sizes and come with plastic molded handled drivers with burrs.
If you ever find yourself taking things apart – it's definitely a good value to have one of these around. Maybe even two. Nevertheless, we can safely recommend the Xiaomi screwdriver kit.
See you guys in my next review until then take care bye
Thank you for this great opportunity to start my new series
Special thanks to adminElaine, Smods Muz_paray&feds64 for the great support.
Rate