Counterpoint Research has released its report on the Indian smartphone market for Q4 2020. According to it, the market only dropped by a mere 4% throughout 2020 despite the global pandemic. As a result, the total shipments exceeded 150 million units. Whereas, the market grew 19% YoY in the fourth quarter as Diwali was almost a month later in November, compared to 2019. Also, in spite of anti-China sentiments, Chinese companies accounted for a 75% market share in 2020.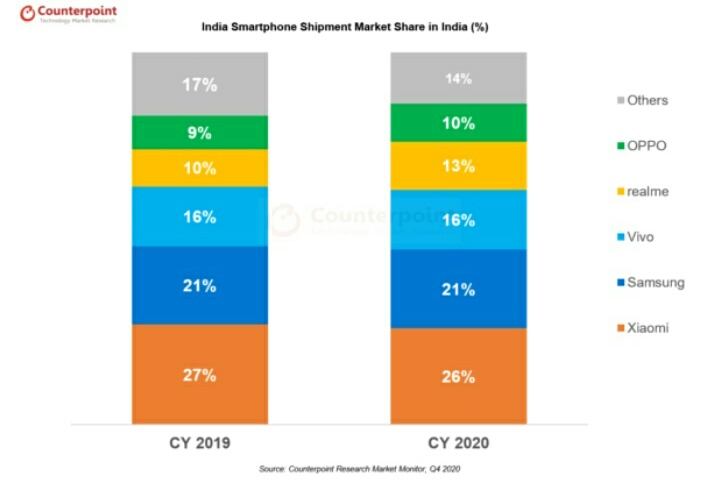 Talking about brands, as per Counterpoint, Samsung was the largest smartphone brand in Q3 2020. But in Q4, Xiaomi managed to recapture the top position with 13% YoY growth. The company's strong performers were unsurprisingly the Redmi 9 and Redmi Note 9 series.

That's not all, the POCO brand itself shipped over 5 million units in the last quarter of 2020. Its bestsellers were none other than the POCO C3, POCO M2, and POCO M2 Pro.

Despite coming second in Q4, Samsung's witnessed a 30% YoY growth.

Further, vivo came third and continued to be the top offline brand in 2020. However, its shipments declined by 13%. Then, in the fourth position, realme shipped over 20 million units for the first time in 2020. The brand grew 22% last year and therefore, it was the highest growing brand in 2020.

Lastly, OPPO's shipments increased 11% YoY in 2020, however, the company's growth was sort of flat in Q4. The OPPO A12 and OPPO A53 were its best-selling devices.

Talking about other brands, Apple crossed 1.5 million shipments in a single quarter for the first time in India. The American tech giant captured the sixth spot in Q4 with a 171% YoY growth and 93% YoY growth in 2020.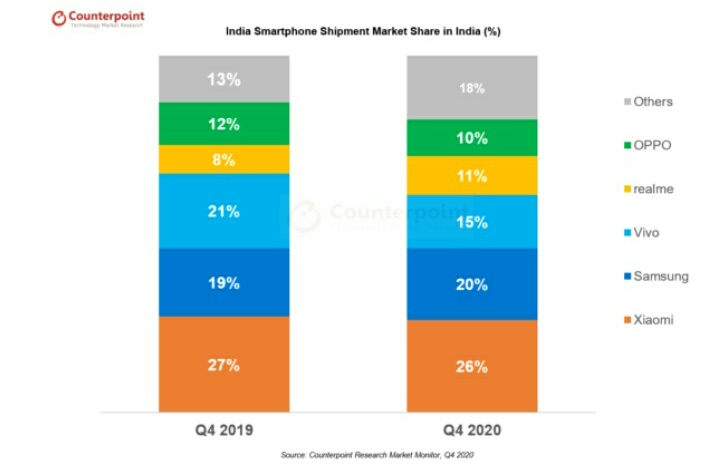 As far as OnePlus is concerned, it shipped more than 3 million units for the first time last year, thanks to the OnePlus Nord. Also, it grew a whopping 200% YoY in the fourth quarter.

Finally, Transsion brands (Infinix, itel, TECNO) observed their highest-ever shipments of 9 million units in Q4 2020. TECNO Spark 6 Air, itel Vision 1, and Infinix Smart 4 Plus models were their best-sellers. Also, itel was the largest feature phone brand in 2020 as a whole for the first time, in addition to the last quarter.




Source:- View.