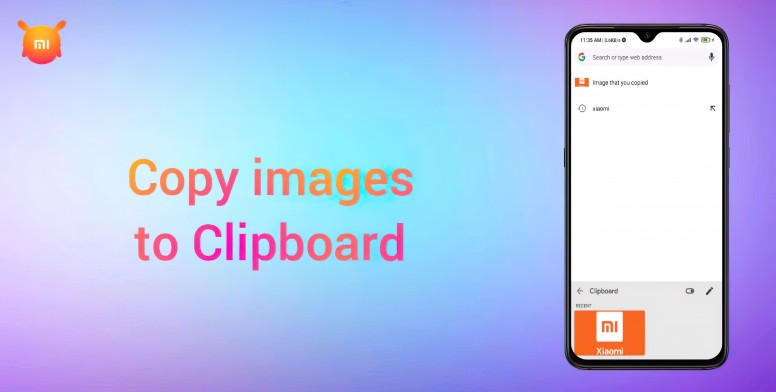 Hey Mi Fans,
On behalf of the Device Team of Mi Community Bangladesh, hopefully, you all are doing well during this time of the pandemic. Copy and paste is probably the most frequently used feature in computers and smartphones. It saves you the trouble of typing the same content over and over again for multiple people. Now, when it comes to computers, it is very easy to copy-paste almost anything. It could be text, images, videos, audio files, documents, etc. However, in recent times, mobile phones have started getting advanced and powerful. It is capable of doing almost everything that a computer can.
Therefore, it wouldn't be fair if a disparity existed between the two in terms of copy and paste abilities. You would be happy to know that it is now possible to copy an image to the clipboard on your Android smartphone. This small feature will make a big difference in the way we share images. You no longer need to download the image or take a screenshot to share an image. Instead, you can directly copy the image and paste it wherever you need it.
How to Copy an Image to Clipboard on Android Phone
If you are working on an Android device, then you can easily copy text and images to the clipboard and use them as and when necessary.
Follow the steps:
Firstly, open the internet browser on your device (say Google Chrome).
Now search for whatever image you are looking for.
Tap on the Images tab to see the Google image search results.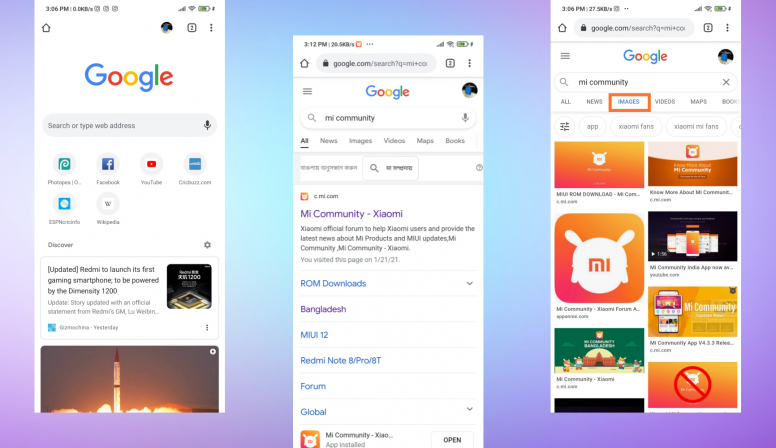 After that, select the picture that you would like to copy and tap on it.
Now tap and hold on to the image, and a menu will pop-up on the screen.
Here, select the Copy image option, and the image will be copied to the clipboard.
Now, click on the Paste option, and the image will get pasted on the document.
That's it. You are all set. Follow these steps and you will be able to copy-paste any image from the internet.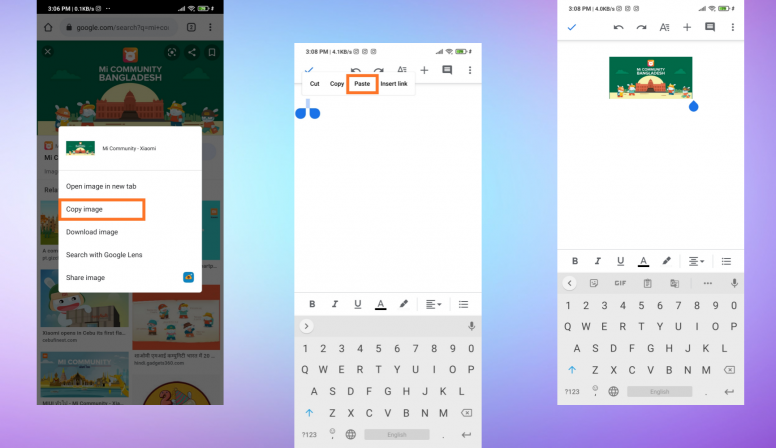 Which Apps allow you to Copy and Paste Images?
One thing that needs to be mentioned here is that not all apps allow you to copy and paste images. Those are Apps that allow this Images copy-paste process:
WhatsApp
Facebook
Messenger
Snapchat
Twitter
Viber
Google Messages
Skype
IMO
Google Docs
Badoo
Hangouts

Special thanks to our Admin
mnnahid
vai and Super Moderator
rayhanh
vai for guidance, assistance, and inspiration.
Related Threads:
❂ About Mi Community Bangladesh:
Country's largest Tech Community Mi Community Bangladesh is the hanging out place for all the Bangladeshi Mi Fans. Here we share the latest news and happenings about Xiaomi in Bangladesh. All official product launch announcements, sales updates, event registrations, and other news and conversations related to Xiaomi Bangladesh are also published on this platform. More importantly, this is where we can interact with the like-minded Mi Fans like you!
Download The Mi Community App