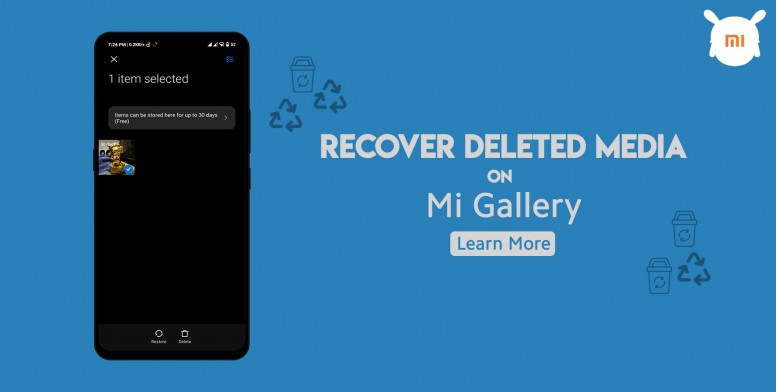 Hey there Mi Fans!
Greetings from the Device Team of Mi Community Bangladesh. Hopefully, you all are well during this pandemic. Here and now we all take various pictures and videos which are quite indeed valuable to you. Sometimes we might delete them mistakenly and regret deleting them afterward want to recover them. But the amount of hassle we need to do get them back is much more than we can think. But Mi never wants you all to go through that hassle. On Mi devices, the default Mi Gallery app is developed and maintained by Mi's expert app development team. By their knowledge of development and hard work, they have made a feature named 'Trash bin' which helps you get back your deleted pictures and videos with the least amount of hassle.

By now I know some of you all know about this feature but some may not know about it and might find it useful for themselves. So, if you are one of those who wanna know how to use this feature, here is how:


Open your Mi Gallery app.
Click on the '3 Dot' icon on the top right corner of your screen.
Click 'Settings' when the pop-up comes.
Scroll down to the bottom of the settings.
After scrolling down, you will find this feature named 'Trash bin' which is in the Additional Settings sections.
Click on the picture/video you wanna restore.
Now, click 'Restore'.


Done! You recovered your unwanted deleted picture/video restored without any hassle. But every feature has some limitations:

Anything you delete using the Mi Gallery can be restored by the 'Trash bin' feature. But deleting using any other application will not be able to restore your deleted files.
Any picture/video you delete using Mi Gallery app will be possible to restore within 30 days from first deleting it.
If you are looking for a somewhat similar feature for devices with Google Photos, stay tuned on Mi Community Bangladesh to read about that as it will be published soon.




So has this feature helped you? Tell us in the comment section down below.



✪ Threads you might wanna look into :



❂ About Mi Community Bangladesh:

The country's largest Tech Community Mi Community Bangladesh is the hanging out place for all the Bangladeshi Mi Fans. Here we share the latest news and happenings about Xiaomi in Bangladesh. All official product launch announcements, sales updates, event registrations, and other news and conversations related to Xiaomi Bangladesh are also published on this platform. More importantly, this is where we can interact with like-minded Mi Fans like you!

Download The Mi Community App