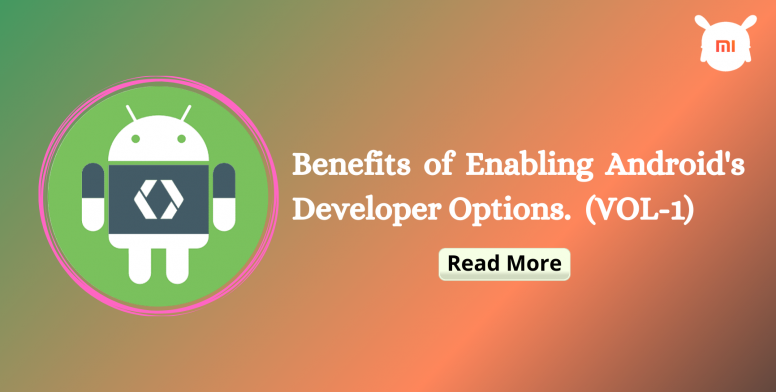 Hello Mi Fan's
Hope you are fine. Android devices are packed up with some secret set of options, known as Developers Options. These are meant for users' who want to access them for several technological purposes such as to test a software/app or to write an app for Android devices. These options allow you to simulate app stresses, enable debugging options, capture bug reports on your Android, and even show CPU usage on the screen to measure the impact of your software. Its have also some benefits. Let's see those.


Benefits of Developer Options: Bug Report: Your phone has bug reports which are there for your view, however, they are available for view only when your device provides them. Tapping this option, in the top of the list, enables you to view this report whenever you wish.

Desktop backup password: You are given an option to backup and restore things to and from your PC. Setting a password will allow you to do so.

Stay Awake: Enabling this option will keep your phone's screen awake anytime and every time it is plugged in. This feature is essentially helpful for developers

Enable Bluetooth HCI snoop log: You will be able to capture and analyze Bluetooth HCI (Host Controller Interface) packets. When enabled, your phone will capture and place them in a file on the device storage (/SD card/ btsnoop_hci.log) for analysis.

Debugging USB Debugging: This feature allows your Android device to communicate with your computer, via USB. You can also revoke

USB debugging authorizations: When you use a computer to debug over USB for the first time, you have to authorize it and set up a keypair.

Select mock location app: This option will allow you to set location information for any specified app. It is helpful for you if you're developing an app that requires location information.

Select debug app: If your wish to debug an app, simply choose it with this feature. Networking Select USB configuration: You can customize how your Android should react when connected with a PC over USB.

Show touches: This option adds a visual cue on the screen wherever a touch is registered.

Pointer Location: Enabling this will place an information bar at the top of your phone's screen and helps you know the last place your device's screen was touched.




Is it helpful for you?


NOTE: You may not get some benefits depending on the device.

Warning: Turning on developer options might result in irregular behavior in your device. These options are recommended only for advanced users.



Special thanks to admin - mnnahid Bhai for guidance, assistance, and most of all - always support us to be the best of ourselves.

Also, special thanks to our sMod rayhanh Bhai for help create this post.

Also thanks to All s/Mod for the continuous support!

The country's largest tech Community Mi Community Bangladesh is the hanging out place for all the Bangladeshi Mi Fans. Here we share the latest news and happenings about Xiaomi in Bangladesh. All official product launch announcements, sales updates, event registrations, and other news and conversations related to t Xiaomi Bangladesh are also published on this platform. More importantly, this is where we can interact with like-minded Mi Fans like you!




Download The Mi Community App

Coronavirus (COVID-19) Advisory:
Use a face-mask as much as possible.

Using Dettol / Savlon when doing laundry.

Using gloves when you're going to the market / super shop.

Clean children's toys, kitchen utensils, dining tables, chairs, etc.

Use the sanitizer and tissue to clean Home or office door locks and handles and then use.