After every Christmas dinner, there will leftovers...and leftovers are amazing!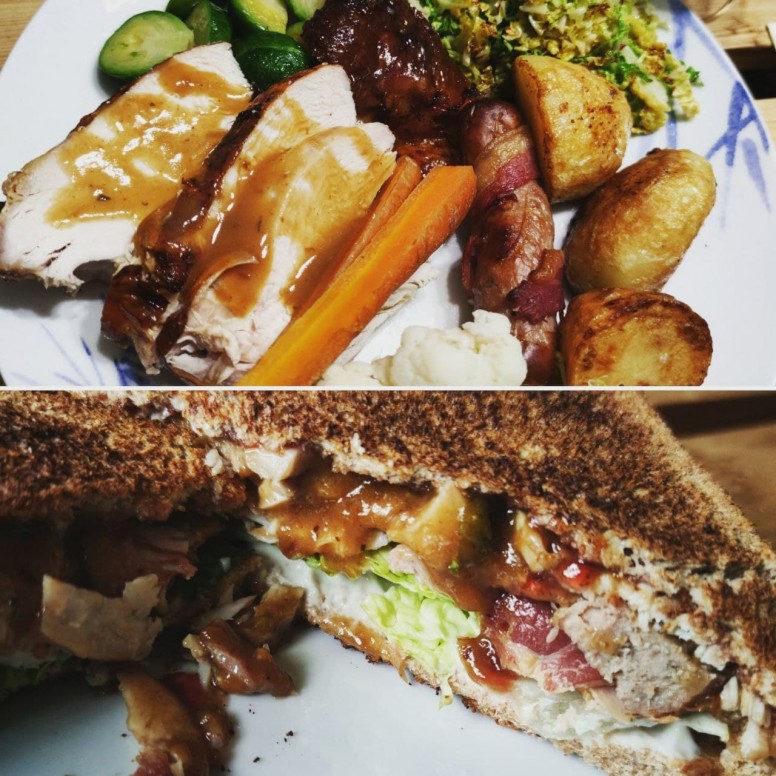 I personally choose to use them in "The Moist Maker" (extra points if you understand the reference!).

Ingredients:
3 slices of bread
Mayonnaise (optional)
Lettuce, cabbage or sprouts
Gravy
Leftover turkey
Cranberry sauce
Stuffing or Pigs in Blankets (optional)

Preparations:
Spread mayonnaise on two slices of bread evenly (make sure you get the corners!), and place on top of one of them a leaf or two of lettuce (or any other green vegetable from day before). This one will become the bottom slice. Add turkey, stuffing or pigs in blankets.

Warm up the gravy using a saucepan or microwave and then dip a third slice of bread into the gravy. It will soak up all the lovely goodness. Once soaked through place on top of the turkey becoming the 'moist maker'.

Then add more turkey and top with cranberry sauce. Finally close the sandwich with the last slice of bread (already mayoed). If this "Manwich" is abit too much to handle then use a large toothpick to hold everything together.
...and volia! There we have it 'The Moist Maker', enjoy.

Do you have leftover recipes to share?