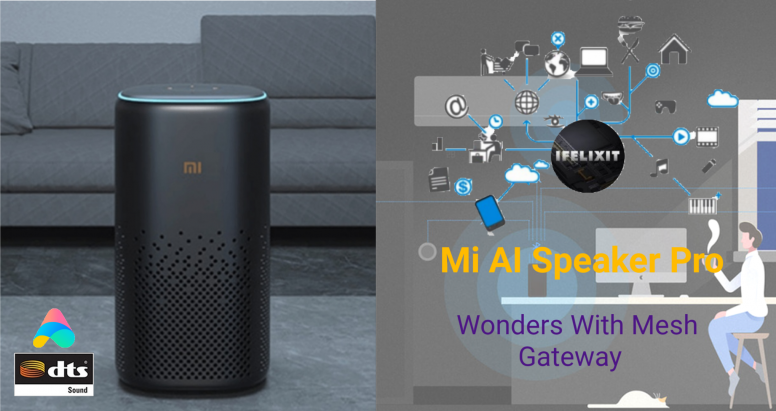 Wassup Mi fans! The festive holidays are coming down pretty soon and the frantic search for gifts is intensifying for most of us. I will revv-up some interesting gadgets for quick ideas. Today I will review the Mi AI Speaker Pro. Let's get down to it!
As you can you can see in my Mi home setup, I have acquired the Mi AI Speaker Pro for other section of the house, in this case a pair of Mi AI Speaker Pro, to create a Stereo system for a multi-directional audible perspective to watch my Mexican telenovelas drama and as my motivator for learning Mandarin to communicate with the small love classmate aka XiaoAI Tóngxué and tap to other resources in the rich contents it has to offer. Mind you it's all in Chinese as it is designated for use in Mainland China. Furthermore, it can be automated to operate most of the other gadgets in the picture above with simple commands.
The Mi AI Speaker Pro has a diameter of 5 inch, comes in black colour while the normal version is white. Mi AI Speaker Pro is a more powerful version with 750ml a big volume which comes with a Hi-Fi audio processing chip, as well as a 360-degree sound field and professional DTS tuning. The smart speaker's main function is its ability to control several smart home products. It can control up to 5000 different smart home products within the Xiaomi Ecosystem Products. It is able to connect to these products via Xiaomi Bluetooth Mesh Gateway.
Mi AI Speaker Pro is equipped with Texas Instruments professional inter-frequency processing chip TAS5805 with automatic gain control and 15-band sound balance adjustment to achieve excellent sound quality.
A flagship sound quality with more than 30% than the previous generation. The 750ml large volume, a bigger sound chamber giving an ample reserved power to create a better bass performance than ever before. The 2.25 inch high-end speaker unit makes the medium and high frequency clearer and low frequency bring a better listening experience. The 360° surround sound field to attain the best sense of hearing at any angle. Mi AI Speaker Pro is DTS professional tuning of the world's top sound company to deliver 3 sound modes to adapt to various music styles of listening, a steady bass, a clear treble and a delicate vocal to meet a diverse listening needs. The sound mode can be viewed in the Xiaomi Home App in the 'My-DTS Sound Settings'.
As I mentioned earlier, it has the support for distinguishing left and right channel functions, a stereo playback or multi-room music playback function with more speaker units around the house to get a simultaneous playback among the speakers. It's great to note that Mi AI Speaker Pro has the whole house playback support.
You can utilize the voice remote control (Chinese version) for the other Mi Smart devices in the Xiaomi loT platform to access more than 196 million smart devices of 28 types and across 54 other platforms.
As shown above, with the remote control capabilities you can control the full range of Midea Air-conditioning and other traditional home appliances.
For Quick setup, the first step is to install the Xiaomi Home App on your mobile phone. The second step is to connect the power supply and start setting, connect the power of the Mi AI Speaker Pro, about 1 minute after powering on, the indicator light will turn orange and enter the configuration mode. If it does not automatically enter the configuration mode, you can press and hold the 'Mute' key for 10 seconds and wait for a successful voice prompt, then release mute key and follow the configuration mode.
Behind at the bottom is the Aux In and power jack. You can connect to a smartphone or computer to listen to your favorite tracks. It's an additional function of connecting to the home stereo system will allow you to enjoy the best and surround sound in even better quality.
It can control Xiaomi IoT platform devices as well as other IoT platform devices.
As the exciting features continue to be enriched, you can chat, play games, guess riddles, and chat with XiaoAi, as more and more developers join the Xiaomi XiaoAi Open Platform, XiaoAi students are getting more features one after another such as Knowledge, Q&A, Radio, XiaoAi Training Plan, Subscription Number, Evernote, Poetry, Chat, Movie Information, Limited Line Query, Ancient Poems, Listen to Voice, Travel, Exchange Rate, Calculator, King of Comedy and more adding to the list of apps.
Mi Al Speaker Pro is the most ideal speaker to get for the holidays, the Hi-Fi audio processing chip TAS5805, can guarantee excellent sound quality and adjust 15 band sound balance, not only that having the AUX IN interface which can directly play music from your mobile phone or computer via the BT connection. Talking about smartness, it can control many smart and traditional devices and appliances, making life so much easier. With the support for multiple speakers, you can take advantage of having a stereo system and enjoy the DTS sound with the surround sound with so much reality to your music and movies. Lastly, with 750ml capacity to deliver a powerful bass to achieve the 360° concert like sound. Meanwhile, for Chinese fluent, it has a rich content to tap to for more entertainment and learning.