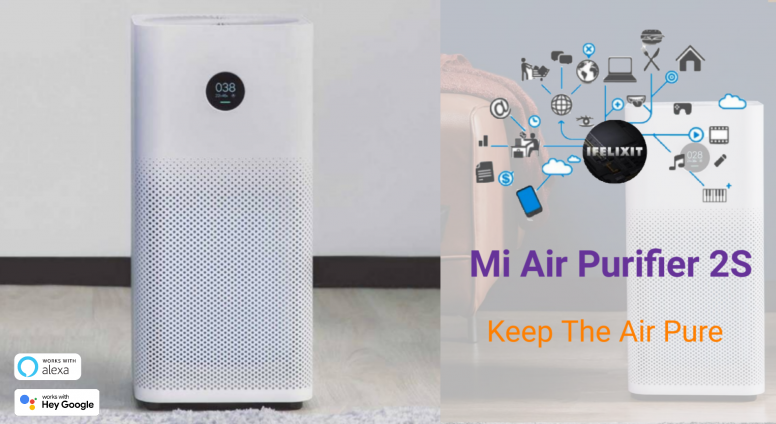 The festive holidays are coming down pretty soon and the frantic search for gifts is intensifying for most of us. I will revv-up some interesting gadgets for quick ideas. Today I will review the Mi Air Purifier 2S. Let's get down to it!
Do we really need the Air Purifier? Air purifiers are usually used during seasons where there's visible obscurance in the air, or when allergies are on the rise such as with pollen during Spring. Air Purifiers are used to rid the air of miniscule particles that could be detrimental to our health. The better the quality of air, the less exposed we are to triggers of respiratory health conditions. The air, especially in urban areas, contains particles that are less visible to the naked eye. These contaminants include dust, pollen, smoke, chemical irritants, pet dander, dust mites, mold spores and many particulate matter (PM).
Mi Air Purifier 2S is here to save you and loved ones during the challenging times, with it in your home or office, high-quality air at your fingertips. Although these particles seem unthreatening, spending 90% of our time in the same unregulated space of air is not safe for us in the long haul.
The design concept of Mi Air Purifier 2s, has proven its effectiveness hence carried forward from its predecessor. It is the third-gen air purifier of Xiaomi and there are a few newer models for bigger space. One thing that really enhanced the design is its fully 360° air intake which can be found from all 4 sides of this air purifier. It gives the maximum air input for better air cleaning, and overall improves the bottom-to-top air flow system concept of Mi Air Purifier 2s.
The major distinctive element in the design is the OLED touch screen display on the front of the device which can easily be read. Air quality at a glance, easy to use even at night, simply tap the keys on the OLED display to work the purifier, and the reported info is viewable at a glance. Check the room air quality data, the purifier's operational status, and so on are all displayed clearly. In addition, the tri-colored light ring quickly tells you the quality of the air in the room. In addition, it has automatic brightness adjustment to adjust the display brightness automatically to ambient light, so that your sleep is not disturbed. On top of that, the highly accurate Particulate Matter (PM) sensor detects particles as small as 0.3um and instantly displays the AQI on the OLED screen .
The most important feature to look at when buying an Air Purifier is the filtration systems in place. Mi Air Purifier 2s uses a triple-layer air filter, starting with a primary pre-filter made of polyethylene terephthalate, the outer layer can protect the main EPA filter from grease, acids, alkalis and most solvents. It also traps the large objects of pollutants, so your air filter can last longer. The core of this air filtration system is a H11-grade EPA filter from Toray Industries that can filter out at least 95% of any particles as small as 0.3 microns. The inner layer, made of high quality activated carbon, effectively removes formaldehyde, other harmful substances and odours. For your info, there are two types of air purifiers, active and passive. Meanwhile Mi Air Purifier 2s is a passive which is generally to be more efficient, as they trap and permanently remove particles from the air.
Mi Air Purifier 2S can purify your room in 10 mins with a Clean Air Delivery Rate (CADR) of 310 m3/hr with the innovative air pressurization design which allows the Mi Air Purifier 2S to provide fast and powerful air purification without taking up too much space, that is to say it can effectively clean air in a space of up to 37m2.
Launch Xiaomi Home App, click the "+" icon and Enter device name, and choose "Mi Air Purifier 2s.

Reset WiFi module if you are unable to connect as shown above, press and hold the mode and light button simultaneously for 5 seconds, a beeping sound indicates that the WiFi has been successfully reset.

From thereon you can adjust on the coverage to purify.

You can easily check the status of the filters, temperature, humidity and other values.

You can create an Automation for the science you have in mind.



It is important to replace the air filter regularly to ensure the Air Purifier performs optimally. It's recommended to change the air filter after 3 to 6 months, depending on the frequency of use. The filter installment process is quite simple, and it is quite affordable, too. The life cycle of your air filter depends on the frequency of usage, your residing area, and the type of air filter.
Air purifier is essentially needed for this challenging time of aftermath of Covid-19 period. That's where Mi Air Purifier 2s comes to the rescue, designed to cleanse the air in your home, getting rid of all the impurities including odors, smoke, dust, and pet dander. Given the fact that indoor air can have levels of certain pollutants up to five times higher than outdoor air, due to poor ventilation. In this case it is equipped with a 3-layer filtration for maximum purification 360° to remove large airborne particles such as dust and hair. The middle layer H11-grade filtration layer removes micron-sized particles and catches harmful bacteria meanwhile the inner layer activated-carbon to remove formaldehyde, other harmful substances and odours. Bottomline is to catch up to 99.97% of particles as small as 0.3 microns. This includes many bacteria and some viruses such as Covid-19 viruses. The integration with XiaoAI and Xiaomi Home App is really thoughtful as you can remotely or give commands for the timer and customize other controls with a tap on your screen or in one sentence to Okay Google.