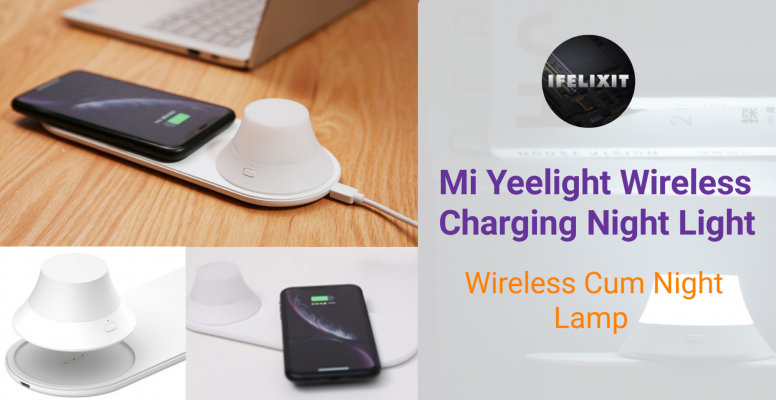 The festive holidays are coming down pretty soon and the frantic search for gifts is intensifying for most of us. I will revv-up some interesting gadgets for quick ideas. Today I will review the Xiaomi Yeelight Wireless Charging Night Light. Let's get down to it!
Yeelight Wireless Charging Night Light is two in one gadget that lets you enjoy the best of both worlds, you can effortlessly charge your phone using the wireless charger pad while having access to smooth, warm light from the detachable magnetic nightlight.
Yeelight Wireless Charging Night Light sports a minimalist style, the nightlight's sleek and simple design will effortlessly fit nicely in the environment of your home. The white exterior complements a variety of tabletops.
With the fast wireless charging built with imported chips, the nightlight's charging pad wirelessly charges your phone, saving you time and energy. The pad can charge a variety of Qi compatible smartphones with an input of 5V-12V at 2A and a max output of 15W. Basically the Yeelight Wireless Charging Night Light is made of ABS + PC material.
Over charging can damage your battery, with safety first, the night lamp has multiple built-in features to ensure safety when in use and the motherboard is designed to handle excessive current and voltage. The charger pad automatically turns off upon contact with foreign metallic objects such as keys and so on. To efficiently use the wireless charging you can only use a phone casing of 4mm or thinner and contain no metal. To indicate the pad is on, the green light indicator is lit and when you place a phone for wireless charging it will change to the other indicator lit up in blue.
Yeelight Wireless Charging Night Light, automatic Night light Chargeable is a detachable component that can be effortlessly attached to the pad for charging via the magnetic base which clicks the nightlight into place. The red indicator will light up when charging and goes off when it's fully charged. The night light takes 3 to 4 hours to fully charge, providing up to 11 hours of white light or 24 hours of warm light.
The nightlight can be detached from the pad for remote use, allowing you to light up niche areas of your home. The detachable component is magnetic and can also be attached to the surfaces of appliances such as the refrigerator or metal cupboard.
The nightlight has a professional optical design that uses 2700K warm light to illuminate your home. The warm light is gentle and will not hurt your eyes when you turn on the lights at night.
I have used Yeelight Wireless Charging Night Light for months for the convenience in the bedroom for overnight charging for a couple of my phones, and found it very useful, equipped with the built-in circuitry to regulate the current and voltage which will help to take care of our handphone battery life span. Besides that you have the luxury of the Chargeable Night light, you can just pick it up and luminate as you go around the house at night or some light source for a small chore around the bedroom. Since it's portable you can ideally use it in the office and conveniently charge your phone. But be reminded it charges my iPhone 12 Pro Max close to four hours 5 - 100% using a 65W wall charger, hence I won't say it has fast charging capabilities as advertised in their slogan but it definitely does a good job keeping your phone charged.