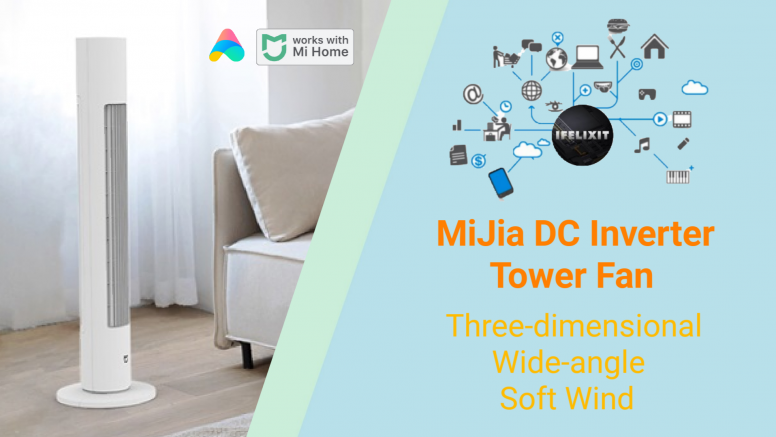 Wassup Mi Fans! Today I am going to review the 2020 released Xiaomi Ecosystem Product, MiJia DC Inverter Tower Fan, Xiaomi's first Tower Fan which is extremely popular in China, that was launched on 15th March 2020. It's slim and compact, portable, versatile and powerful.
Mijia DC Inverter Tower Fan is three-dimensional wide-angle soft wind, slim in design in order to save space and securely powered by DC inverter intelligent control which is quiet and energy saving.
It can rotate at an angle of up to 150 degrees, with noise level as low as 34.6 dB and a maximum noise of 63 dB. The fan uses less power, as low as 3.5W. The maximum fan speed operation requires only 1.1 kWh for 6 days of operation assuming it was used for 8 hours daily. Tested, the power usage total was 22 watts, and its energy consumption throughout the summer is so negligible. In addition, the Mijia tower fan uses a frequency conversion induction motor which runs smoothly and quietly.
The fan features a 6.9 mm thick grille, preventing children from accidentally sticking their fingers and blowing air in a pattern to simulate the wind breeze.
The outer grill is removable, so it can be easily cleaned. The tower fan casing is made from anti-ultraviolet ABS plastic material which will not turn yellowish over time.
Mijia DC Inverter Tower Fan delivers a 150° super large wide angle, three dimensional air supply using the high-performance DC brushless motor, capable of a maximum air output that reaches 541m/h.
MiJia DC Inverter Smart Tower Fan incorporates a multitude of smart functions such as controlling it directly with Xiaomi Home App. Besides that it has voice control capabilities with Xiao Ai. With those capabilities we can exploit more of the features beside the control panel on the fan which is limited. Rather than just having 2, 4, 6 or 8 hours for the timer, with the Xiao Ai you can specify for example 3 hours 20 minutes for it to shut off.
Top button setting is easy to operate as shown.
After been using the MiJia DC Inverter Smart Tower Fan for more than 5 months, it has made an impact on my daily ambient whenever I am in my mini dedicated Mi Gadget Room to watch TV and listen to some music. Living in the tropical weather even with air-conditioning, a flow of wind breeze is an added sensation which the Tower Fan can provide. From my experience, it really negligible cost on your electric bill for the amount of comfort you get. The random wind output pattern makes the air feel more natural like a breeze. In addition, with the integration of Xiaomi Home App and the automation of other devices to function to keep the air flow nice and breezy all day long. Lastly, you don't need to move an inch to give a command to Xiao Ai, in just one sentence to activate your happiness.