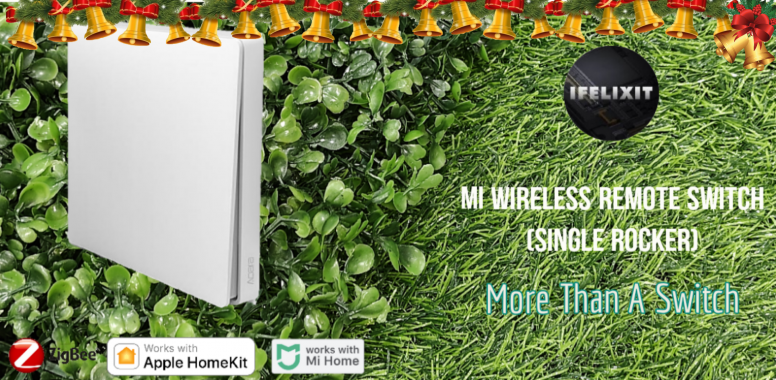 One switch to control various actions, you can easily personalize your smart home. A single press, double press or long press on the button to control your preferred scene.
Smart control via Xiaomi Home App. Add the Aqara Wireless Remote Switch to the Aqara Hub and to work with other Xiaomi ecosystem or Homekit enabled accessories in the Apple Home App or the Xiaomi Home App.
Integrated with ZigBee, Mi Aqara Wireless Remote Switch will still be functional even if the internet is disconnected or unstable, with other smart devices as long as the Hub is powered. Automations associated with the Wireless Remote Switch will work as normal.
After waking up, start your morning with a single press of the Wireless Remote Switch. If you had connected the alarm clock or the air-conditioner controller, you can easily switch them off, all with the press of a button.
When it's time to go out for work or shopping, just double press to turn off all your lights and other electronics in your home and that can activate the security alarm.
When you return home, with the long press of the button, will turn on the lights in your living room, hallway or not engage the air-conditioner, relieved of all the long day, you had.
You can place the Wireless Remote Switch anywhere you please or stick it anywhere using the provided adhesive tape. Just short press to turn off the lights or activate the air-conditioner before you sleep.
To use the Mi Aqara Wireless Remote Switch (Single Rocker), a hub is required to enable it to work with Homekit App, whereas connected to a Xiaomi Hub or Aqara air conditioning controller to work.
Add the

Hub

to the Xiaomi Home App according to the Hub Quick Guide.

Remove the Battery Insulation Tab before use.

Launch the Xiaomi Home App, tap "+" in the top right corner to enter "Add Device" page, Select "Wireless Remote Switch (Single Rocker)", and follow the instructions. If the connection failed, move the accessory closer to the Hub and try again.



Long Press the Button for 10s to Reset. To check the Effective Range Test, quick press 5 times at the desired position. If the Hub comes with a Voice prompt, it indicates that the accessory can communicate effectively with the Hub.

You can place the Wireless Remote Switch anywhere you wish. If you have a permanent position you could remove the protective film and stick it there. Avoid metal surface to maximize signal strength.

To identify an Accessory, launch Xiaomi Home App and goto the Device List page. Quick press the button 5 times. If the Hub gives Voice prompt the. The relay accessory icon in the app will blink to indicate that the accessory is identified. Do note that Aqara Home App supports this function.