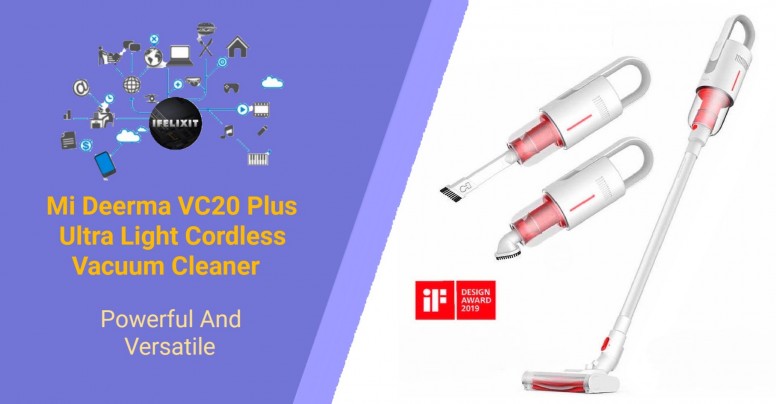 Wassup Mi fans? With the holidays round the corner, as the leading Product Reviewer, I am as excited to introduce some popular products for your shopping list. Xiaomi under its ecosystem introduced the Mi Deerma VC20 Plus Ultra Light Cordless Vacuum Cleaner which is more powerful and versatile. Adopting the Cyclonic system with dual rotating brushes which provide powerful suction for deep cleaning to get rid of dirt and pet hair with ease.
A winner of the 2019 iF Product Design Award, the Deerma VC20 is a 3-in-1 cordless stick vacuum. The one, I am going to review is the sequel, the New VC20 Plus built on the success of its predecessor, VC20 with improvement on its suction power and redesigned brush head for a deeper clean. The VC20 Plus is designed to be the lightest in its class at 1.8kg and comes with a powerful 150W, it also boasts top of the line performance. With 2 power modes that lasts up to 30 minutes, the Deerma VC20 Plus will make your home as good as new. Let's do a snappy unboxing!
The Mi Deerma VC20 Plus is designed from the perspective of the user, that the ergonomically flexible handle structure, allowing the VC20 Plus to be folded along joints, making it easy to use and maneuver. Coupled with a lightweight design, users will find that the VC20 Plus simply glides through the surface while maintaining a powerful suction.
• Ultra-light cordless design, no worries about power cords.
• Top of the line performance in its class at 150W.
• Providing up to 30 minutes of run time which can easily cover up to 1900 sq/ft of space.
• Cyclonic systems with dual rotating brushes provide powerful suction for deep cleaning. Gets rid of dirt and pet hair with ease.
• Ergonomic flexible handle design allows for easy maneuvering without locking out your arms.
• Stainless Steel HEPA filtration system that cycles and cleans the air. Filter is washable, so no need to buy extra filters.
• Comes standard with multiple tool heads that will take care of any job.
• One button click allows you to change function fast.
• Upright design for ease of storage.
https://lh3.googleusercontent.com/_S-Bidi-v02qERhuo1eEAfAoQpKBSW0so5nWJGxUmzXb1bV33KTh3BQUSPfzD_vb9HZQ**PW6XMjiAWzN3EM8OsHhlu1E-TKLJ6pQLmN2FNHkDclw7J96E28_BIPNN9R0kuYGeT
If you do have pets around, you will realise hair is everywhere and sweeping will not do a job due to the swinging effect that causes the fur or hair to fly in the air. With the Deerma VC20 Plus that utilizes dual-material rotating brushes in opposite directions to create a powerful suction that will get rid of pet hair with ease.
The VC20 Plus is also equipped with a Stainless Steel HEPA filtration system that cycles and cleans the air as you maneuver throughout the room.
The Deerma VC20 Plus also features a 3-in-1 vacuum system. With its one button release design, you can easily switch to a handheld mode perfect for tight spaces such as the inside of a vehicle, back of the furniture, and more. The VC20 Plus also has a handheld extension for hard to reach places such as ceilings and nooks and crannies.
It sports a 2200mAh Li-ion battery which requires approximately 3.5 hours to fully charge. There are four blue LED lights that flash during charging. When the first light becomes solid the vacuum is 25% charged, two solid means 50% charged, three solid means 75% charged and of course when all four lights are solid with no flashing, the vacuum is ready for use. Once the battery is drained the lights will turn red, indicating the need to recharge. There are two vacuuming modes, standard and high-speed. On the standard mode, you will get up to 35 minutes of vacuuming and up to 15 minutes of vacuuming on the high-speed setting.
I guess it gives me more reason to enjoy vacuuming during the festive season, considering the small design, lightweight and ease of use. The release buttons on the stick piece for detaching the vacuum and powerhead are easy to use and the pieces detach quite easily. Next is the cleaning session, equipped with the stainless steel HEPA filter ensures the air is being cycled and cleaned as you maneuver throughout the rooms and the filter is washable which makes it reusable and economically a good choice. When emptying the dust/dirt cup I noticed how well the filter works and while it doesn't require washing with every use, you'll want to clean off any accumulated dust/dirt every time you empty it. This will prevent blockages and reduced suction and help maintain good airflow during use. I highly recommend it.