Camera Translator
App Information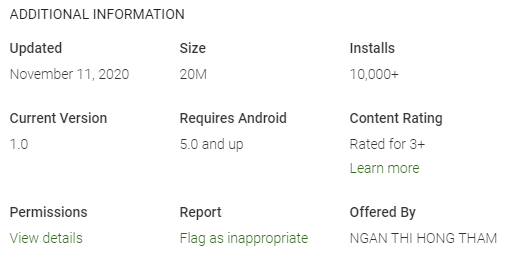 Preview
Description
CAMERA TRANSLATOR - PHOTO & PICTURE TRANSLATOR
Camera translator your gallery image or direct capture from camera and direct convert it and you will translate to any language free.
Camera Translator app let you translate text, photo and picture translator, text to image all most all available translate pictures in one click.
Camera Translator uses the most advanced OCR technology to recognize and translate pictures any object in any language. Camera translator is good for Photo translator and picture translator.
Photo translator app also supports Voice recignization means you can enter text in more than 50+ language via just speaking. You don't have to type the text.
Camera translator automatically detects 300+ languages in the image, Photo translator translate image to text, voice translator. Translate words on picture or Photo translator and picture translator.
Camera translator displays the translated text right on the original one. It's very easy to understand the meaning of the text on the image.
FEATURE CAMERA TRANSLATOR - PHOTO & PICTURE TRANSLATOR
√ Translate Direct Using Camera
√ Camera translate your gallery image, photo translator direct capture from camera and direct convert it and you will translate to any language free.
√ The best app Camera translator
√ Free Camera translator app
√ Easy and Fast
√ Good design for better user interface
√ All Language, you can select your language translate it any language absolutely free no any charges.
√ Auto Language Detection
√ Unlimited Photo Translation
√ Most advanced OCR technology
√ Support more than 300+ Languages
INTERFACE
√ Easy and fast.
√ Good design for better user interface.

Translations are supported between the following languages:
Afrikaans, Albanian, Amharic, Arabic, Armenian, Azerbaijani, Bashkir, Basque, Belarusian, Bengali, Bosnian, Bulgarian, Catalan, Cebuano, Chichewa, Chinese (Cantonese, Mandarin, Taiwan), Corsican, Croatian, Czech, Danish, Dutch (The Netherlands), English (Australian), English (Canada), English (India), English (UK), English (US), Esperanto, Estonian, Filipino, Finnish, French, French (Canada), Frisian, Galician, Georgian, German, Greek, Gujarati, Haitian Creole, Hausa, Hebrew, Hindi, Hmong, Hungarian, Icelandic, Igbo, Indonesian, Irish, Italian, Japanese, Javanese, Kannada, Kazakh, Khmer, Korean, Kurdish (Kurmanji), Kyrgyz, Lao, Latin, Latvian, Lithuanian, Luxembourgish, Macedonian, Malagasy, Malay, Malayalam, Maltese, Maori, Marathi, Moldavian, Mongolian, Myanmar (Burmese), Nepali, Norwegian, Pashto, Persian, Polish, Portuguese, Portuguese (Brazil), Punjabi, Querétaro Otomi, Romanian, Russian, Samoan, Scottish Gaelic, Serbian, Sesotho, Shona, Sindhi, Sinhala, Slovak, Slovenian, Somali, Spanish, Spanish (Mexican), Sundanese, Swahili, Swedish, Tajik, Tamil, Tatar, Telugu, Thai, Turkish, Udmurt, Ukrainian, Urdu, Uzbek, Vietnamese, Welsh, Xhosa, Yiddish, Yoruba, Yucatec Maya
, Zulu.
Download
If you want to see the hidden content, please reply
Rate