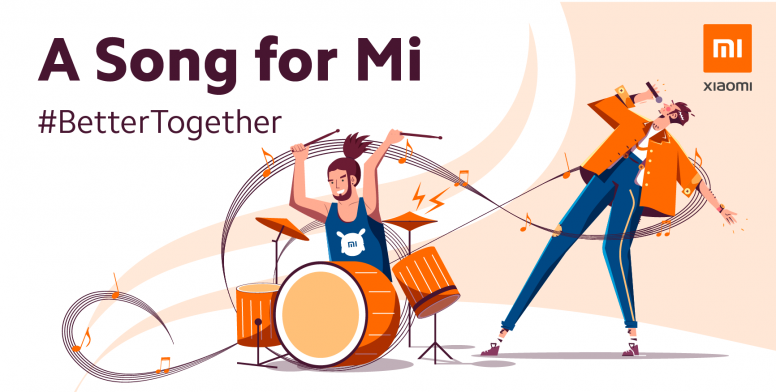 Hi Mi Fans,

Mi and You, Better Together.

After holding a series of design contests, we received a lot of talented works, our Mi fans are a group of very talented people! Even though we speak different languages ​​and have different cultural backgrounds,"Sincerity and Passion" connect us together.

Now Xiaomi invites you to create a song for all Mi fans, your name will be known by all Mi Fans and recorded in the history of Xiaomi.

It doesn't matter if you're not good at playing an instrument. Express your feelings for Xiaomi in words and let everyone feel your infinite love.

How to Participate

Follow the link and choose the version of the track: https://drive.google.com/drive/folders/13VNjkYH-IlbPOIoxwZWNC39O2wF10Zd2?usp=sharing
Download the track and listen to it
Create your own instrumental part or lyrics
Record it
Send it to our email asongformi@xiaomi.com or put your work link in the comment box
Lyrics: the content of the lyrics proposed needs to embrace the concept of the song, lyrics should be in English. (KEYWORD: Mi and You, Better Together, Friendship, Community, Love and Share, Sincerity and Passion)


Once we have completed the instrumental version of the track and composed the whole lyrics part, we are going to start recruiting the singers.



Singers, STAY TUNED!


Prizes
All the works selected and used in the final version of the song will get a Xiaomi Gift Pack for a value of $500! The names of the winners will be credited as song producers.

Recruiting Time:
Instruments and lyrics collection and selection - from 18/11/2020 to 18/12/2020

Selection Criteria:
The Mi Communitycommission together with our music producer Giulio Perinello, will select all works submitted on time according to the following criteria:

For real Instrument recordings, the parts recorded need to musically fit the song harmony and rhythm. The execution has to be on time and the instrument in tune.
The quality and resolution of the recording need to be high enough to be used in the final product. Between the parts that meet the above condition, will be chosen the one with the style that fits better.
For the software-generated parts: the parts created need to be fit the song and rhythm.


The parts that fit the general song idea, and contain more interesting creative elements are most likely to be selected.

In terms of metric: the lyrics that are more suitable to follow the proposed melody, rhythm, and length are most likely to be selected.

The Mi Community commission is going to contact the authors of the selected works by email or private message on the Mi Community, according to the submission method you choose.

Tips for Recording

Any way of recording which gives good sound quality is welcome.
If you are using software, put the song on one track set the metronome to 80 bpm, and record your part in another track.
Make sure you follow the chords and the rhythm of the song; we have to put together the parts of many musicians like you!
When using a microphone or any other device, make sure to be in a quiet space and do not exceed the volume during the recording.
Make sure you are listening to the reference track on your headphones: you do not want to record also the sound of the speakers.
If you are connecting your instrument directly to a computer or soundcard
Make sure you do not exceed the input volume.
In the end, make sure to export your part only, mute the demo song!
The file type can be .wav or .aiff,but please not mp3!

Let's create a song Together!
Rate