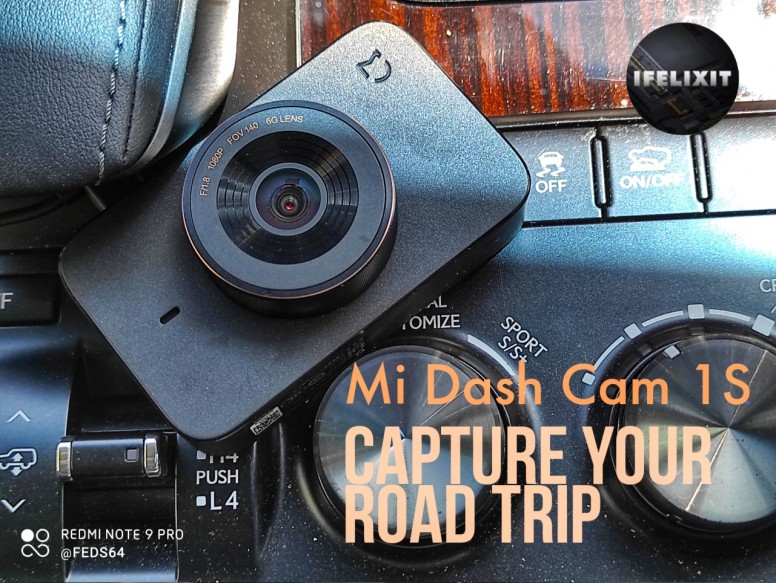 The dashboard camera or in short dash cam is simply a car DVR or car video recorder which has become a necessity over these several years designated to catch vital moments that were both expected and unexpected. Mi Dash Cam 1s helps you to record the footage during driving. Equipped with a high sensitivity image sensor and reliable chip becomes a perfect travel companion.
● 3 inch screen and f1.8 aperture
● 140 degrees wide angle and 1920 x 1080P resolution
● Integrated with MStar MSC8328P SoC, IMX307 CMOS image sensor and Mstar 1080P image process chip
● WiFi connection reaches real-time transmission, no need to consume Data of SIM card
● Loop-cycle recording, saves the storage space efficiently
● Gravity sensor keeps the video not covered in case of an emergency
● Auto power on, no need to operate it manually
● Parking monitoring for the security when you park your car
● Advanced H.264 photography compression technology keeps high quality videos and plays a part of saving storage as well
● Support maximum 64GB TF card memory storage
The stand with a slide and click connector for convenience.
The Mi Dash Cam 1S hooked up with the stand.
The Micro-USB cable to USB long enough for most setup to the power outlet or cigarette lighter socket.
The sticker to safeguard your tinted film from any damages, the manual in Chinese and a pryer tool.
Download Xiaomi Home App from Google Play Store.

Set Region to which is Recommended.

Click (+) button on top right corner Add manually Search "Car-carried devices" Scroll down & search Mi Dash Cam 1S

Follow the instruction from the screen

You are all set to go.



Xiaomi Home App allows you access the device through Wi-Fi connection. You could browse the albums of the device, play back videos, or download videos to your cell phone. All these operations do not use your mobile data.
The Mi Dash Cam 1S is configured with a professional in-car recording chip and image sensor. It supports voice control and helps you capture high-quality driving videos.
For starters, there's no GPS built in, so your location isn't recorded alongside the video. However, there is a G-sensor, so when the dash cam detects sharp cornering, rapid braking, or a collision, it will mark the current video file as an incident and ensure it's protected. Otherwise, the looped recording system will recycle storage once the memory card has filled up, overwriting the oldest files with new ones.
This is the most obvious reason why a car dash cam is a great idea is protecting yourself against any accountability issues during any event. An extra eye that will continuously work towards keeping you safe and accountable. When a driving accident happens, such as a fender bender, rear end, or even a driver running a red light, video footage from a dash cam can be used as evidence to prove which party was really at fault. This footage is crucial to defending innocence and proving liability when it matters the most by giving an accurate depiction of the events. Having footage from the dash cam removes the "it's my word against yours" rhetoric[size=14.6667px].
Mi Dash Cam 1S comes with the gravity sensor which will record upon an impact on the vehicle. The parking surveillance function is disabled by default. Go to Settings Parking surveillance to enable it. After you enable the parking surveillance function, whenever the power is turned off, the dash cam will enter parking surveillance mode. If the vehicle is hit by another car while in this mode, the dash cam will automatically start recording a parking surveillance video and save the footage in the parking surveillance video directory. The next time the camera is turned on, it will notify the user to view this footage.
The Mi Dash Cam 1S is compact, affordable and worth the investment should there be an unforeseen event which can save you time and money. It records 1080p video through a 140-degree lens, connects to a smartphone app via Wi-Fi, and is the very essence of 'set it and forget it'. Another good feature is the parking surveillance which relies on an accelerometer to detect collisions while the car is parked. Thus far the recording is vivid and clear to be used for any reference.