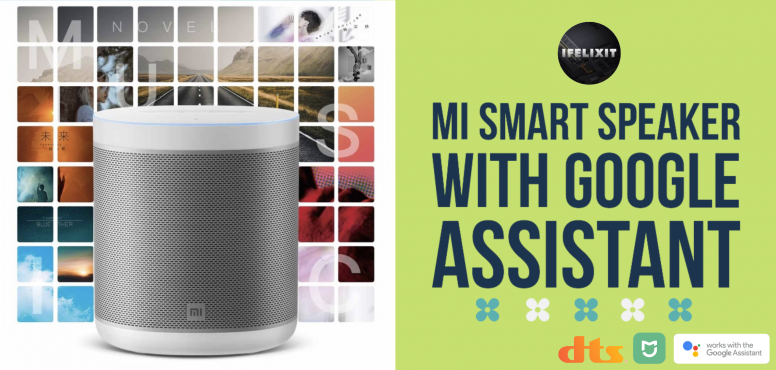 The smart speaker market is expanding rapidly, with artcoustic sound capable. We have witnessed Google and Amazon offerings dominating the smart speaker market, meanwhile the good news, Xiaomi is in the race in the lucrative niche introducing the Mi Smart Speaker with Google Assistant. Xiaomi has long established the Xiaomi Ecosystem with XiaoAI the Chinese speaking assistant and paving its way with higher-end products with honest pricing entry into the global Smart Ecosystem.
The entire Xiaomi ecosystem has been nurtured around the promise of value and quality from smartphones to smart home equipment with integrated connectivities.
The Xiaomi Mi Smart Speaker ART is the brand's 2020 entry in the wireless speaker market, meant to go woofer-to-woofer against other big-brand competitors, though it has been primarily aimed toward Global speaking consumers.
To start off the design displays the symphony of air and portraits a work of art with a warm matte finish of the combination aluminium and ABS plastic, lastly the fairly discrete Mi logo. The perforated grille around the speaker for maximum audio output.
When it's switched on, the beam of light from soft LED beads are uniformly arranged to form a thin ribbon of light producing sixteen million colors giving an aurora effect and moves gracefully with the music. Light up your mood on a quiet night and to indicate that the speaker is listening to voice commands. The touch controls for volume control, microphone mute, and play, pause are responsive.
While at the back, the power jack. Mi Smart Speaker stays firm on a surface with rubber legs which further help dampen any vibrations. Lastly it weighs 853 grams.
The Mi Smart Speaker is using a single 2.5-inch driver that delivers 12W of audio output. An ingenuity modulates the sound unit for you to explore the mysteries of sound. Sound waves start from this 2.5 inch full frequency speaker uniquely formulated and scientifically calculated and when it reaches your eardrum, I believe you can hear the traces of this journey. Made out of paper carcasses, designated diaphragm displacement with proportional wool, make sound details sound more natural. The voice coil is a full-bodied bass weighing 0.4 gram to incorporate the bass duct to enhance the bass. The speaker has been tuned for boosted mids which ensures that vocals and acoustic tracks sound exceptionally clear and the high treble frequencies are very well tamed. The next feature that will thrill and amaze is the DTS function.
DTS stands for Digital Theater Systems, a popular home theater audio format that was developed to create surround sound audio technology for movie production and known for the lossless version, DTS-HD Master Audio, that supports 7.1 channels speaker setup. Well, Mi Smart Speaker, DTS professional tuning comes with three sound effects to delight your ears together with DTS for Hollywood sound effects specifically polish the sound quality for the speaker. You can choose the three modes of voice, mild voice and bass. Everyone can hear the Good Voice.
On top of that, Mi Smart Speaker is Stereo 2.0 compliance, which allows you to get multiple units to make your living room feel like a concert hall.
The Mi Smart Speaker seamlessly integrates into your smart home setup with Google Assistant support. The devices enable users to speak voice commands to interact with services through Google Assistant. Both in-house and third-party services are integrated, allowing users to listen to music, control playback of videos or photos, or receive news updates entirely by voice. Furthermore, Mi Smart Speaker also has integrated support for home automation, letting users control smart home appliances with their voice command with the Google Assistant. Setting up Google Home is quite straightforward, just download the Google Home App from the Google Play store, just press and hold the Vol. Up & Vol Down for 10 sec. to factory reset. Once Google Home is launched it will search for any complying devices and you are good to go. Here's a quick glance of the screenshots which you need to download the Google Home from the Google play store.
Touch-sensitive buttons

DTS professional tuning: Live listening debugging, three sound modes

Ingenious Modulation Speaker: 2.5 inch full-range speaker, Wool paper mixed diaphragm, Type duct bass boost

Stereo 2.0: Two combined left and right channels, Support Bluetooth stereo, Support simultaneous playback of the whole house

Microphone: Microphone array, support Google Assistant, far-field voice wake-up

Lighting: 2.5 inch full 12W speakers

Speaker: Circular color aurora with music effect

WIFI: 2.4GHz / 5GHz,

Bluetooth: Support EEE802.11 a/b/a/n/ac protocol

Support system: Android 4.4 and above iOS 9.0

Power supply: DC 12V / 15A



Overall the Mi Smart Speaker ART provides good value for the money and performs well in a variety of common daily uses, including playing background music at a gathering when placed in the center of the room or while working in the kitchen or even taking a shower. It produces quite natural midrange, good bass and powerful punch at nominal and soft volume and great directivity. The short fall when the source is Cast Audio seems to be a few tenths of a delay, which I believed the Google Home App lacks effectiveness. To wrap up, the speaker acts as the center of your smart home ecosystem to control other smart devices.
Rate