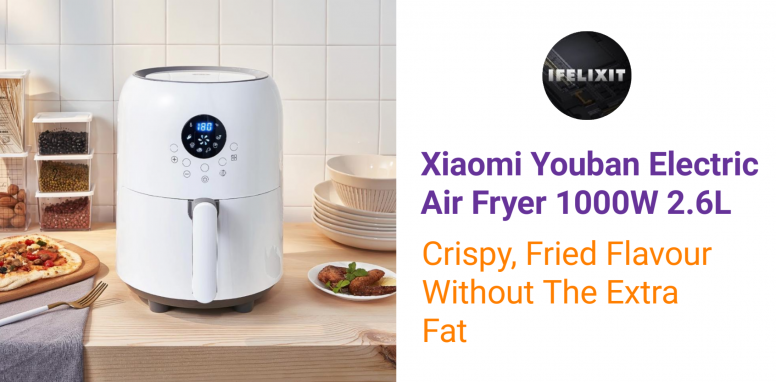 It's no secret that I'm a die-hard fan of Mi devices and gadgets. As an authentic die-hard Mi Fan, I will test and review any Mi Ecosystem heading my way. So stay tuned to your friendly neighborhood Leading Reviewer for more goodies and heads-up. Today I am gonna review the Xiaomi Youban Electric Air Fryer 1000W 2.6L, getting a crispy fried flavour without the extra fat to maintain a healthy lifestyle. Let's take a quick look at the features of the Xiaomi Youban Electric Air Fryer.
The box is very cute with all the food printed that you could possibly cook. Impressive.
* 1000W high power
* Oil-free food frying, low fat, more healthier
* 360° hot air high-speed circulation technology, constant temperature penetration and even heating
* 80-200℃ precise temperature control and 0-30min convenient timer
* Integrated design, soft-touch keys, leave no marks when touched
* Small and conveniently placed in the kitchen
* 2.6L ideal daily capacity for a family of 4 members
* Food grade non-stick coating, more durable and easy to clean
* Pull-out split basket, power off memory, automatically start and stop
Precise temperature control and clearly display the modes for your better choice, easy control, no complicated steps and cook time.
The 360° hot air circulation technology with high speed ​​with the topper heating equipment, evenly heats the food and squeezes the excess grease, making healthier food.
Air fryers give food that traditional crispness and the fried flavour but without the extra fat by blasting hot air around the inside of the basket to cook the food, much similar to a fan oven. They can cook a range of food, from prawns to chicken drumsticks, and more surprising options like cheesecake.
Chicken wings in the air fryer is brilliant and you will be making chicken way more often if you try them in the air fryer. The forced circulating hot air makes the skin super crisp which is difficult to achieve in a conventional oven and the center is perfectly cooked, tender and juicy. Air fried chicken wings cook time is just 16 minutes (3 times faster than a traditional oven). There's no need to preheat an air fryer which makes this the fastest crispy chicken wings recipe. For best results, toss and sprinkle evenly the garlic salt seasoning over the chicken wing.
For those who love Air fryer Korean fried chicken which is my new obsession. Just like the original deep fried chicken recipe, the Korean fried chicken recipe delivers morsels of chicken that are crunchy, crispy, spicy, and sweet. Enjoy perfect results in two easy steps. Choose a food type and press the button to cook. Furthermore the Air Fryer cooks at least 1.5 to 3 times faster than the conventional methods depending on the kind of food type chosen for effortless perfect results. Now you can eat healthier dishes and remove the excess fat from food.