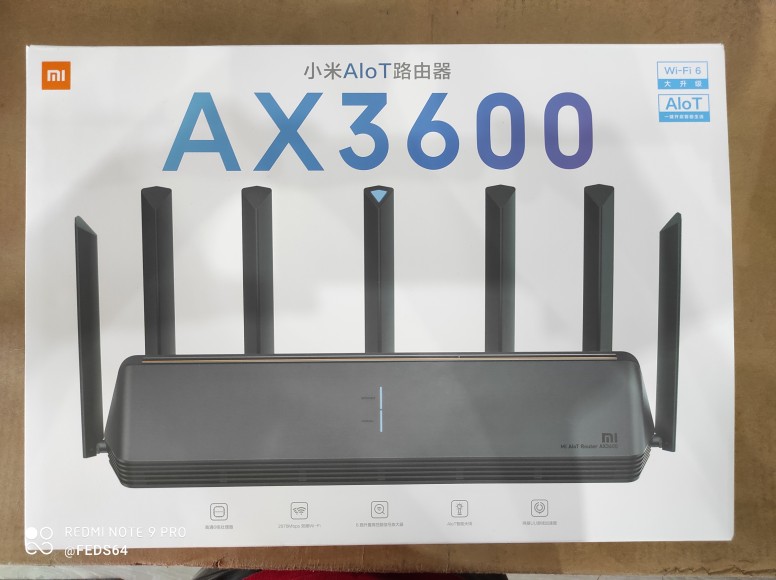 It's no secret that I'm a die-hard fan of Mi devices and gadgets. As an authentic die-hard Mi Fan, I will test and review the latest Mi Ecosystem heading my way. So stay tuned to your friendly neighborhood Leading Reviewer for more goodies and heads-up. Today I am gonna review the new WiFi 6 standard router that delivers a fast network with low latency. It's acclaimed the Wi-Fi 6 pioneer router in the 5G era.
With the next-generation 5G communication technology, a new generation of Wi-Fi technology router, having support for the latest Wi-Fi 6 technology, the Mi AIoT Router AX3600 is a flagship product in its category from Xiaomi. It is powered by Qualcomm IPQ8071A chipset and is paired with 512MB of RAM and 256MB of storage. The chip has four Cortex-A53 cores and is clocked at 1.0GHz. It also has a 1.7GHz dual-core NPU for network acceleration, and up to 248 devices can be connected to the router.
It comes with seven high-gain antennas which also supports dual-frequency and provide speeds of up to 150Mbps for IoT devices. It also supports OFDMA technology (Orthogonal Frequency-Division Multiple Access) which allows the router to send data to multiple terminal devices using only one transmission.
Wi-Fi speeds of up to 3000 Mbps, 155% faster than mainstream Wi-Fi 5 rates, the Mi AIoT Router AX3600 offers two bands of 2.4 GHz and 5 GHz, each with 802.11ax technology and no mutual interference. The two bands offer a combined dual-band wireless speed of up to 2976 Mbps. The 2.4 GHz frequency band features longer transmission for better coverage and better wall-penetrating performance. The 5-GHz frequency band provides low interference and high speed for smooth HD video playback and smoother experience when playing large online games.
6-channel external high-performance signal amplifier, two and four external high-performance signal amplifiers (PA and LNA) are installed in the 2.4-GHz band and 5-GHz band respectively. The PA (Power Amplifier) effectively increases the signal transmitting power, allowing the router to transmit signals further and stronger through walls. The LNA (Low Noise Amplifier) increases the signal reception sensitivity, allowing the router to receive a weaker signal from further away.
Supports multiple mesh networking and enjoy high-speed Wi-Fi 6 throughout the house, instead of dealing with dead spots from a single router, multiple mesh groups can easily handle all kinds of complex home layouts to seamlessly cover the house. Plus, you can enjoy high-speed Wi-Fi 6 everywhere you go with support for the 802.11k/v protocol. Actual experience depends on the actual environment and user end device capability.
WPA3 secure encryption protocol that offers data security in your home network WPA3 is the latest WI-Fi security standard that introduces more sophisticated computer authentication algorithms, making it much more difficult to infiltrate the network and keeping user data secure.
Compared with WiFi 5, the network bandwidth of WiFi 6 is increased by 4 times, the number of concurrent users is increased by 4 times, and the network delay is reduced from an average of 30ms to 20ms. Wireless access points can handle up to 12 WiFi streams at the same time. With the characteristics of low delay, high capacity and fast speed, in 2020, the number of devices that can support WiFi 6 standard is increasing. The installation of Xiaomi AIoT Router AX3600 is also very simple. Just connect the power supply and the WAN port. You can set it based on the Mi WiFi App or you can log in to the background of Xiaomi AIoT Router AX3600 to set it up. It is relatively simple and easy to get started. So stay tuned on How to use the Mi AIoT Router AX3600.
Rate