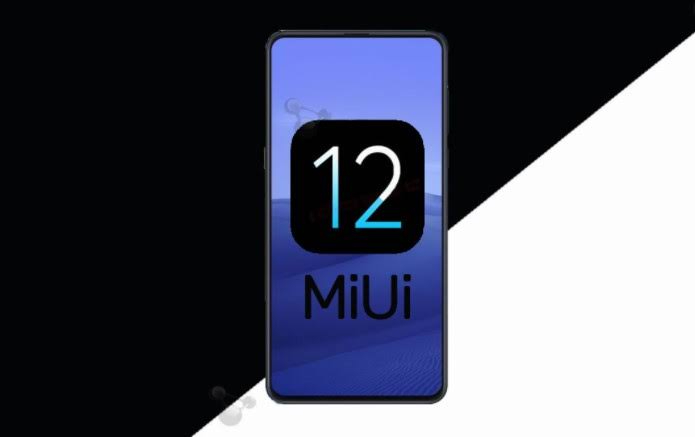 Hi Mi Fans
Smart phone screen is always a key factor for buying a new phone decision. Screen color clarity, brightness in sunlight, quality of details ... etc. are all affecting the user satisfaction with his smartphone screen.
MIUI always support the user with the necessary tools to ensure amazing experience. But during the phone daily use, some people may forget the settings they have activated or accidentally enabled and result a change screen colors, and others may think that a defect has occurred in the MIUI version or the phone screen itself and caused the phone screen to change colors.
Let's summerize all MIUI features that may cause phone display colors to be not the same .

Color Scheme
Color Scheme is the main feature for changing screen colors system-wide. It is divided into two main sections:
Colors :
The feature allows the user to control the screen colors on three levels: Auto, Saturated, and Standard.
Color Temperature :
The feature allows the user to control the color tone of the screen on three levels: Default, Warm and Cool, or choose the appropriate color through the color palette.
Steps to Activate \ Deactivate :
- Settings
- Display
- Color Scheme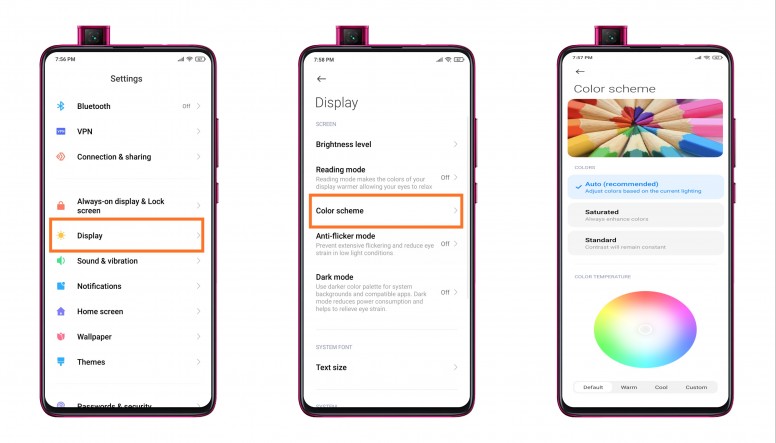 Reading Mode
Reading Mode allow the user to control the screen's backlight spectrum. Harvard University researchers have shown that reading from light-emitting devices right before bed can lead to poor sleep quality and at the same time it will take longer to fall asleep. It's all about the waves of blue that stimulate your mind and don't let you sleep.
Steps to Activate \ Deactivate :

- Settings
- Display
- Reading Mode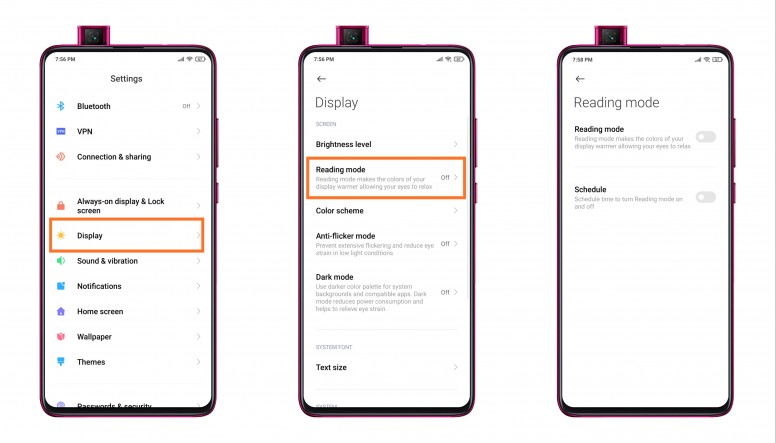 Dark Mode
Dark mode allow the user to activate the dark theme on the entire system settings and all applications that support the dark mode without having to turn on the dark mode feature in the application one by one.
Steps to Activate \ Deactivate :
- Settings
- Display
- Dark Mode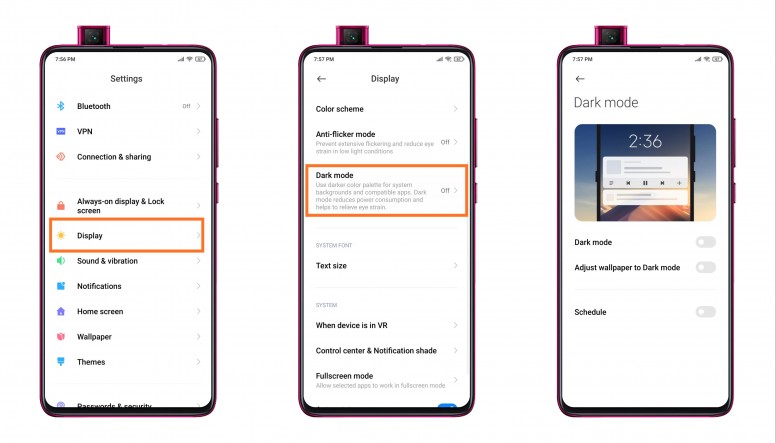 Color Correction
Color Correction is a feature for individuals who have difficulty distinguishing colors, as people with these visual challenges cannot see and distinguish some (shades) of colors.
The feature allows the user to have multiple options for color correction according to the difficulty of distinguishing:
Deuteranomaly:
This is a medical term describing a type of red-green color blindness where an individual sees green as red.
Protanomaly:
This is the opposite of Deuteranomaly, and individuals with this color deficiency see red as green.
Tritanomaly:
People with this deficiency are unable to tell the difference between (a) blue and green (b) yellow and red.
Steps to Activate \ Deactivate :
- Settings
- Additional Settings
- Accessibility
- Color Correction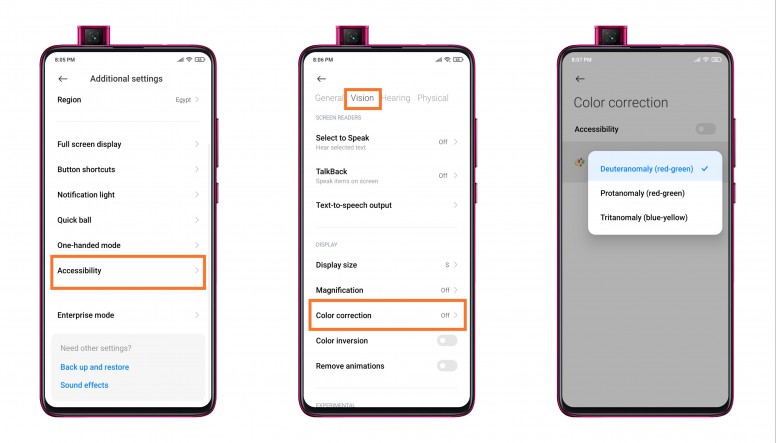 Color Inversion
Color Inversion is also a feature of the Accessibility package, and perhaps very close to Dark Mode. It allow the user invert the colors on your device to make it easier to read. This will increase the contrast between the text, images, and background. Often this means that the text will become white text on a black background.
Steps to Activate \ Deactivate :
- Settings
- Additional Settings
- Accessibility
- Color Inversion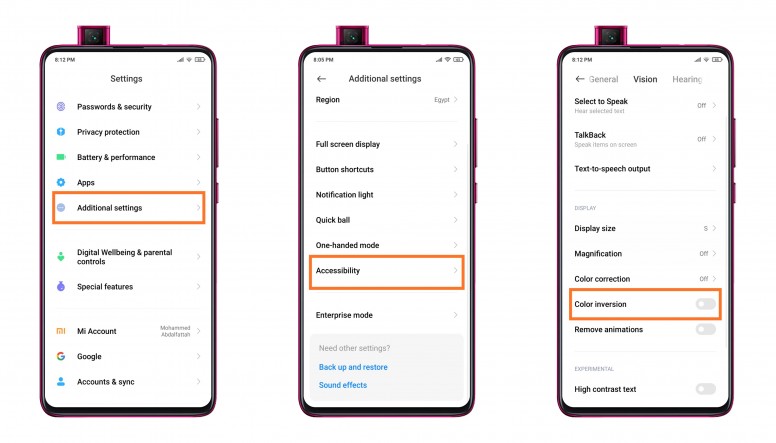 Mi Fans, If you feel that your phone display colors is not the same, Just check if you accidentally activated any of these MIUI Fatures
Thanks for your time