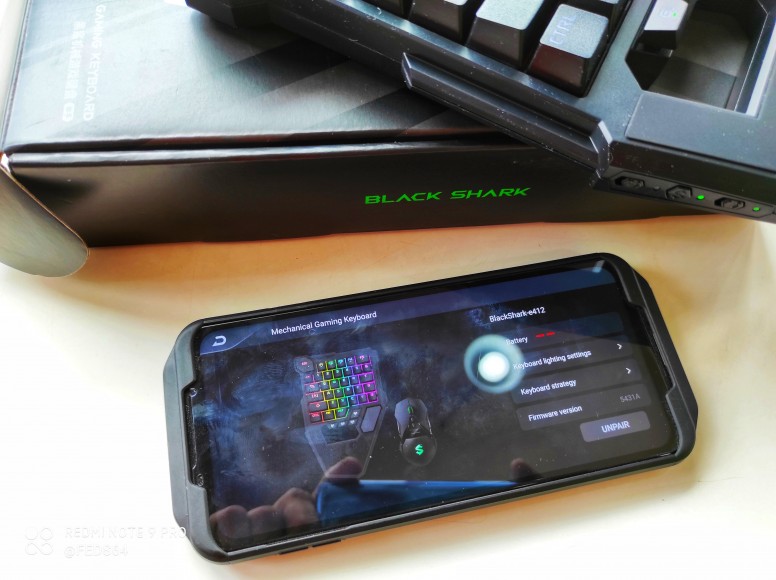 The Black Shark Gaming Keyboard is with 35 keys with professional gaming mechanical blue switches. It uses the conventional left side of a keyboard, which has the essential keys for games like Arena of Valor, Fortnite or Player Unknown Battlegrounds. It also has RGB LED backlighting, Bluetooth connectivity and a USB connector. Ergonomic design, comfortable to use with Color LED Backlighting provides excellent visual enjoyment. Built-in 2000m battery, can be used up to 30 hours.
Black Shark Mechanical Gaming Keyboard works flawlessly with Black Shark phones. Black Shark phone supports performing configuration in Shark Space Gamer Studio Shark Arsenal. As for other Mi phones and Android phones you need to download a bridging APP to access all the powerful peripherals and begin playing.
Shark Arsenal is Gear Box which is the hardware management hub of peripherals for playing mobile games on the entire Black Shark series, Mi Phones and Android Phones. After connecting the device to cellphone via Bluetooth, you can perform mapping or simply operations such as calibration, firmware upgrade, lighting effect design, and walkthrough review in Gear Box to prepare yourself for a competitive journey in mobile games.
Breaking the limitations of Touch Screen and get the E-sports feel and experience. The Gear Box allows you to connect your phone with peripherals. You can get rid of constraints from the touch screen when you're fully supported by gamepads, one-handed keyboards, cooling back clips, and Bluetooth headsets, while the more exquisite operation feel can give you operation skills of a game master. Boost your Achievements with Personalized Button Settings, according to your preferences and different game scenarios, you can use Key Configuration in gamepads or one-handed keyboards to set key mappings at will. Say goodbye to accidental touches and operate it more accurately! Besides that you can design lighting effects for your device in Gear Box to meet your individual needs. The authentic esports experience will bring you more kills!
To proceed with Mapping, priority to open the floating window permission is required to use the floating ball in the game, and expand the floating window to adjust the map, view the map and other operations.
In the button configuration page, you can drag the button to function the button on the game, it can be activated through the keyboard keys to control the game.
F1 - F5 is used to quickly switch the mapping list

G1 - G4 is used as a macro trigger key

Fn + Tab is used to quickly switch the keyboard lighting effect

Fn + ~ is used to quickly Switch the keyboard lighting effect color matching

Fn + Esc is used to quickly turn on / off the keyboard lighting effect

Fn + Spacebar for 3s to restore the keyboard to factory settings

Ctrl + Fn is used to quickly hide / show the mapping prompt

Ctrl + Alt is used to quickly call up the mapping adjustment interface



Thanks to the complete APP offered by Black Shark, I was able to configure and map all its keys adapted to the most used mobile games at the moment such as the Fortnite or the Call of Duty Mobile. The authentic esports experience will bring you more kills! Lastly, with all the peripherals, it will allow us to convert our device into a gaming computer.