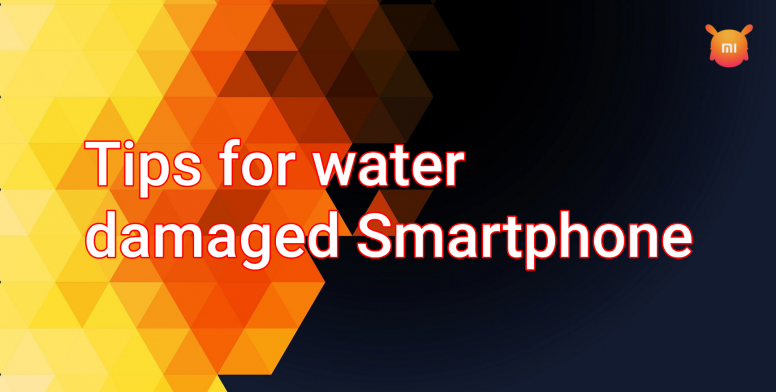 Dear Mi Fans, Assalamualaikum!
Greetings From Mi Community Bangladesh Device Team. Smartphone Protection from water or spills is something very crucial in today's life when our schedules or hectic while some people are clumsy which drives incident like water damage due to spilling tea, coffee or any beverage by mistake or dropping it in a pond or a pool which causes water damage so today we know about How to fix Water Damage Issues.

Note: Before we can jump to do's, let's see the don'ts(Do's and Don'ts) that you 'shouldn't' do if you dropped your phones in the pool or anywhere where water is present.
Do's and Don'ts-
Assume your phone 'half-dead' if in case you accidentally drop it. So, instead, it pushing the buttons and trying to switch it ON, switch it OFF and keep it idle for a while.
Don't try to turn it ON until it is completely dry.
Forcefully pressing buttons unnecessarily to revive the phone can have an adverse effect on the device such as it can cause a short circuit.
Blowing, shaking, pressing, tapping, or any such movements must be avoided.
Do not try to heat up the device any heating appliance as it can cause trouble later on.

How to fix Water Damage Issue?
Switch OFF the phone.
Remove accessories
Shake It Now
Put It In A Rice Bag
Check If It's Working Or Not
Take It To The Authorized Center


Thank you for reading it until now. The above list covers the do's and don'ts as well as what to do to prevent it, but what if you haven't bought a protective covering or the phone got submerged in the water and got wet even after sufficient water protection coating, Insurance can be of great help.

Related Threads:




❂ About Mi Community Bangladesh:

Country's largest Tech Community Mi Community Bangladesh is the hanging out place for all the Bangladeshi Mi Fans. Here we share the latest news and happenings about Xiaomi in Bangladesh.All official product launch announcements, sales updates, event registrations, and other news and conversations related to Xiaomi Bangladesh are also published on this platform. More importantly, this is where we can interact with the like-minded Mi Fans like you!

Download The Mi Community App

Rate