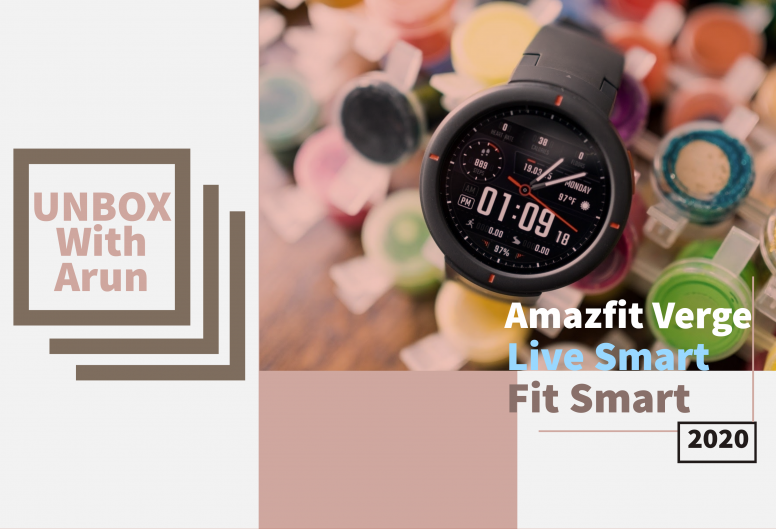 Wassup Mi fans.
Hope you're doing well..!
What if I told you can make and answer calls from your smartwatch, Amazon Alexa in-built, also 12 sport tracking features along with GPS+GLONASS and loaded up with a heart rate monitor, color OLED screen, dual-core processor and 5-day battery life could be had for less than $100..? If you're familiar with smartwatches you just get amazed by hearing this..? I'm I right..? Absolutely Yes..! wanna know about that watch? Sit back and scroll down.
Xiaomi's "Amazfit Verge" which was launched on 14th January 2019. The Amazfit Verge is a comprehensive fitness tracking smartwatch that combines durability with a sleek and minimalistic design to help you stay active and informed all day long. Amazfit Verge comes with a 1.3'' AMOLED screen that can show clear images and lifelike clock pointers. The changing dial plate will also bring you more fun. So, I bought this watch on a sale day on Amazon. So, I want to share my experience with you all. Before diving into the review, let's check out the Specifications.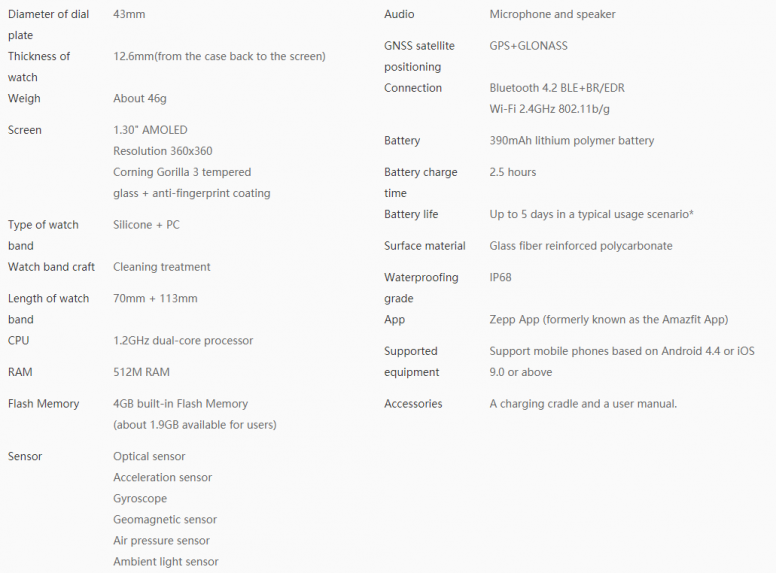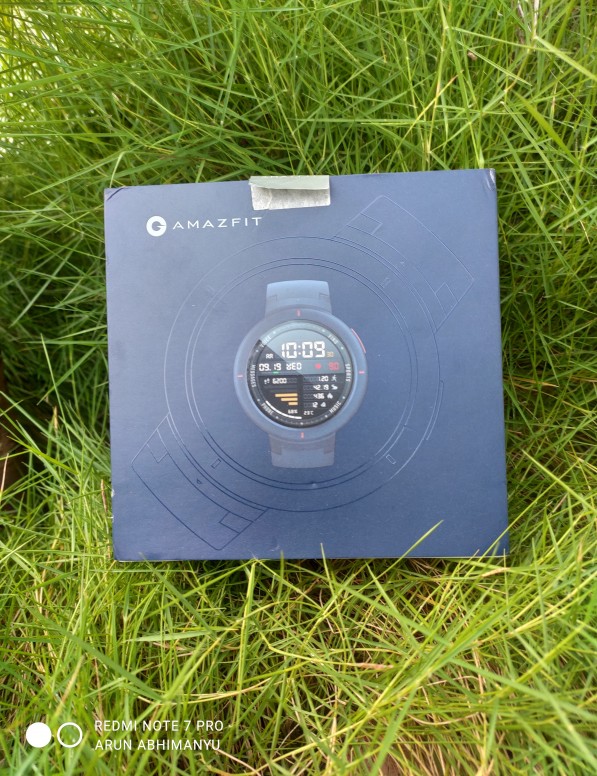 The watch pictured along with the Amazfit naming is there.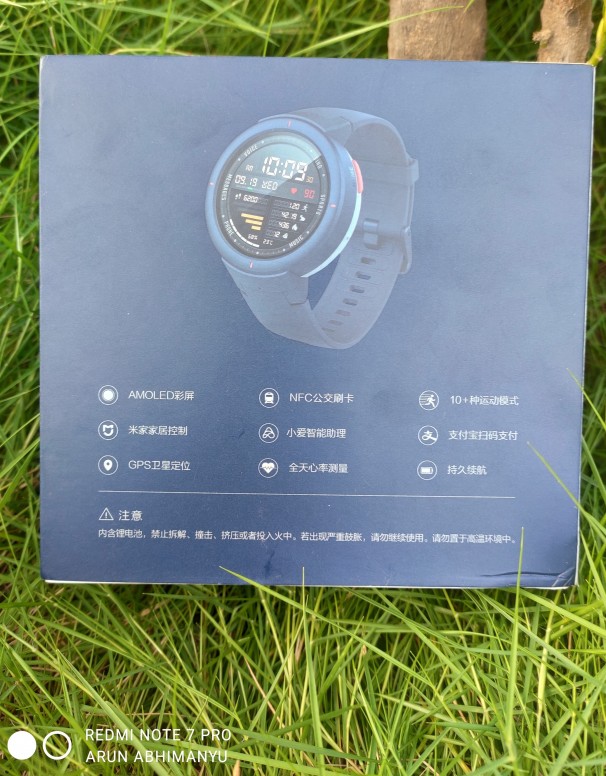 On the backside of the box, it's features are mentioned in Chinese.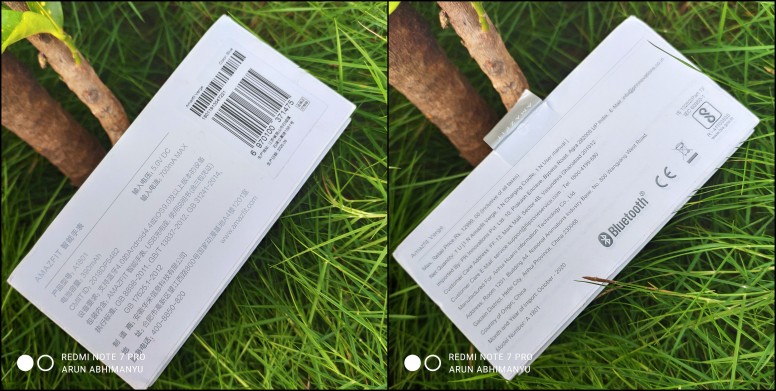 On the sides, there are details about the manufacturer and date of the import, etc…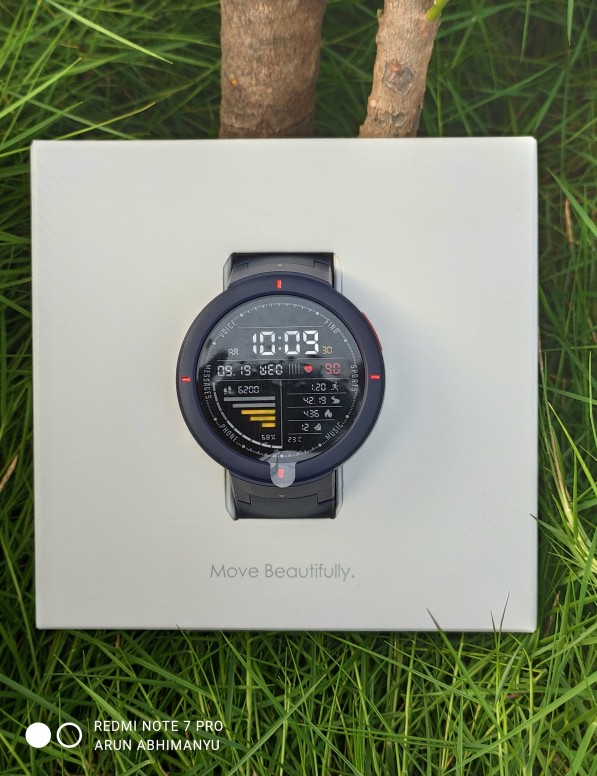 This is how it looks when you open the box.
There is a naming "Move Beautifully"..! You can see under the watch.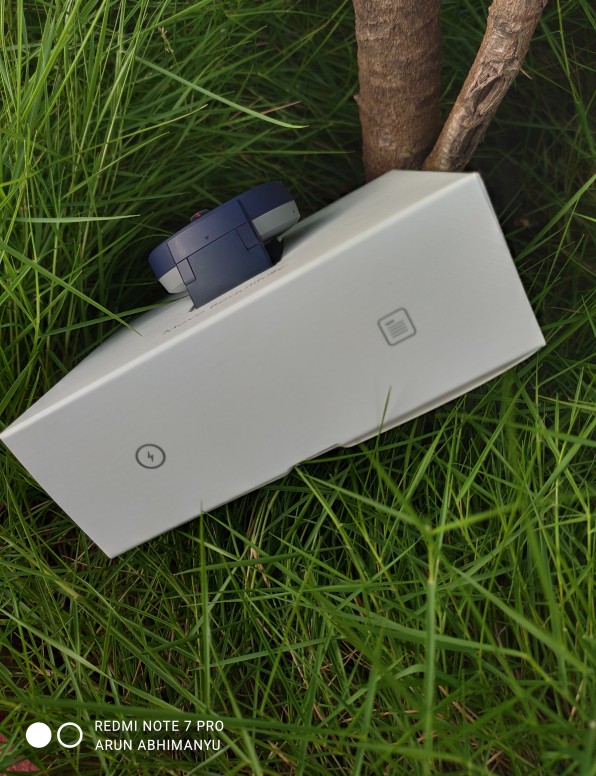 On the bottom of the watch box,
There are another two vents side by side one is for the user manual,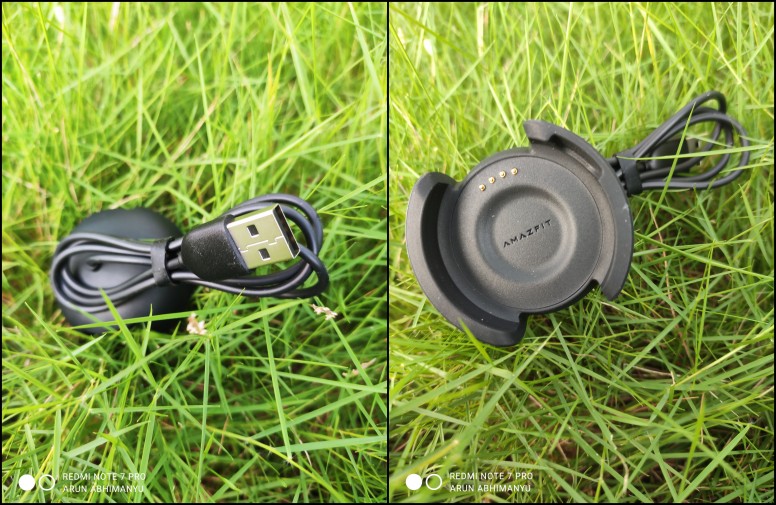 Here is the charging dock,
You can directly insert the watch onto the dock.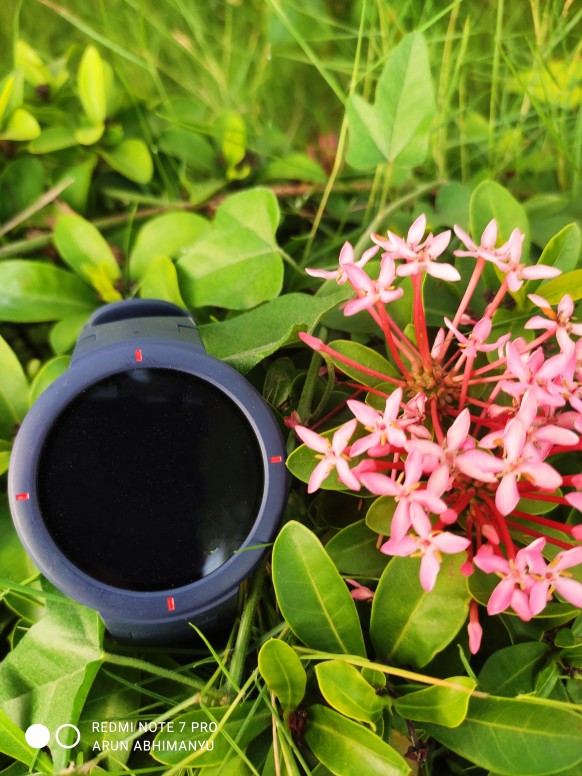 Here is the watch screen.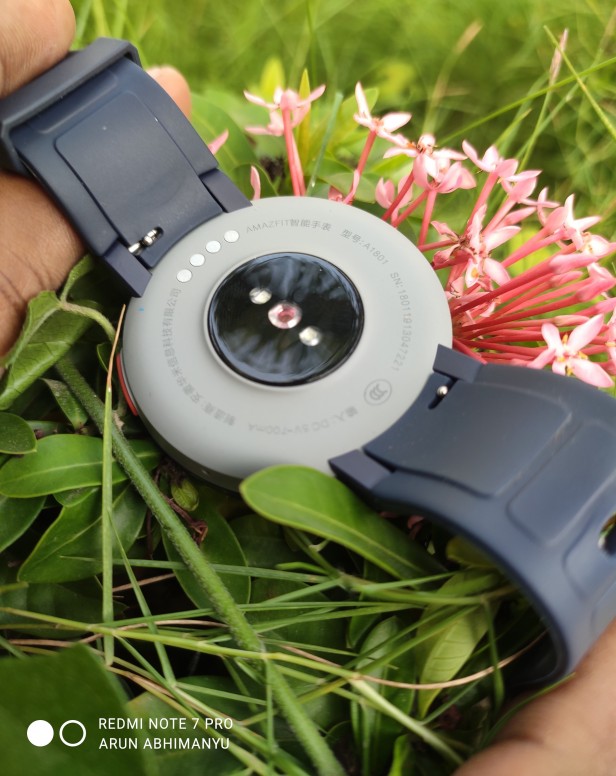 On the backside of the watch,
You can see Charging pin dots. And also the heartbeat sensor.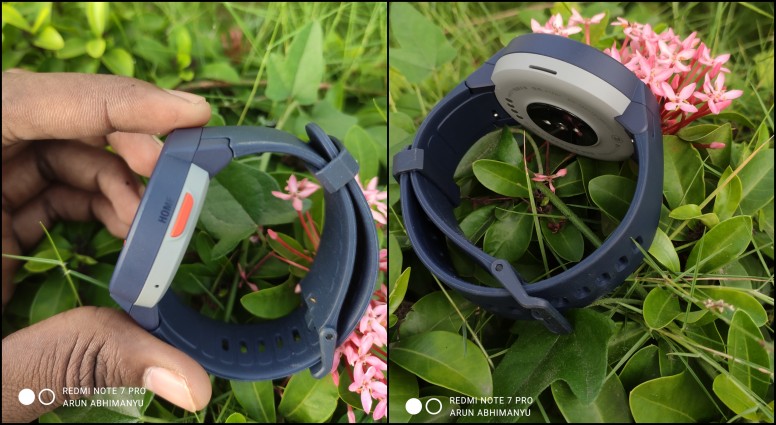 On the right side of the watch, you can find out the Speaker grill.
Whereas the left side, you can find out the HOME button.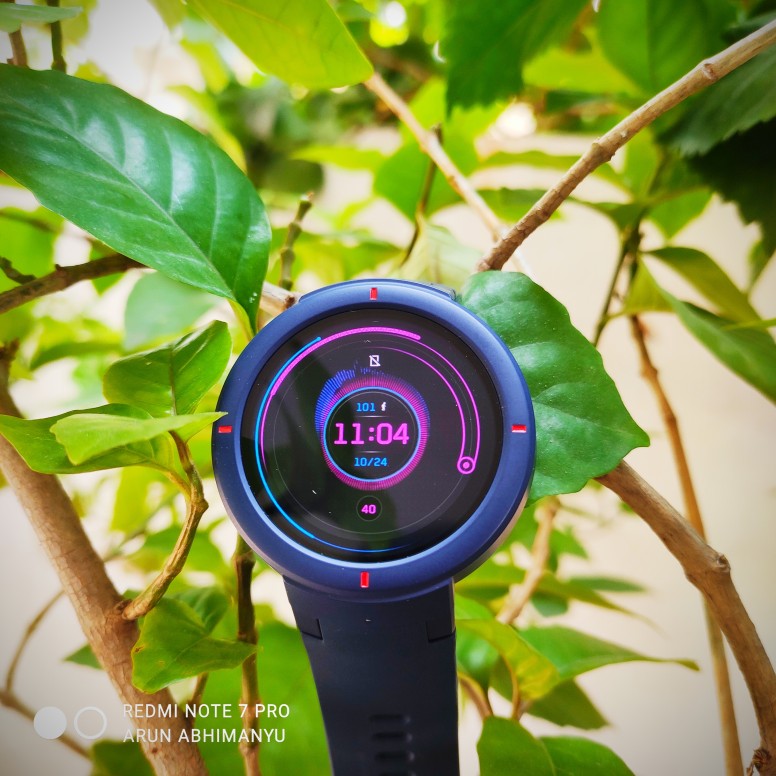 The Amazfit Verge essentially comes in the category of sports smartwatch. In terms of dial size, the smartwatch features a 43mm 1.3 inch AMOLED display dial with Corning Gorilla Glass 3 on top. I didn't find any issue with the screen visibility outdoors, the AMOLED display is bright enough in all such conditions. The screen offers a 360×360 pixel resolution and AMAZFIT has used a special coating that prevents fingerprints/smudges, which although doesn't work as good as I was expecting it to be. The AMOLED display is not an always-on screen, but there is a workaround for it. You can go to Settings Preferences Lock Screen, here if you enable 'Offscreen mode', then it will display time like an always-on display.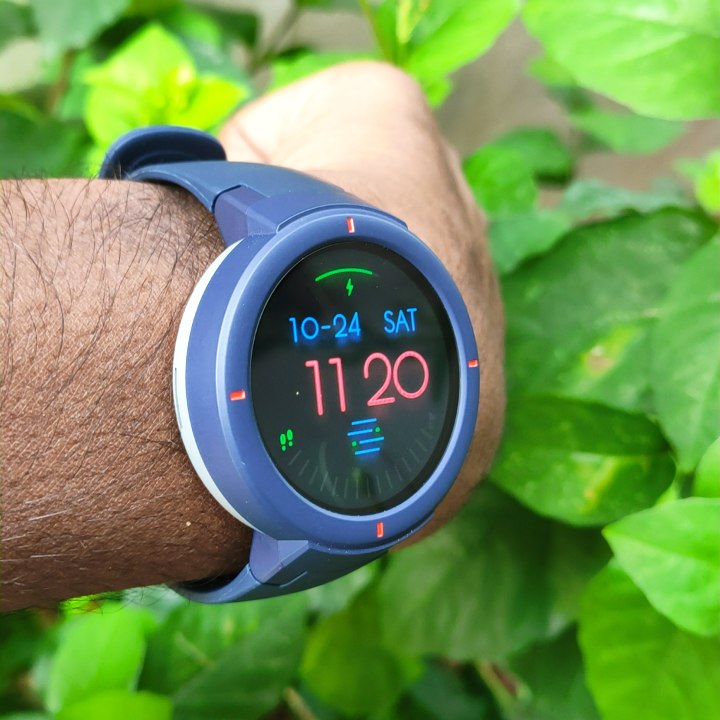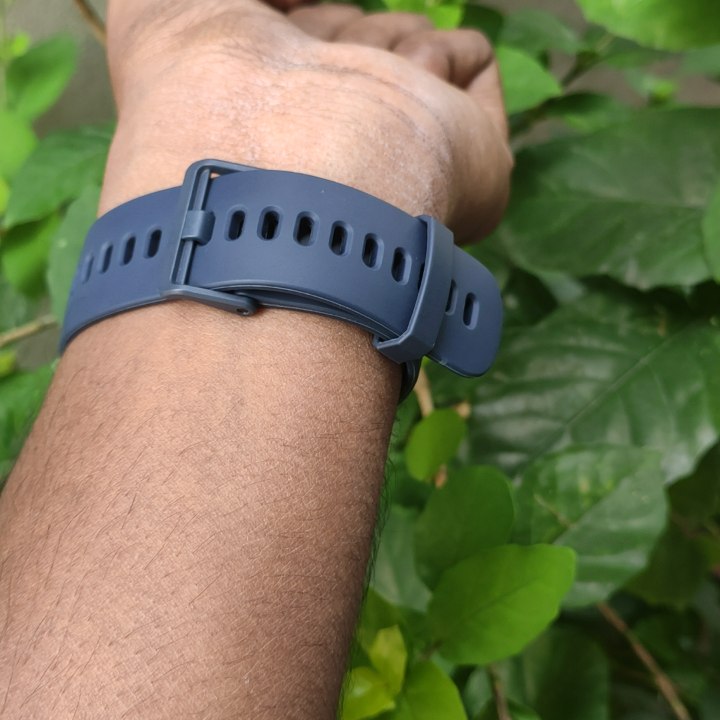 Even with a thick dial, the smartwatch is much lightweight and weighs only 46 grams. It measures 8.9 x 1.69 x 0.5 inches. Amazfit uses reinforced plastic for its body with a silicone strap that has a soft touch feel and finish. I didn't find the design to be appealing, but the soft rubberized material feels comfortable and it never irritated the skin.
To start the Amazfit verge, you should long-press the home button on the right side of the watch for up to 8 seconds, so that it will give a small nudge and start the booting/power on. The animation is pretty good and reminds us of our solar system(hahaha). You can refer to this video below.
You can connect to both iOS and Android devices using a Bluetooth connection along with its companion 'ZEPP' application. It is compatible with iPhone models running iOS 9.0 or above, as well as Android smartphones running Android 4.4 Kitkat or above.
Huami's proprietary Amazfit OS might be based on Android but it isn't anywhere near ready to be a proper smartwatch OS. You don't get basic features such as the ability to install your workout apps on the Amazfit Verge, and you can't even sync data to Apple Health, Google Fit, or other apps. The watch does a good job of showing you notifications but there is nothing you can do with them. You can't reply to messages using the Amazfit Verge, or even interact with other apps for quickly sending a voice message, accepting calendar invites, etc. The "apps" on the Amazfit Verge are pretty basic. There's a stopwatch, timer, heart rate readout, etc. to perform the core functions of the watch.
You can now create custom intervals for workouts in the Amazfit app. This means that you can ask the Amazfit Verge to alert you if you exceed or fall below certain thresholds for time or distance. For instance, the Amazfit Verge allows you to do four 800m sprints at a pace of 4 minutes 30 seconds per kilometer. This feature is very useful for experienced runners.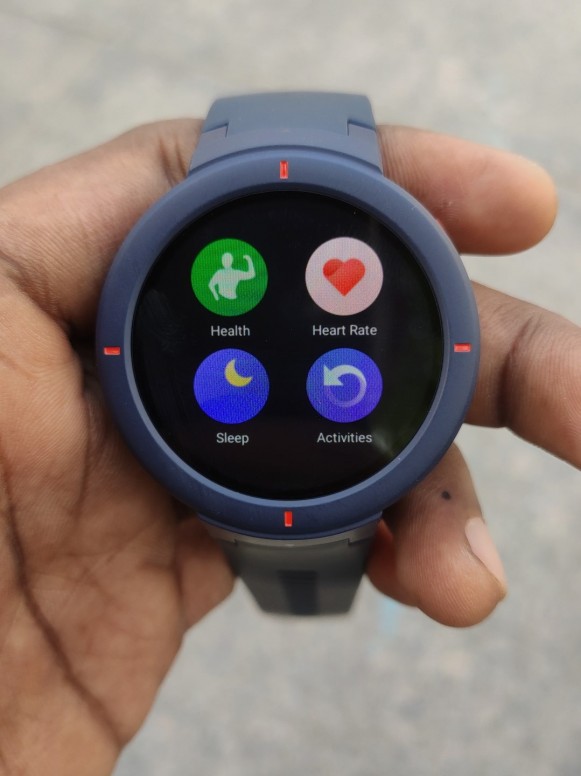 One big problem with Amazfit OS is that it can only handle one task at a time. If you are recording a workout, there's no way for you to open another app. Let's say you are at the gym logging a workout and you want to set a timer for a 1-minute plank, there's no way to do that without ending the workout. This is a frustrating limitation that we ran into quite a few times. Another shortcoming is the lack of a proper gym mode to track your strength training. You can track certain individual activities such as elliptical training and indoor cycling, but there's no way to track multiple exercises in a single workout (think - interval training or exercises with weights).
While some may find the custom operating system on Amazfit Verge disappointing, I think it works okay for the watch and its companion app. You can't install third-party apps on Verge and the Watch Faces are also limited to 23 watch faces.
You can also select the watch faces from the application itself. Just long-press the display for 5 seconds and it will open up the watch face menu from there you can select what you want.
The heart rate sensor can be found located at the back of the display/dial. The watch has an option to enable continuous heart rate readings from watch settings, and it helps to check on your exercise routine or rest time, although it'll end up consuming more battery than usual. The Amazfit Watch application "ZEPP" gives an in-depth look into the results and based on it, one can plan on the activities accordingly.
Coming to the widgets in Amazfit verge, you can add whatever widget you want on the watch through the Zepp application. It will show various options from those options you can select. But the only limitation here is, you can add up to 2 widgets only.
You can copy your music on the Amazfit Verge directly. It includes 4GB of storage space. The watch is powered by a 1.2GHz processor coupled with 512MB of RAM. To transfer music, you need to plug into the supplied charger with the computer's USB-A port, and then copy-paste songs. Or else you can directly upload the music to the watch here is how..?
In terms of battery, the Amazfit Verge comes with a 390mAh battery. I found it to be good for 4 days. In certain cases of activity tracking and music listening, the stand-by time went down to 3 days, which is also fair, to be honest. The watch also alerts for low battery, which is a big positive from Bip that I reviewed last from Amazfit. In terms of charging, there is a special charging adapter for the watch. It only takes about an hour to fully (100 percent) charge.
With Alexa built-in, Amazfit Verge users can now speak into the watch to talk with Alexa for:
1. Flash Briefing – Setup and enable Alexa skills of your favorite news providers such as NDTV or Cricinfo to personalize daily "Flash Briefing".
2. Sports Update – Follow your favorite cricket team and track the latest cricket scores.
3. Alarm – Set a reminder or wake-up alarm.
4. To-do list – Manage your schedule and to-do list.
5. Q&A – With Alexa built-in get answers to common questions throughout the day.
Calling feature clear & cool
When you connect the Amazfit Verge to an Android phone, you'll see the option of a dialler/phone for making voice calls from the watch, although it will still use your phone to execute the functionality. The watch doesn't have an independent option of making a call, which means you can't put in a SIM or use eSIM.
The good part is that you can sync up all your contacts in the watch interface. It even allows you to call any contact directly by tapping on the contact name or by dialing onto a tiny number pad for a new caller. Having said that, the watch doesn't do any justice to the calling feature. It was practically impossible to use the watch calling functionality because the delay in voice was quite a lot and the microphone didn't pick up sound that well. Even with the proximity of the loudspeaker opening, I could hardly hear another person's voice because the speaker's output was quite less on it. You'll not be able to hear anything in noisy surroundings.
Good AMOLED Display
Lightweight
Built-in GPS
Alexa Support

Slow response
Lack of Multitasking
Not waterproof
Need more watch faces
Poor compatibility with other fitness services

I've used this watch for 7 days. The look and performance are pretty good at this price point(100$). The Verge is for fitness users looking for a little more out of wearable than the basics. It has a savvy smartwatch style, but underneath its unassuming shell, you'll find just about every sought after fitness feature you might want, but for a lower price than the competition. If money is tight, but you want a fitness-centric smartwatch, the Amazfit Verge will fit the bill. For $100~110$, it's easy to find a cheaper wearable, but you'll be hard-pressed to find anything of better value.
So, Guys, Did you like this one..?
Let us know in the comment section..!
Ciao in my Next Review..!