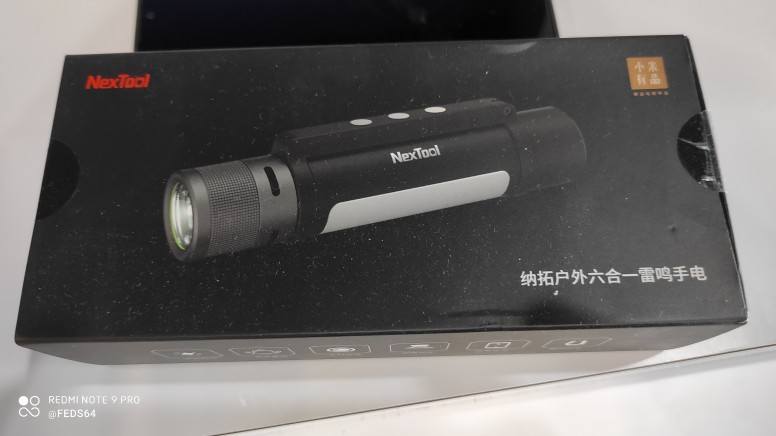 It's no secret that I'm a die-hard fan of Mi devices and gadgets. As an authentic die-hard Mi Fan, I will test and review any Mi Ecosystem heading my way. So stay tuned to your friendly neighborhood leading Reviewer for more goodies. Today I am gonna review the Mi 2-in-1 5000mAh Power Bank Dual USB Wall Charger, a complete charging solution.
As an outdoor guy, spending much of my time during weekends camping and walking along the beach in the pith dark with a torch to hunt of small crustaceans for the fun of it, you definitely need essential equipment to spend your nights in the darkness safely.
A flashlight is one of those camping gear you need most and NexTool's Thunder Flashlight is an excellent choice.
NexTool's Thunder Flashlight is a brand that produces many effective low-cost tools. The cylindrical body is made of aerospace aluminum material 6061-T6+ABS plastic, and then has been treated with type 2 oxidation surface. It is thick, firm and wear-resistant.
1000 lumens high brightness long-shot piercing through the darkness like an automobile headlamp can give you enough sense of security in the dark night. The light can reach 240 meters, enough for you to see the potential danger or hazard in your path ahead of the darkness.
Sound and Light Alarm

Call for help

Alarm Beep & Flash Warning Duration 5h

Fall Prevention Height: 1m

Waterproof Grade IPX4

Length 34mm x 146mm

Weight: 211g

Material Body: Aerospace Aluminum 6061-T6 + ABS Plastic

Charging : Type-C Charging, 5V1A (USB-A Discharge 5V1A, Mobile Power Capacity 1400mAh)

Charging Time : 3.5 Hours

Battery: 18650 * 1 (2600mah 3.6V 9.36wh)



Patented lens adjustable focusing control light freely. The patented Fresnel focusing lens design reduces light loss, improves light efficiency and a uniform aperture without black spots. You can switch Poly or floodlight with one hand which not only illuminates your the eyes, but can also reach the distance.
Zoomable Flashlight
1000LM - Endurance Time 2.5hr - Beam Distance 240m
180LM - Endurance Time 6hr - Beam Distance 100m
40LM - Duration 24hr - Beam Distance 40m
200LM - Endurance Time 4hr - Beam Distance 15m
20LM - Duration 48hr - Beam Distance 5m
Red Light Always On - 6LM - Endurance Time 24hr

Red And White Flashing - Endurance Time 90hr



The One-click tail control is simple and convenient multi-function rear switch, Press switch, short Press 0.5 seconds to start lighting mode, long press 2.5 seconds to activate alarm mode. In lighting mode, click to switch high and low brightness, double click to switch flashlight/camp lamp. It is easy to operate with one hand to simplify complexity. In lighting mode, the flashlight has a memory mode function, and when it is turned on, it will automatically return to the last mode state .
The Stand magnetic function can be infinitely directionally adjusted to do an omnidirectional mode and lighting up to 360°.
It's a small and lightweight flashlight that can be placed directly in your clothes pocket. Xiaomi Nextool Outdoor 6-in-1 Thunder Flashlight has an excellent illumination brightness to suffice most of the scenes on a night road or outdoor use. The focus lamp has 3 stable lighting modes, high brightness 1000 lumens, medium brightness 180 lumens, and low brightness 40 lumens which has a wide range of purposes. The patented Fresnel focusing lens is really fantastic to the point the grass and surrounding are very clear and bright. With the magnetic holder, you can attach it to the hood to check your engine and so on.