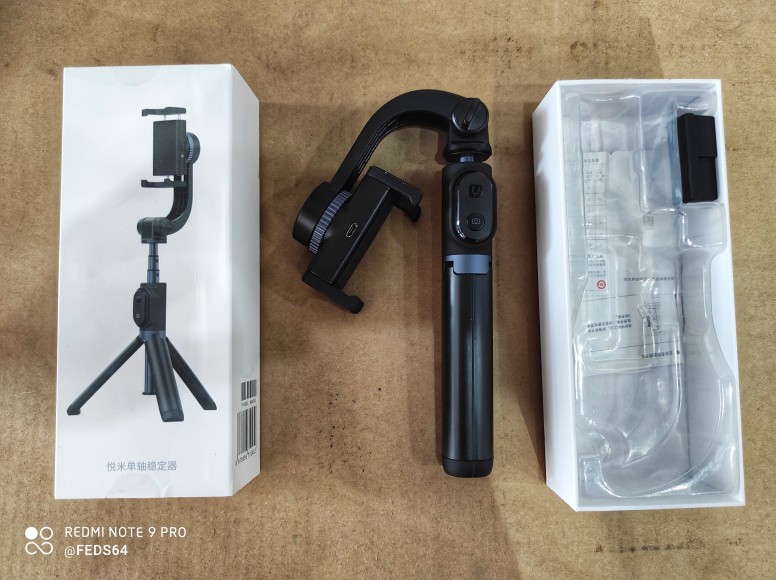 It's no secret that I'm a die-hard fan of Mi devices and gadgets. As an authentic die-hard Mi Fan, I will test and review any Mi Ecosystem heading my way. So stay tuned to your friendly neighborhood leading Reviewer for more goodies. Today I am gonna review the Mi Yuemi Single-axis Gimbal With 6-axis Acceleration Gyro Sensor. Yuemi Technology is under the Xiaomi Ecological chain.
The Yuemi single-axis stabilizer uses a 32-bit ARM processor equipped with a 6-axis acceleration gyro sensor, a flight control stabilization algorithm, and a dedicated brushless motor with magnetic force sensor.
The powerful stabilizing gyroscope, combined with high-precision motor control and advanced camera-stabilization algorithm, can improve the shake and shake of mobile phones in real-time.
There is a removable remote control which can pair with a smartphone via Bluetooth and can be used to control the stabilizer remotely and it's rechargeable. The device allows a single-click stable recording of videos from your smartphone. It is also acts as dual-function, a bracket for fastening the phone as well as a stabilizer.
The handle can be extended up to a distance of 420 ± 10mm, and the phone clip supports up to a 11mm smartphone. When folded it's length is only 190mm long and weighs 229gram making it easy to carry around. Furthermore, the Yuemi single-axis stabilizer gimbal supports 180° automatic horizontal lock, 360° horizontal and vertical screen switching.
The stabilizer gimbal is powered by a 450mAh capacity battery which will suffice your daily shooting needs. When the stabilizer is out of power, you can use your hand to turn the stabilizer to use it as an ordinary selfie stick.
My Recommendation
As far as the result of the video taken, it's quite impressive considering it's a single axis gimbal. Actually I am not sure how the 6-axis acceleration gyro sensor, a flight control stabilization algorithm is applied during the video taking but all I know it works accordingly. Taking into consideration of the price, it is quite sensible to carry one around with you.
"Realizing the Mi Fan's Dreams"
Related threads