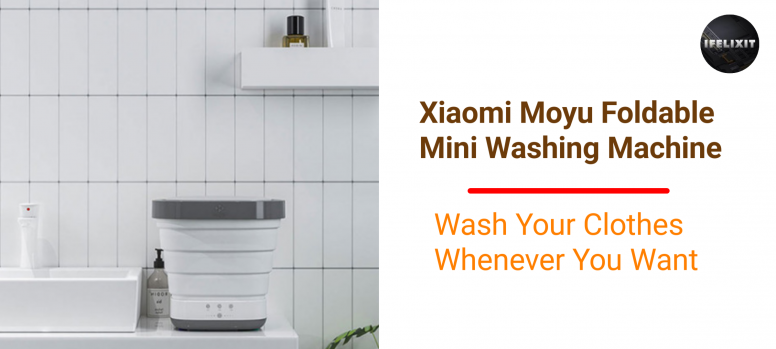 It's no secret that I'm a die-hard fan of Mi devices and gadgets. As an authentic die-hard Mi Fan, I will test and review any Mi Ecosystem heading my way. So stay tuned to your friendly neighborhood leading Reviewer for more goodies. Today I am gonna review the Xiaomi Moyu Foldable Mini Washing Machine making it possible to do laundry whenever you want.
Moyu folding washing machine XPB08-F1 is a truly innovative coming from Moyu a Xiaomi Ecosystem Company. of today. In terms of design it's stylish and ergonomic to fit into any interior of the room.
One-piece molded silicone material, no deformation after 6000 times of folding, ensuring the durability of the product

High temperature soaking

Collapsible for easy travel

Powerful four-corner bottom suction cup, safe and stable

Waterproof touch button

Retractable drain

Energy saving and environmental protection, saving water and electricity

Simulate artificial hand rub, the washing effect is more humane

Through the positive and negative reversal of the bottom pulsator, it simulates the effect of manual washing, gently washes your clothes, and more intimately protects private clothes to avoid accidental damage

Rated capacity: 0.8kg

Rated voltage: 220V

Rated power: 40W



Put the clothes to be washed into the washing bucket, and then put the appropriate amount of detergent

Pour in the right amount of water (water can completely cover the clothes, and about 3 ~ 5 cm above the clothes is preferred)

Tap the "Touch the switch" for 1 second and switch the required program with "di" sound. After selecting the program, it will automatically enter the washing program without operation for 3 seconds

When the program is finished, the program's signal lamp will flash for 5 seconds and beep for 3 seconds at the same time. After 5 seconds, the signal lamp will be off and the program will be finished

Take out washing clothes

Disconnect the adapter from the machine and socket

Choose the right way to drain the water out of the washing machine

Wipe the machine, drain the dirty water from the washing machine. Wipe the machine clean and fold the washing machine as the folding method, and put the cover.



I personally feel that the touch-type waterproof switch, the wrench drain switch, the intimate pouring hole at the top, the two-way drain groove at the bottom, the handle, and other design considerations are all well designed and constructed. The capacity allowable is 0.8 kg which is just fine considering it a mobile unit meant for outing purposes far from the city. As a traveler, it's a thumbs-up from me.