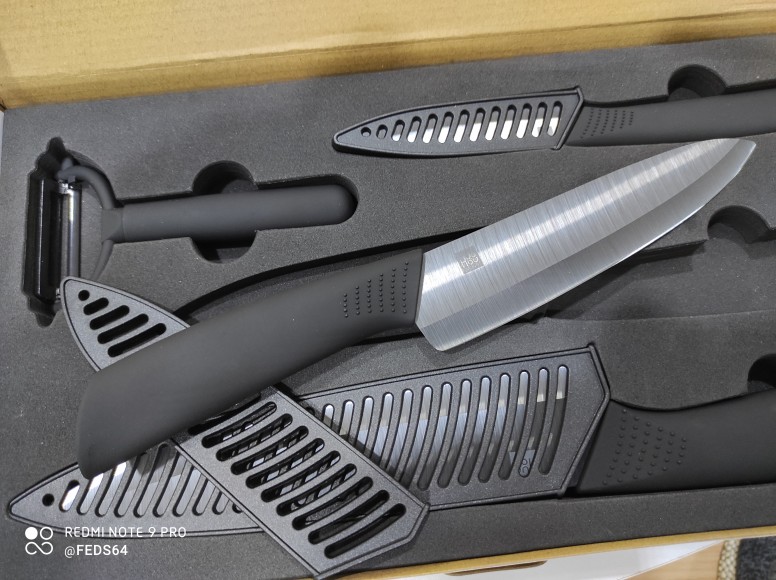 It's no secret that I'm a die-hard fan of Mi devices and gadgets. Mijia HuoHou Ceramic Knife Set makes you fall in love with the kitchen.
It's made of Australian zircon sand

Using the high temperature ' Vacuum Carburizing ' technology

More environmentally friendly and safer

Japan's vertical grinding technology

It's farewell to injuries and save effort by using ergonomic design principles



Do not cut frozen foods and hard objects such as bones and crabs

Do not wash in the dishwasher

Do not sharpen your knife yourself.

Prevent the knife from falling from a height so as to avoid missing corners, bumps or breaks

Keep out of reach of children and prevent accidents



1 x 8 Inch Ceramic Knife

1 x 6 Inch Ceramic Knife

1 x 4 Inch Ceramic Knife

1 x 5 Inch Peeler



Ceramic knives are a fantastic cutting option for those who do a lot of chopping and dicing in the kitchen and don't want to fuss with the sharpening requirements of metal blades. This is true especially slicing all types of onions. Mijia HuoHou Ceramic Knife is available to chefs and a high-quality ceramic knife cost less than a similar knife made from fully forged stainless steel.
My favorite set of knives is a set of Mijia HuoHou Ceramic Knifes this far after using it for a couple days. The ability to easily slice through tomatoes to make Salsa saves a lot of my time in the kitchen and I can go on with my tons of other reviews and gameplay around the Mi Community, one of the biggest challenges for most chefs or hobbyists like myself is dealing with onion as it dull the knife faster and causes tears to your eyes. With Mijia HuoHou Ceramic Knife that is sharp, it slices through these cells of the onions cleanly and that avoid causing tears to your eyes. It's highly recommended for protecting the blade edges and to prevent any chipping or breaking to use the provided knife sleeves.