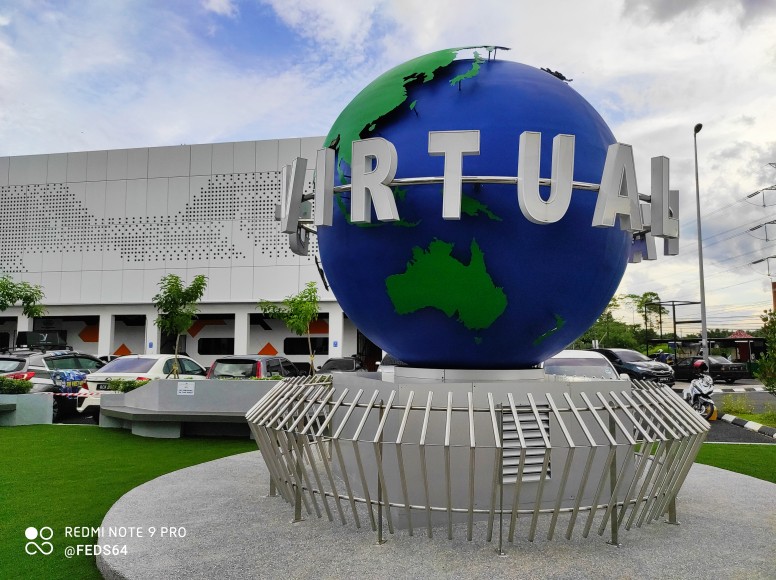 One might wonder, what's a virtual theme park. As we speak, being involved in Mi Community you are actually indulging in the virtual experience. That's easy to grasp right? The virtual theme park is a new version of amusement to test the boundaries of thrill-seekers virtual reality (VR) theme park rides.
D-Virtual Park takes about half an hours drive to Kota Samarahan, and speedy gonzales barely takes 15min to the destination.
D'Virtual Park was created based on a setting mainly comprising a futuristic modern spaceship and alien caricatures in its background, reflecting the story of the Hogenburg. It also provides the most innovative VR equipment and technology to suit your gaming fancies.
As the pioneering VR entertainment centre in Borneo, its main objective is to incorporate the fantasy aspects of games as it would reflect in reality, allowing people to wholly experience the game using sensations of their whole body and not just through manoeuvring a console. D-Virtual Park will also be the first virtual entertainment centre in Malaysia to showcase a hologram theatre, giving their audience the chance to experience two 15-minute screenplays that will be entirely displayed on a hologram screen. Thus, they offer the most revolutionary form of cinematic experience.
Consisting of various Holographic Entertainment and VR Simulators, D-Virtual Park is the apex of futuristic entertainment and a direct influence for the community to embrace technological advancement.
The majority of the public can also experience the most innovative type of cinematical witnesses, such as the E-Sports Arena, and a custom Hologram Theater. The park also has SD X Studio, SD X FabLab, SDX-Arena, GiGA Virtual-Cafe, and D-Tamu,
Indulge in a selection of 20+ park attractions comprising of the finest in high-tech fun, from free-roam virtual tours that test the boundaries of our horizon, to adrenaline rushes felt from our thrilling rides, to a battleground where you get to unleash your inner warrior.
D-Virtual Park customizes the games so that it may be enjoyed by all players of varying skills sets or interests.
The VR attractions are designed to optimise individual preferences and gives you a heavenly sensation no other gaming platform can.
The first-ever virtual theme park in Borneo would be able to attract visitors, especially esports enthusiasts.
D-Virtual Park also guaranteed to give visitors a fun-filled recreation that they have yet to experience.
The virtual park will be a one-stop centre for entertainment, innovation and education for the local community.
If we look at this era now, youths are mostly into video games and e-sports.
The facilities and services available can help to encourage the local talents and community to develop their skills in information communication technology (ICT) which can be used to kick start small businesses by engaging digital technology.
For example, young people can go to D'Virtual Park and utilise the facilities and learn how to develop content for game applications, tourism products, local food and delicacies as well as application development, digital product and technology without having to go to the private studio.
Just like its cyberpunk counterpart, D-Virtual Park's facilities show the most up-to-date gaming facilities and equipment, reflecting the future of gaming.
To conclude, personally that D-Virtual Park brings about the element for such technologies to entertainments that would attract tourists to experience these digital technologies and I believe that it's a must-go place or itinerary for the tourist.
"Living a carefree lifestyle"
Trending threads
Rate