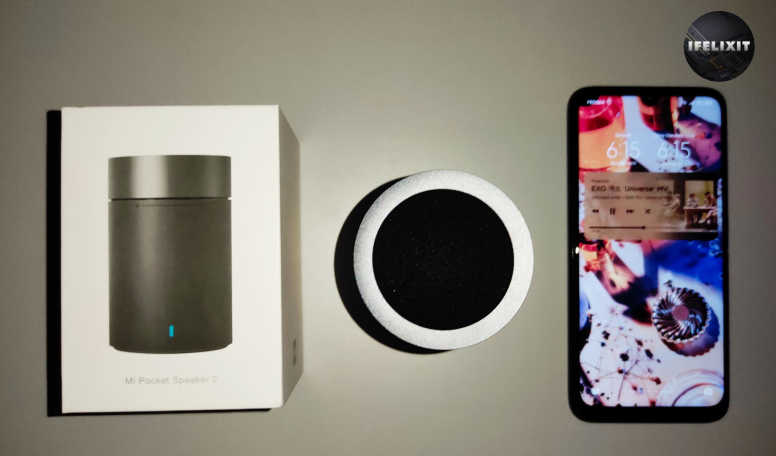 It's no secret that I'm a die-hard fan of Mi devices and gadgets. Mi Pocket Speaker 2 gives you 7 hours Of Tymphany Acoustic complete with full bass and clearer treble.
As an authentic die-hard Mi Fan, I will test and review each of the available speakers big or small as it can be. So stay tuned to your friendly neighborhood leading Reviewer. So what is this with so many Bluetooth speakers, basically it might be confusing with the sheer number of Mi Bluetooth speakers in their range or the market. Well, it's a matter how it could fit your requirement in terms of acoustic, size and setup.
Mi Bluetooth Speaker 2, the second generation model in the company's cylindrical speaker range with an affordable price considering the quality of output from this compact device delivering a lot of details on its sound output.
It came with an English manual and global packing.
On the lower half, you'll find just a LED light, blue or blinking blue signify for fully charged and playing in progress and solid red while charging and blinking for battery running low or solid blue when fully charged.
Xiaomi kept the design simple but effective with all the intuitive switch and volume control. In fact, as you might see in the pictures, there are no buttons at all.
As you can see, it's a two parts construction, the top part is pressable which acts as a On/Off switch and a Volume control dial. The speaker output comes from the top of the cylindrical body, which is evident from the mesh on top as shown with the markings for volume controls on the side of the cylindrical body.
Right at the bottom is the Micro-USB charging port.
To operate is simple, just long press the top section of the speaker and it will begin to search for a device to be connected and paired.
Pressing the top part play/pause the soundtrack and jumping to the next song or hitting the previous track can be controlled via your smartphone.
With an in-built microphone on the speaker which offers hands-free calling. And as for the battery life it could easily get over 7 hours of music playback on a single charge.
My Thoughts
After using it for a couple of days, the downside is that I wish it could be louder and get an upgrade for Bluetooth 5.0 instead of 4.1. The quality of sound output is impressive considering its super-compact form factor. The output is clear and crisp with a great treble and the mids are also quite good. The bass is pretty decent. As for hands-free calls, the caller is crisp and clear. For the price it's definitely a good buy.
"Realizing the Mi Fan's Dreams"
Related threads