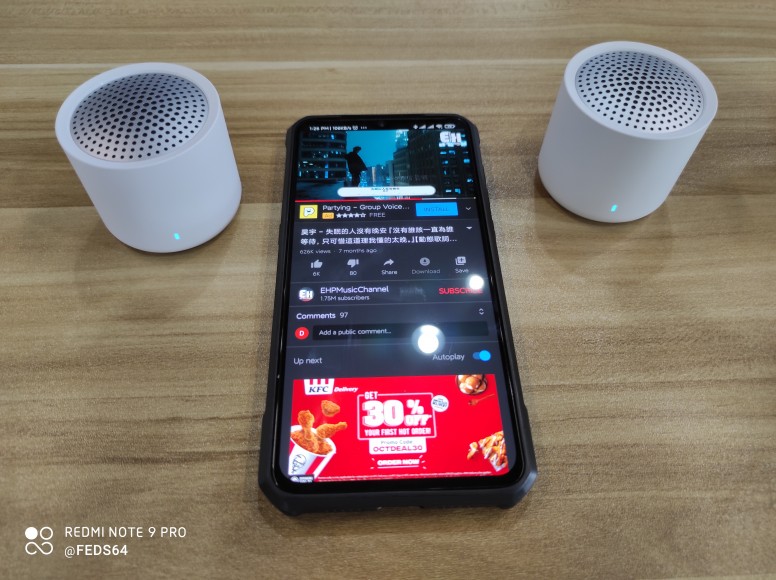 It's no secret that I'm a die-hard fan of Mi devices and gadgets. Mi Portable Bluetooth Stereo Speaker the True Wireless high definition Speaker with the Bluetooth 5.0 standard and hands free MIC.
It comes with two colours, white and black. The package includes a pair of speakers for the stereo to work flawlessly. Simple design, ingenious beauty with exquisite aluminium mesh cover, detailed anodising process, PC+ABS material body, delicate and gentle touch. The ice blue light is seamlessly connected to the body and the bass vents around the bottom of the fuselage and integrated into the body which is a good interpretation of the simple and sophisticated aesthetic style.
Main Features:
● TWS 2.0 stereo system, bring an immersive listening experience
● One button to use, easy to play, pause, answer and hang up
● Bluetooth 5.0 chip, compatible with various devices, fast and stable transmission without delay, low consumption
● 40mm speaker driver, get a clear and high-frequency human sound
● Built-in 720mAh battery, easy to use without cable trouble, 7h music enjoyment
● Mini and portable, easy to carry
If you are wondering, the switch is on the bottom.
Pairing Guide:
Press and hold the On/off switch for 2 seconds to enter search mode (blue light flashes quickly)

Tap Pair to pair the first unit.



For the second unit, press and hold the On/off switch for 2 seconds to enter search mode (blue light flashes quickly)

Tap Pair to pair the second unit.



Wireless stereo pairing is successful



(Indicator: The host unit flashes quickly and the slave unit flashes slowly)
It's a split wireless stereo, resulting in a resounding sound field, where the two speakers formed the classic 2.0 true wireless stereo system and feel the true split-type channel shock sound field. The compact volume restores the music and get an immersed listening experience.
Double click the tops of the two speakers and trigger the bottom multi-function button to complete the stereo pairing. Click on the top of the main speaker to play, pause music and answer hang up and etc.
Mi Portable Bluetooth Stereo Speaker is built-in independent quality Bluetooth 5.0 chip, comprehensively improves data transmission stability and transmission distance, sound synchronization and continuous sound, faster, blower consumption and better compatibility.
Exquisite structure to produce a good sound. The inner structure of the design is designed to break through the space limitations. The size of the speaker is increased to 40mm within the compact body, which brings a pleasant high frequency and clear vocal sound, an independent bass passive basin, a fuller bass, calm and shocks your double ear.
It comes with a Built-in MIC situated at the bottom of the speaker which enables you to free your hands by connecting to the phone for a voice hands-free calling.
You can have a different setup for your speakers too, after the wireless stereo set is unpaired it becomes two independent wireless Bluetooth portable speakers which can be used freely and can share wonderful music with friends.
You get an ultimate listening experience, it gives you 7 long hours of battery life with a worry free travel with the built-in 720mAh capacity lithium battery.
My Thoughts
Mi Portable Bluetooth Speaker wireless stereo allows you to enjoy stunning stereo anytime, anywhere for 7 long hours which is perfect without having to charge. The stereo configuration is amazing and can be singularly on your preference. I have tested tons of these mini speakers and I can say that Mi Portable Bluetooth Speaker wireless stereo is shortlisted as one of the items for my traveling checklist.
"Realizing the Mi Fan's Dreams"
Related threads