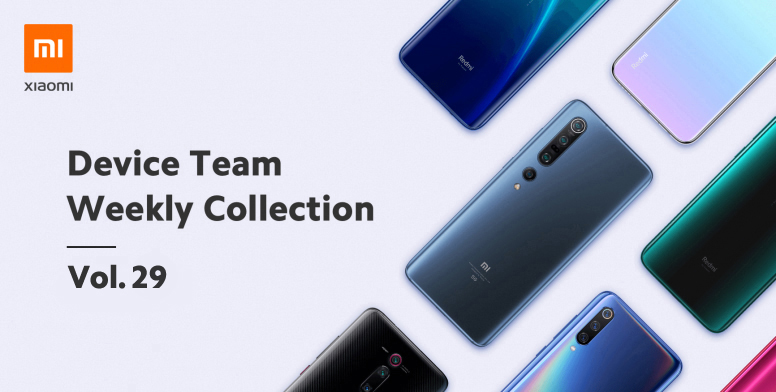 Hello Mi Fans!
How are you all?
Mi Community is the ultimate playground for the Mi Fans to hang out together!! Here we not only discuss and share ideas about Xiaomi products and its stunning technologies but also help all users crack the problems they have faced on their phones. Well, if you have been too busy last week and failed to stay up to date with the updates from the Device Team, do not stew, we are now making your job easier!
Device Team Weekly Collection
Here we will be putting together all the threads, posted every week by the Device Team members - now, there is no way you can miss anything!! So, here comes volume number 29 - keep on rocking!







Hello MI Fans!

Welcome back to another Device Tech Bytes Session. Last week, we learned "All About Power Management IC in Mobiles" by Arun Abhimanyu. I deeply hope that you enjoyed it and that you learned something new! Today we are back with another interesting topic. Apps! Have you ever given much thought to what apps actually are and how they function? If not, it's time to dive into it! Let's start with the definition itself.



It's no secret that I'm a die-hard fan of Mi devices and gadgets. Mi Youpin MOTOMI Non-Stick Taste Plus Wok Pan is a Non-stick wok which is a no-brainer for the entry level cook or hobbyist like myself. It does not have to be seasoned and it's easy to clean.

Youpin MOTOMI is under Mi Ecosystem, let's see the key features of the wok. What a wok? Woks date back 2,000 years to the Han Dynasty in China. Wok simply means cooking pot in Chinese. Woks traditionally have rounded bottoms and very smooth, rounded edges, perfect for heating quickly and evenly over a small flame. They typically have long handles that allow them to be shaken during cooking, sometimes eliminating the need to stir at all. They are best known for stir fried, with the heat source centralized. It can be used for a variety of cooking tasks, for braising, making sauces, soups, deep frying, steaming and more.



It's no secret that I'm a die-hard fan of Mi devices and gadgets. Mi Portable Electric Air Compressor is a handheld portable air pump that lets you accurately check and top up tire pressure with the press of a button. Xiaomi never failed to impress me, the build and design is appealing and the key point is the purpose of owning one, which is the convenience of topping up the air pressure during long journey too far from the service station, not many have thought of that, well, I knew how it's like as I have experienced when it happens at the least expected timing.

We will be back next Thursday, with a new chapter of Device Team Weekly Collection!
Always Believe Something Wonderful Is About To Happen!
Previous volumes :

So which device caught your attention? Cast your vote to let us know!
Deadline to vote : October 23rd, 2020
Rate